Beckah Daggett | Executive Assistant and Film Sales Rep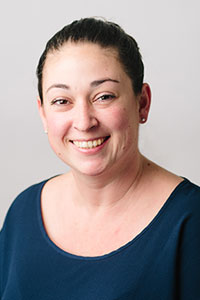 Wilmington native Beckah Daggett grew up surfing the waters of Wrightsville Beach with her father and brothers. While she radiates the same coastal calm, Beckah takes her job in the Strickland's showroom office very seriously. She approaches her work with close attention to detail, organization, and clear communication. When she joined the Strickland's team in early 2016, Fred and Laura knew they had found an ideal point of support for Strickland's. Beyond her role as Executive Assistant to Fred and his multiple business ventures, Beckah also serves as Film Sales Rep for Strickland's Set Services.
While Beckah is key to keeping everything running smoothly, she attributes Strickland's success to the entire team. As she says: "I love the people I work with. Everyone brings their own skill set and expertise to the table. Together, we get great work done every day!" When asked about the most exciting part of her job, she struggles to choose just one. As she says: "I get to order blinds and shades for the movies – it's all exciting!"
After a busy day at the desk, Beckah and her husband, a professional firefighter, enjoy taking their son to the movie theater to enjoy the latest blockbuster. They also enjoy trips to the beach, hiking, and grilling out with friends. The family has three rescue pets, two cats and a dog.
Beckah's take on:
Blinds, Shades, and Shutters: Beckah's a fan of faux-wood blinds, but if she had to pick a favorite window treatment, she'd say the Hunter Douglas Silhouette® Window Shadings.
Home: Beckah's key to keeping everything in its place? "Labeling," she says. "I label everything, and I love knowing everything is right where it belongs."
Draperies and Fabrics: Beckah's advice for draperies and fabrics is "keep it simple!"
Custom Garages: Beckah's first car, a Seafoam Green '96 Saturn was a Sweet 16 gift from her dad — and it did not have A/C!