Our History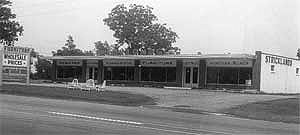 Is it a coincidence that blind slats look like railway ties?  At Strickland's Home, we don't think so.  The early origins of Strickland's started during World War II, when Mr. Strickland was looking for work that would keep him closer to home and his beautiful new wife.  A former railroad employee, Strickland decided to bet on a future in venetian blinds and window coverings.
In 1941, James Strickland started Strickland Venetian Blind Works as a manufacturer and dealer of 2″ wooden venetian blinds. Over the years, Strickland's has evolved and expanded with the times, adding services such as selling furniture and carpet, manufacturing windows, and even a laundry service for blinds! At one time, we even had a division that made custom clocks! But, our true passion has always been window treatments.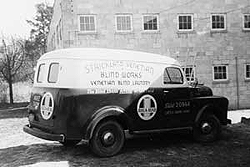 Mr. Strickland was always at the cutting edge of the industry.  In the '50's, he introduced 2″ metal slats for blinds and became one of the first manufacturers of a complete metal blind system in the Southeastern United States.  He later developed a plastic slat for blinds and worked on the early fabrication of vertical blinds with metal louvers.
We can only imagine how impressed Mr. Strickland would be by the technological advances the window coverings has made over the past few decades.  Today, Strickland continues to stay at the forefront of new products and technologies such as dust-free between-the-window blinds, cordless remote-control operated blinds, solar shades, and home automation system which let you turn on the interior lights and close the blinds at the same time with the push of a button.
What hasn't changed at Strickland's Home?  Our commitment to knowledgeable, personal and complete service to our customers.  We remain a locally-owned business with a solid reputation built by providing Southeastern North Carolina with quality window treatments and professional service for the past 70 years. We still offer complimentary in-home consultations and professional installation on all our products by our own employees.  (Our "newest" employee has been with us for nearly 10 years!).
Likewise, our mission remains the same:  Strickland's Home aims to offer the best value on high quality window treatments and the best service in the business.  We don't just want you to be happy with our products and our service, we want you to be delighted!