The Best Outdoor Window Treatments for North Carolina's Hot and Humid Climate
Thanks to a seemingly endless stream of rainy days followed by the incessant rains of Hurricane Florence, Wilmington, North Carolina saw a record-setting amount of rainfall in 2018. Heavy downpours, raging winds, and high humidity can wreak havoc on outdoor window treatments. So, what are the best window covering solutions for this climate? The key is a combination of weather-proof features: humidity-resistance, light and heat-filtering, and all-around durability. Here, your best options for our sunny, hot, humid and storm-prone climate.
Hunter Douglas Palm Beach Shutters
For a beach house with crisp white features and modern luxury, you can't go wrong with Hunter Douglas Palm Beach shutters. These durable poly satin shutters are heat and humidity-resistant and won't chip, warp, or fade over time. We love their classic look. And, their UV-resistance is ideal for giving you a break from the hot summer sun.
Faux-wood Plantation Shutters
With the beauty of the southeastern North Carolina coast comes strong winds, abrasion from sand, and constant humidity — all of which can quickly ruin traditional wooden plantation shutters. But if you adore the southern charm of these classic window coverings, don't give up on them just yet. Faux-wood plantation shutters provide your home traditional southern beauty without the warping, swelling, or peeling that comes with real wood shutters. They're a great choice for your Kure Beach getaway, cottage on Bald Head Island, or whichever coast you call home. Even better? They're easy to clean, eco-friendly, and more affordable than wood shutters.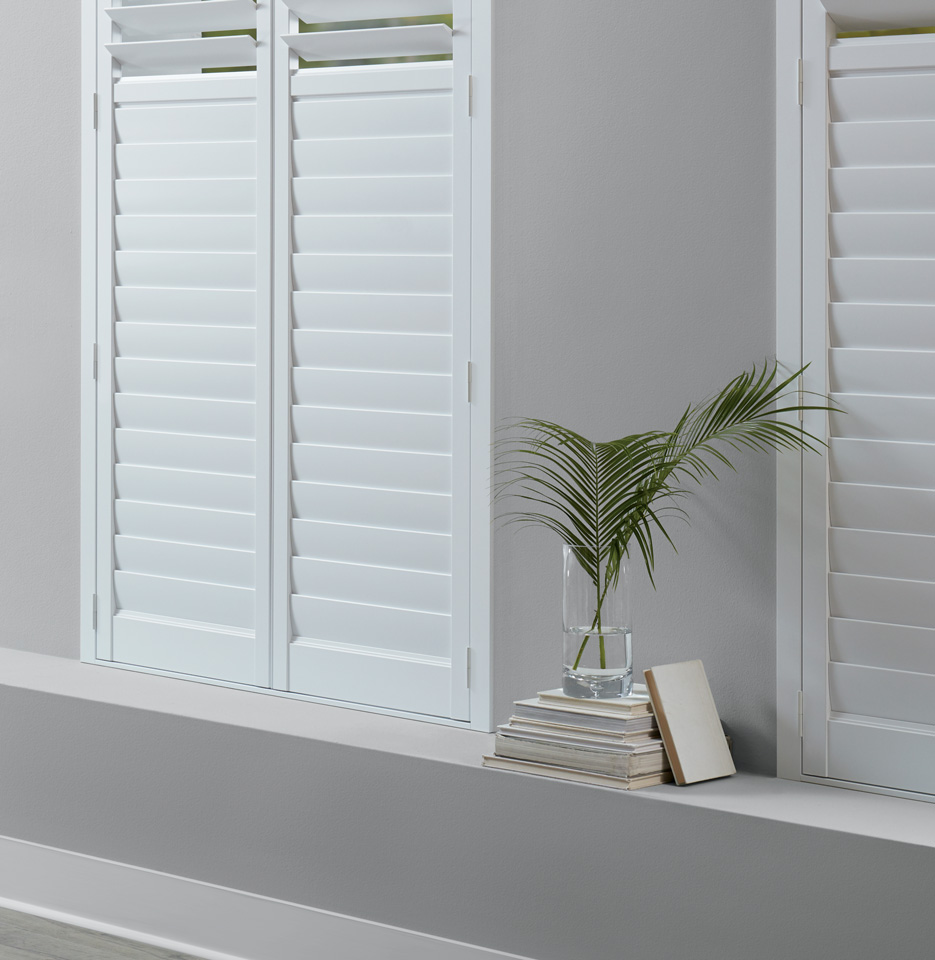 Hurricane Shutters
While other outdoor window treatments can be constructed to be storm-proof, hurricane shutters remain your best bet when Florence's friends come to town. If you're a long-term coastal North Carolinian who prizes preparation and safety, consider adding hurricane shutters to your home. They're available in multiple colors and finishes, as well as fixed, hinged, multi-fold, and sliding panel styles.
North Carolina-Friendly Outdoor Window Treatments
As it turns out, you can have the best of both worlds: gorgeous coastal weather and the outdoor window treatments to match. Ready to discover yours? Give us a call at Strickland's Home or swing by our showroom. Your window treatments project is just one free on-site consultation away.