Skylight Shades
Skylights are beautiful because they bring beautiful natural light into a space. But, what about those times when you want to block or filter the outside light pouring in to your room via an uncovered skylight? Skylight window treatments are necessary to block solar heat which can run up your electricity bill in the summer; they can insulate rooms during hot and cold periods of the year; and they provide light control when you want to sleep in on the weekends.
Thankfully, there are lots of window treatments made specifically for skylight windows. The four most popular products are: aluminum blinds, cellular shades, plantation shutters and solar shades.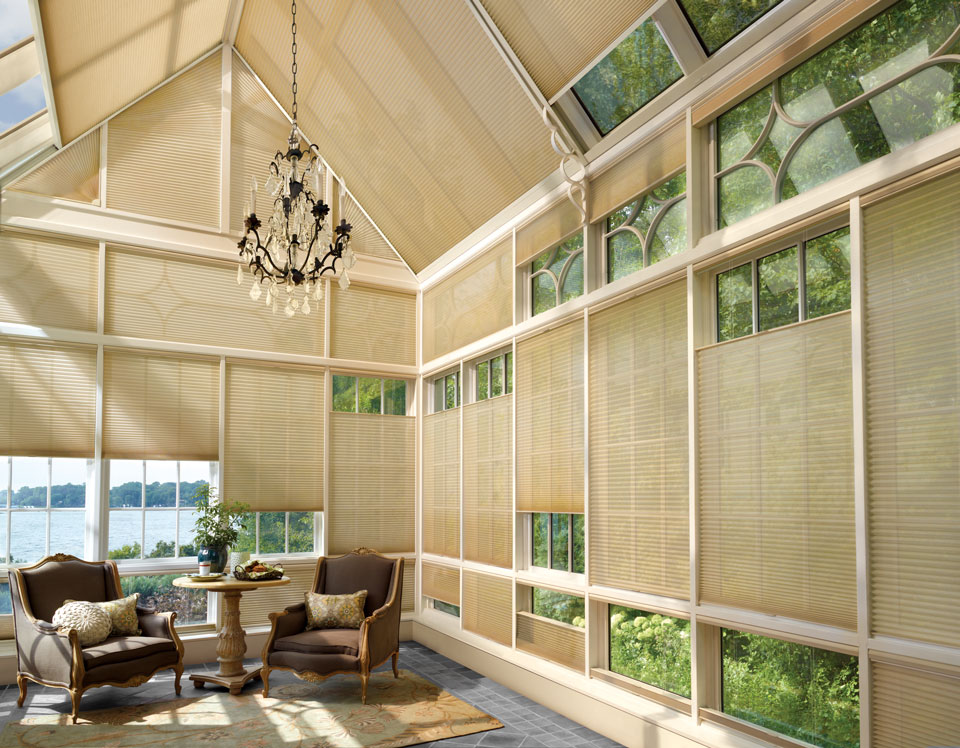 The most common type of skylight window treatment is the cellular shade. Cellular shades are fabric shades constructed with a pocket of air between the front and back layers of fabric. This design means that cellular shades are excellent insulators and solar heat reflectors. They block 99% of harmful, fading UV rays. A cellular shade is specially customized for skylights via tracks on each side to support the fabric at any ceiling angle. They come with an extension pole to operate the window treatment on a skylight of any height.
Aluminum horizontal blinds can also be customized to fit skylights. They are fabricated using stainless steel wire, rather than cords, to provide support and prevent sagging. Unlike cellular shades, aluminum horizontal skylight blinds do not insulate. Instead, they are designed to tilt and direct light rather than insulate or block solar energy. If, for example, your skylight is causing glare on your big screen TV, a horizontal skylight blind may be the answer.
Most people don't think of Plantation Shutters as a window treatment for skylights, but they are becoming a popular option. Plantation shutters are simple and elegant. Rather than dealing with wires, tracks or cords, you just tilt the louvers to different angles to control light. Or, close them completely to darken a room. Like cellular shades, Plantation Shutters for skylights come with a specially designed extension pole. The pole comes with a hook at the end with a rubber bumper. You gently push the bumper against the louvers to tilt them.
The simplest and most affordable skylight window treatment is the solar shade. Solar shades use a vinyl coated mesh cloth that reflects up to 70% of the solar energy entering the room via a skylight. And if you're on a budget, they are a great solution that doesn't break the bank. Solar shades allow a soft light to filter through while simultaneously cooling the room and keeping harmful solar rays from fading your floors, furniture, and artwork. A solar shade is ideal for people who want to "set it and forget it". The solar shade is installed with tension rods, making them quick and easy to mount; there are no screws or brackets required.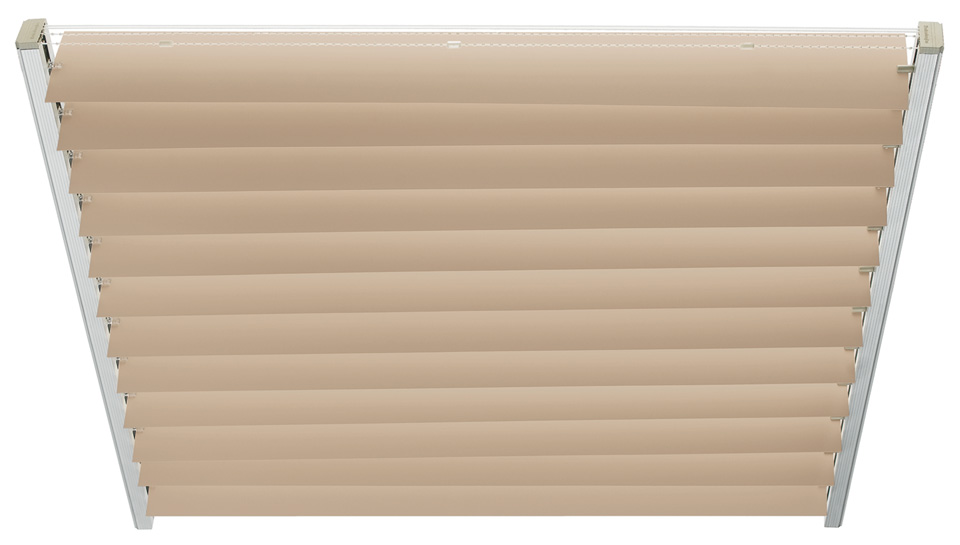 By adding shades, blinds, or Plantation Shutters to your skylight, you will be able to control the light to your liking, better insulate your home, and create optimal sleeping and entertainment experiences.