We spend at least a third of our lives in our bedrooms. With this in mind, we believe relaxing, comfortable, and luxurious bedding fabrics should top the list of home design priorities. At Strickland's Home, our professional designers can help you transform your bedroom into the luxury oasis or comfy hideaway you deserve. With our custom-designed bedding fabrics, we make dreamy designer bedding a reality you can sink right into. At Strickland's, luxury bedding fabrics mean far more than just finding the right duvet or comforter design.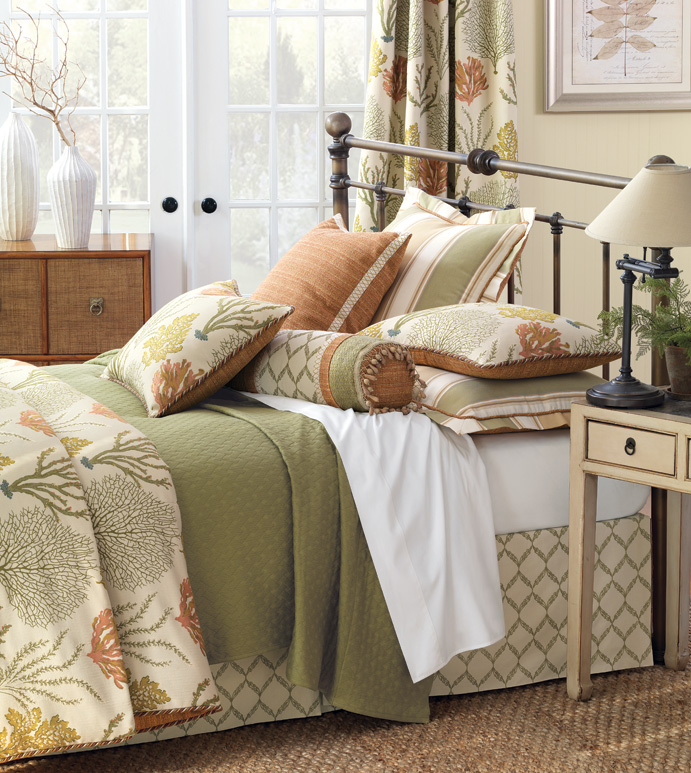 We custom-design pillows and bedding, including:
Bed scarves
Bed skirts
Blankets
Bolsters
Boudoir shams
Coverlets
Draperies that match(link)
Euro Shams
Neck rolls
Pillows
Quilts
Shams
Throw Pillows
We partner with some of the most premier fabric companies to provide our customers with a selection of hundreds of designer fabrics and bedding sets to match any space or aesthetic. From minimalistic, modern and contemporary to lush, playful and pillow-covered to traditional and pristine, our bedding designs cover the entire spectrum of style and aesthetics.
We offer a wide selection of design options as well as the expertise to help you find the right look for you. Our expert designers guide you throughout the entire design process. During your free in-home consultation, we get to know your space, needs, preference, and budget. Then, we help you design your dream bedding complete with the right fabric, style, color, and pattern for your comforter, duvet, and other matching elements for the ultimate in personal luxury. Perfect-fit elements like stylish bed skirts guarantee your bed is beautifully styled from every angle.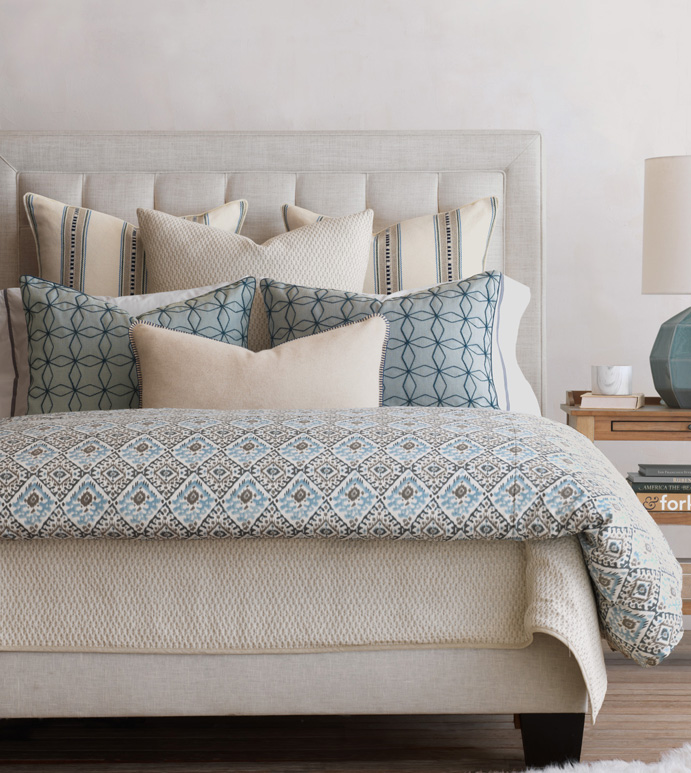 Ultimately, custom bedding is at the pinnacle of style and comfort. A luxuriously layered bed like the ones you see in shelter magazines requires more than a fluffy duvet and a handful of pillows – think: Euro shams, a neck roll, boudoir, and bolster. Think: whatever you desire! A designer bed has it all, including hypoallergenic linens, down filling, and custom-stuffed pillows that sink and support just the way you like them.
Ready to discover your designer bedding? Contact us at Strickland's Home today. We'll help you find, design, and install the custom designer bedding you deserve. Want to learn more? Check out our helpful articles and our articles on designer bedding, or just give us a call.