Natural Wood Shades
Over the years, natural woods window coverings have been known by many different names as they have evolved and adapted to blend perfectly with design trends. In the seventies, for example, they were known as woven wood shades or woven woods because they were made of natural wood materials woven with brightly colored yarns and fibers to complement the orange shag carpet and psychedelic artwork popular in that decade. Today, natural woods have adapted to more subtle warmth, using the richness of natural materials to showcase organic beauty.
Although natural wood shades are sometimes called "matchstick shades", this term refers to just one small choice in a huge variety of natural materials. Today's natural wood shades are typically handmade of woods, natural reeds, bamboos, or grasses, all woven with natural fibers and cords. Just as with a fine piece of wood furniture, these natural materials age beautifully as they hang in your windows.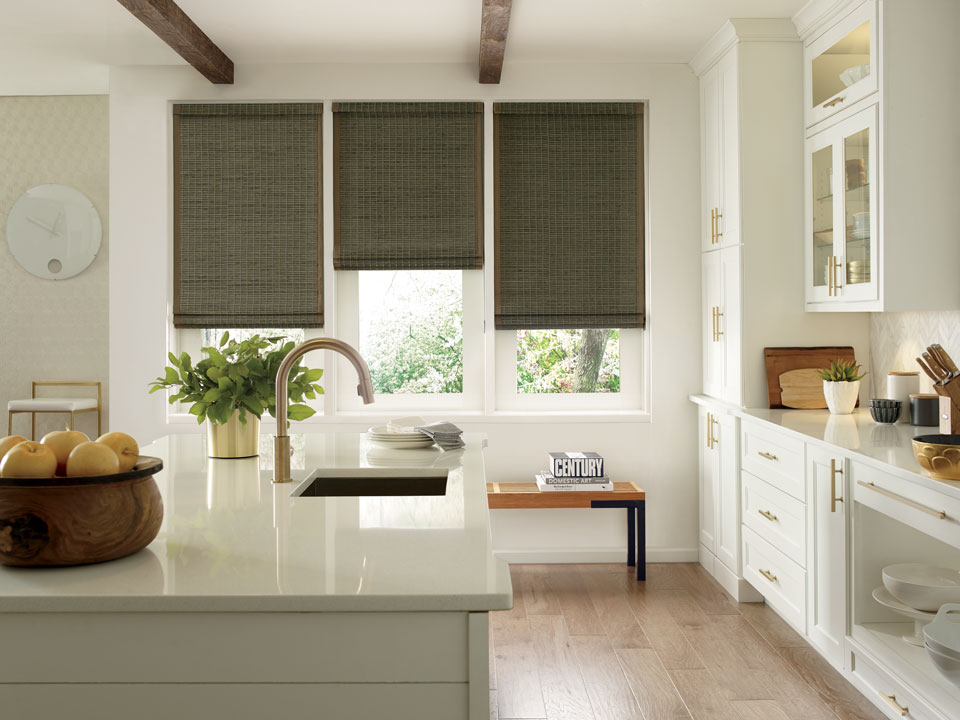 Natural woods are a type of Roman Shade. A Roman Shade is constructed from a flat piece of material; in this case, it is a natural material. The material is attached to a top board and fabricated so that when it is raised, it drapes in soft folds. When the shade is raised to the top of the window, it also serves as a valance, providing a finishing touch for a room's décor.
In addition to selecting your choice of materials, natural wood shades allow for many other options. For instance, do you want a flat or hobbled shade? In other words, would you like the material to lay flat or have pleated folds when the shade is in the lowered position? You can also choose whether to have your natural wood shades lined or unlined. Some natural materials are loosely woven, allowing diffused light and some of the view to pass through. While this may be desirable for a living room or a den, it doesn't provide the privacy needed in a bedroom. Linings can be either light-filtering or room darkening. Typically the lining is color-coordinated to match the natural material of the shade.
Although natural wood shades can be ordered with a traditional pull cord, they can also be fitted with modern operating systems like a continuous cord system for child safety or a top-down option that lowers the shade from the top of the window, an ideal solution for bathrooms and bedrooms.
One inherent benefit of natural wood shades is that they are environmentally friendly since they are made of natural renewable materials. This also means that when a natural wood shade reaches the end of its life cycle, it is biodegradable and recyclable. There's nothing better than decreasing your carbon footprint while simultaneously enhancing the look of your room!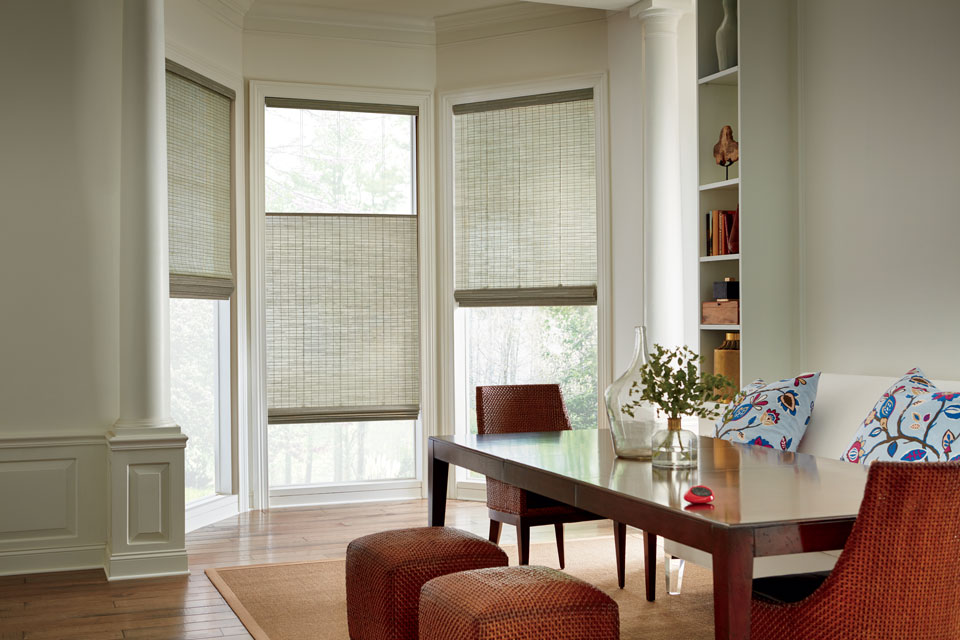 When choosing natural wood shades, remember that just as a blade of grass can change colors after it is cut, the color of natural wood shades can change with age. Although most have been dried and cured to reflect their end color, some matchsticks and grasses will brown or darken over time. Of course for those who choose natural wood shades, this is part of the beauty of these natural materials.
Key Benefits:
Low carbon footprint. Environmentally friendly and recyclable.
When raised, natural wood shades create a valance, eliminating the need for additional window treatments
Natural wood shades can be ordered with no lining, light filtering lining, or with room-darkening lining, meaning that functionally, they can be integrated into any room in the house.
Things to consider:
Natural materials can change colors as they mature in the window.
Natural wood shades are handmade from natural materials, meaning that variations in weave, texture and color are typical. If you desire a uniform look, this may not be the product to consider.