Cellular & Pleated Shades
One of the largest categories of window coverings is shades, and in that category, cellular and pleated shades offer the greatest number of options for consumers. Both cellular shades and pleated shades are constructed out of fabrics, some non-woven and some woven.
Cellular and pleated shades work on the same principle — pleated fabric which can be raised and lowered. Design differences create the distinction between cellular shades and pleated shades. The cellular shade, often referred to as a honeycomb shade, is constructed so an air pocket, which mimics the shape of a bee's honeycomb, is formed in the center of the shade. The pleated shade does not have an air pocket.
Cellular (Honeycomb) Shades:
The energy crisis of the 1970's inspired the honeycomb cellular shade, first introduced as the Duette by Hunter Douglas in 1985. The first of their kind, Duette shades were an innovation in the window coverings industry. Today, many other companies like Levolor and Graber have created their own versions of the cellular shade Hunter Douglas originated. Most cellular shades are made from non-woven polyester, but some woven options are also available. Non-woven fabrics will not fray; they resist stains; and they have a white backing which provides a uniform appearance from outside the home. The key advantage the cellular shade offers over other window covering choices is its superb insulating quality. Let's take a minute to explore why: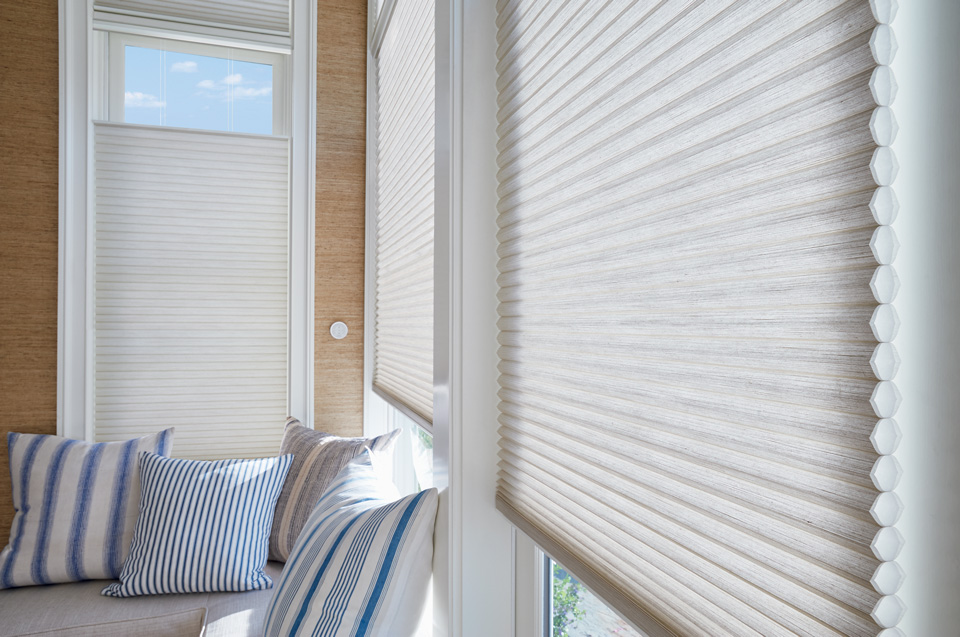 The window coverings industry measures energy efficiency in two ways. Winter comfort is measured with "R-Values" and summer comfort is measured with a "Shading Coefficient".
A product's "R-Value" is a measurement of its ability to resist heat loss. A single layer of uncovered window glass has an R-value of about 1.75. Higher R-values mean better insulation. So by selecting a product with a higher R-value, you can save money on your annual energy bill. For example, a standard aluminum mini blind in a double glazed window (a window with two panes of glass and an air space between them) carries an R-value of 2.32. A single cell cellular shade on that same window creates an R-value between 3.50 and 4.30. But, a double or triple honeycomb cellular shade creates an R-value of 4.80. Such a high value creates a substantial savings on your heating costs.
With a "Shading Coefficient", the opposite holds true: the lower the value, the better the energy efficiency. With that in mind, let's make the same comparison. A mini blind on a double glazed window has a shading coefficient of .43. A semi-opaque cellular shade on that same window has roughly the same coefficient of .44, but is actually more efficient because it does not have the radiant effect of a metal blind (i.e., the metal absorbs the heat energy and radiates it into the home). In comparison, an opaque fabric or a multiple honeycomb cellular shade decreases the Shading Coefficient to .35, or even .21. This means that a cellular honeycomb shade reduces window heat by nearly 80%!
Energy efficiency isn't the only benefit that cellular shades offer. Cellular shades can maximize a room's view because the pleats stack tightly at the top of the window when raised. Cellular shades are also available with a variety of operating systems including: continuous cord loop, motorized lift, cordless, and Hunter Douglas' retractable cord, UltraGlide. These modern systems eliminate dangling pull cords and create a less cluttered look around your windows.
If darkness is what you desire, cellular shades are an excellent option. Not only do cellular shades offer many blackout material choices, their honeycomb construction also eliminates the need for visible holes to accommodate the pull cords traditional pleated shades and blinds require. This eliminates those pesky rays of light from creeping in to a room when you are trying to sleep. Some honeycomb cellular shades, like the Comfortex SlumberShade, are available with side tracks which eliminate light gaps on the sides of your windows too. They are an ideal choice for optimal viewing in a home theater.
Key Benefits of Cellular Honeycomb Shades:
They offer a variety of pleat sizes to fit any look and decor – 3/8", 1/2", 3/4", 1 1/4″
Single, double or triple honeycombs create varying levels of darkness and energy efficiency.
They have no visible cord holes which further increase light control and create a neater, more streamlined appearance.
They are available in wide widths to cover large windows.
They provide excellent insulation from both summer heat and colder temperatures in the winter.
They stack tightly when raised, creating an open, uncovered look to the window(s)
They are available as a standard shade, a top down/bottom up shade, in specialty shapes and as skylight shades.
Things to Consider:
As with any shade, it is either raised, lowered, or somewhere in between, making light control more limited in comparison to blinds or Silhouette shadings which feature tilting louvers.
Although the fabrics used in cellular shades are washable, they can be impractical for areas that require frequent cleaning (over a kitchen sink or in the garage, for example).
Pleated Shades:
The predecessor to the cellular shade, the pleated shade works and operates in the same fashion as honeycomb shades. The main difference between the two is that a fabric pleated shade is made from a single layer of fabric. Typically a woven fabric, pleated shades are available in a wide variety of styles and textures. The can be lined with a light filtering or room darkening backing, depending on the level of privacy and light control you need. Because they are made of just one layer of fabric, pleated shades do not insulate windows as well as cellular shades. However, for windows that don't require strong insulation, pleated shades can be a great way to control light glare and provide privacy.
As mentioned earlier, cellular shades and pleated shades are available with a number of different options. The most popular include:
"Top Down / Bottom Up" – This option allows the shade to be positioned so the top half of the window is uncovered while the bottom half remains covered. This is a great feature for a bathroom or a bedroom where privacy is frequently required on the lower half of the window, but one desires the upper portion open in order to appreciate a view or allow light into the room.
Continuous Cord Loop – As the name suggests, a continuous cord loop is a loop of cord on one end of the shade that, when pulled, turns a mechanism which actually raises the shade for you. Unlike the standard system, the continuous cord loop remains the same length regardless of whether the shade is up or down. This eliminates a long, unsightly cord dragging the ground when the shade is raised. A very popular option for doors and for short windows over sinks, this feature also provides child and pet safety when the cord loop is attached to a retainer.
Cordless Option – If you don't like the look of a pull cord, or if you have small children in your household, you might want to consider the cordless shade. With the touch of a finger, the shade can be easily raised and lowered. Bear in mind that you should be able to reach the top and bottom of the window comfortably; otherwise, you may need to keep a step stool handy.
Motorized Option – Motorized shades have modern day appeal and are so easy to use, even the technologically challenged can operate them! With the touch of a button, you can raise, lower, and stop shades in any position. Motorized shades are practical for high windows in foyers and windows that require stretching over the bathtub; no more trying to pull down the shade while holding onto your towel!
Hunter Douglas Pirouette® Window Shadings
Hunter Douglas Pirouette® Window Shadings combine the functionality of horizontal window blinds with the beauty of a Roman Shade. Soft fabric vanes are attached to a single sheer backing for light control that ranges from full exposure to complete privacy, with varied light depending on the tilt of the blinds. We're big fans of Hunter Douglas Pirouette® Window Shadings because they are:
Beautiful and simple in design – Hunter Douglas' patented Invisi-Lift™ system allows vanes to seemingly "float" without disruptive view of lift cords
Available in multiple styles and colors
Available with high-tech options like the Ultraglide® retractable cord system and PowerRise® Motorized operating system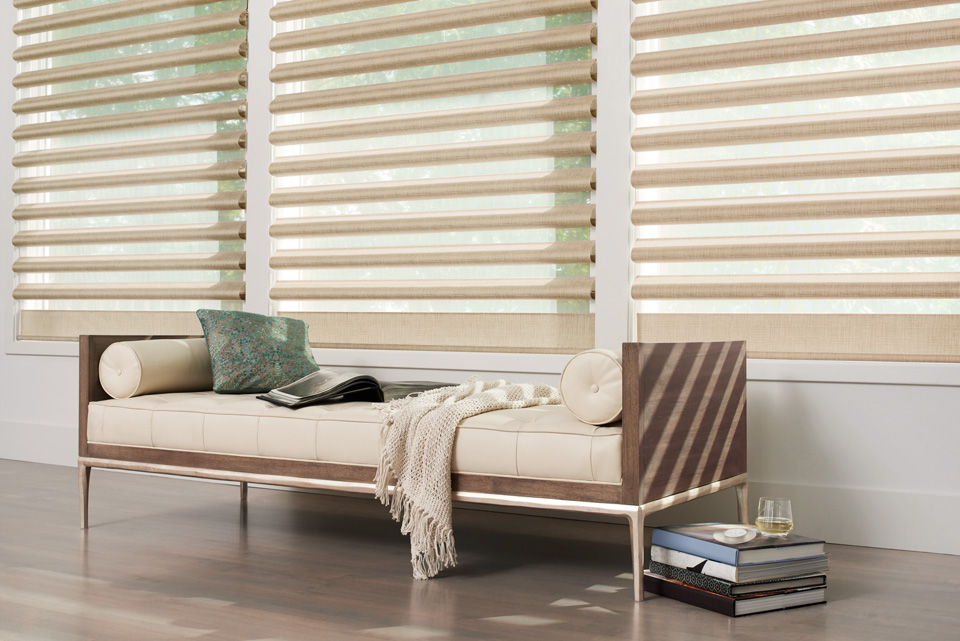 Hunter Douglas Silhouette® Window Shadings
Though at a glance they just look like gorgeous window blinds, Hunter Douglas Silhouette® Window Shadings belong in a category entirely their own. These blinds have the versatility and ease of use of a tilting louvered blind with the softness and compact stacking of a window shade. They make for stylish window treatments because they are:
Made with signature S-vanes made of ultra-fine sheer material
Available in a variety of colors and textures as well as light filtering and room darkening options
Available with high-tech options like the Lightrise Cordless system, Ultraglide® retractable cord system, and PowerRise® Motorized operating system
Like what you see? Learn more about Hunter Douglas' state-of-the-art window treatments here.