Hunter Douglas Luminette® Privacy Sheers
Have sliding glass doors or large windows in your home? Popular in many of today's homes for their functionality and utility, sliding glass doors and large windows have one pressing drawback: Choosing the right window treatment can be a challenge for many homeowners. While vertical blinds were once the go-to option, there are more diverse options available today. At Strickland's, we recommend Hunter Douglas Luminette® Privacy Sheers for your sliding glass doors and large contemporary windows.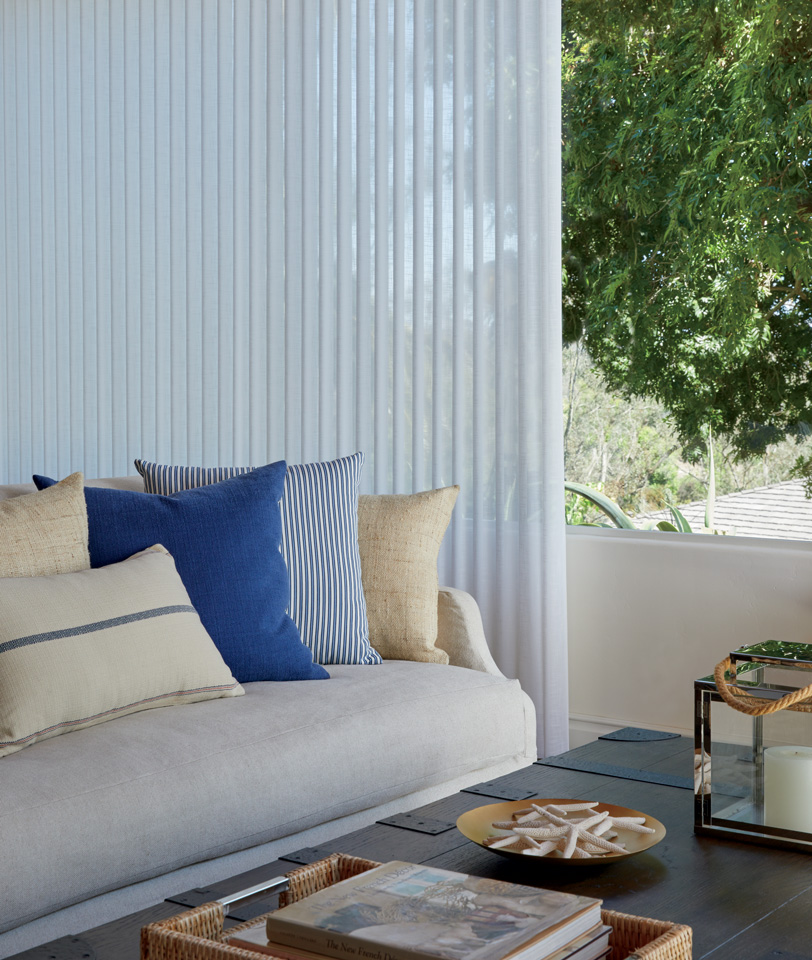 Hunter Douglas offers two elegant and creative ways to cover wide door and window expanses, Luminette® Privacy Sheers and Luminette® Modern Draperies. Many people tell us that they "love the look of sheer curtains," yet worry that sheers "don't give enough privacy at night." Our Hunter Douglas Luminette® Sheers and Draperies are the perfect solution to these common privacy concerns.
Privacy Sheers offer the widest range of light and privacy control possibilities. With a sheer face fabric to let in light attached to a soft fabric vane that can be rotated for privacy and light control, Hunter Douglas Luminette® Privacy Sheers offer the best of both worlds. With Luminette®Privacy Sheers, you can enjoy your view during the day and still have privacy and light control at night. Luminette® Privacy Sheers could be called a hybrid window treatment, as they have the elegance of sheer fabric, like traditional drapes, yet they also have the practical features of a blind that can be opened and closed depending on your need for light and privacy.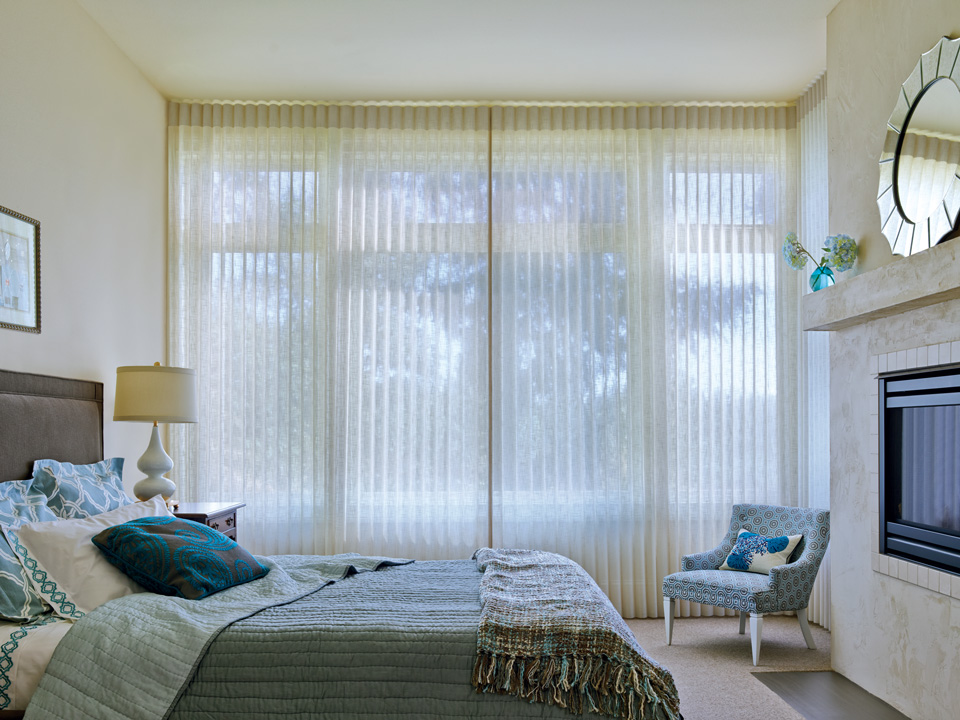 According to the Hunter Douglas website: "Luminette® Privacy Sheers offer an array of fashion-forward fabrics and colors that provide precise light control with translucent or room-darkening vane opacity options. Soft face fabric is permanently bonded to fabric vanes, offering full view-through and discreet privacy. Face fabric diffuses sunlight into the room, reducing the need for interior lighting."
Luminette® Modern Draperies look similar to the Luminette® Privacy Sheers. The key difference is that the Modern Draperies use a woven face fabric that isn't sheer. For the ultimate in design style and function, you can combine the Privacy Sheers and Modern Draperies on a single rail, resulting in a modern interpretation of sheer and fabric panels.
Luminette® Privacy Sheers are perfect for large window and sliding glass door expanses since they are available up to 16 feet wide and 10 feet tall. Luminettes are available with two hardware systems. You can select our sleek SofTrak Hardware System or the bolder fluted or smooth Manhattan Decorative Hardware System. The Manhattan Decorative Hardware System is offered in three colors of poles and finials.
Key Benefits:
Cover wide expanses up to 16 feet.
Wide selection of fabrics, textures and colors makes it simple to choose for any room. Over 100 swatch choices are available.
Versatile providing both view through and privacy.
UV protection to keep your carpets, furniture, and artwork from fading.
Ease of operation with the Combination Wand/Cord and the Traveling Wand™ systems. Twisting the wand rotates the vanes from completely open to completely closed, plus any increment in between.
Both systems offer safety features.
Motorized operation is available with the Luminette® PowerGlide® with Platinum™ Technology. It can be controlled with a hand-held remote and a satellite eye.
Things to Consider:
Mounting outside of the window trim is recommended because it allows the vanes and fabric to operate freely.
Inside mounts can leave light gaps on the sides as well as the top and bottom.