I Want Privacy
If your windows overlook a neighbor's home, a busy street, or a golf course, you may be particularly concerned with finding shades or blinds that ensure privacy. Luckily, there are many window coverings for privacy-seeking homeowners.
For windows, fabric and roller shades are a great option, available in a range of colors and styles, from traditional to contemporary.  Whether you want a lined Roman shade in a cheerful color for your kitchen or a darker balloon shade to add elegance to your dining room, these options provide compete window coverage. Similarly, curtains and draperies can be adjusted for total privacy and are available in a range of styles.
Many clients feel that custom draperies are the most luxurious option and want draperies designed to match their room's color scheme and add privacy.  For those who prefer the crisp, neat look of shutters and wood blinds, these provide almost total privacy; however, it may be possible to see through slats at certain angles or if the louvers are left open or askew. If you love the soft, romantic look of sheers, be aware that they are totally transparent at night. To address this privacy issue, it is advisable to put shades underneath for evening use.
If you have sliding glass doors or French doors, a combination of valance and draperies can be used for fully adjustable privacy. In some cases, blinds or shades can also be utilized to add privacy to your French doors.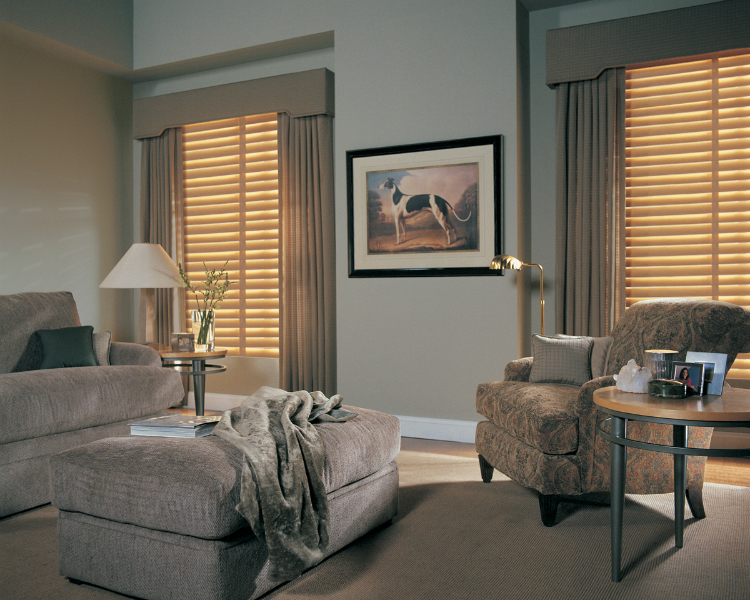 No matter which look you prefer, the Strickland's team can help you create a great look for your room that ensures both high style and complete privacy.
 In My Bedroom
The houses in my neighborhood are fairly close together and I have lots of windows in my master bedroom, what can I use to give me privacy at night?
Most window coverings (with the exception of solar shades) are designed with privacy in mind; they can be lowered or closed as needed. But, beware of products that leave significant side gaps when installed inside the window.  Roller shades including Vignettes, Silhouettes, and Pirouettes are not always the best solution of you are looking for total privacy. Draperies and plantation shutters, however, are great choices for maximum privacy.  If your windows are deep enough, consider installing horizontal blinds, honeycomb shades, roman shades and lined woven woods, all great options for optimal privacy.
 In My Bathroom
I love the sun-drenched light that pours through my bathroom window, but I don't love thinking that one of my neighbors might discover me 'in the buff'!  What's the best solution for privacy in the bathroom?
In the bathroom, privacy is a top concern, but moisture and humidity are also important considerations. You'll want window coverings that can withstand sun and moisture exposure while still affording you the privacy you need.
Faux wood blinds, made from a composite of plastics, won't bend, warp, crack or attract mildew. They're an ideal choice for bathrooms because they are simple to clean and they come in a wide range of colors that complement virtually every decor. When tilted open, the slats let in extra light while still maintaining privacy; when tightly shut, your privacy is guaranteed. Faux wood interior shutters and vinyl shades are also popular, durable choices. Like faux wood blinds, they come in a variety of colors; some brands are even fade-resistant.
Outdoor fabrics are being used more and more frequently inside the home. Cafe curtains made from outdoor fabric provide privacy on the lower portion of your windows, while leaving the upper portion open to light and view.
Likewise, roller shades and cellular shades made with moisture-resistant materials often feature top down/bottom up lifts for the ultimate in flexible privacy.