Aluminum Blinds
Everything old is new again! That's certainly the trend with aluminum blinds. They virtually replaced the wood Venetian blind in the late 70's and 80's, but fell in popularity over the next two decades.  But new updates in the past few years have made it, as Hunter Douglas says, the "New Modern Classic".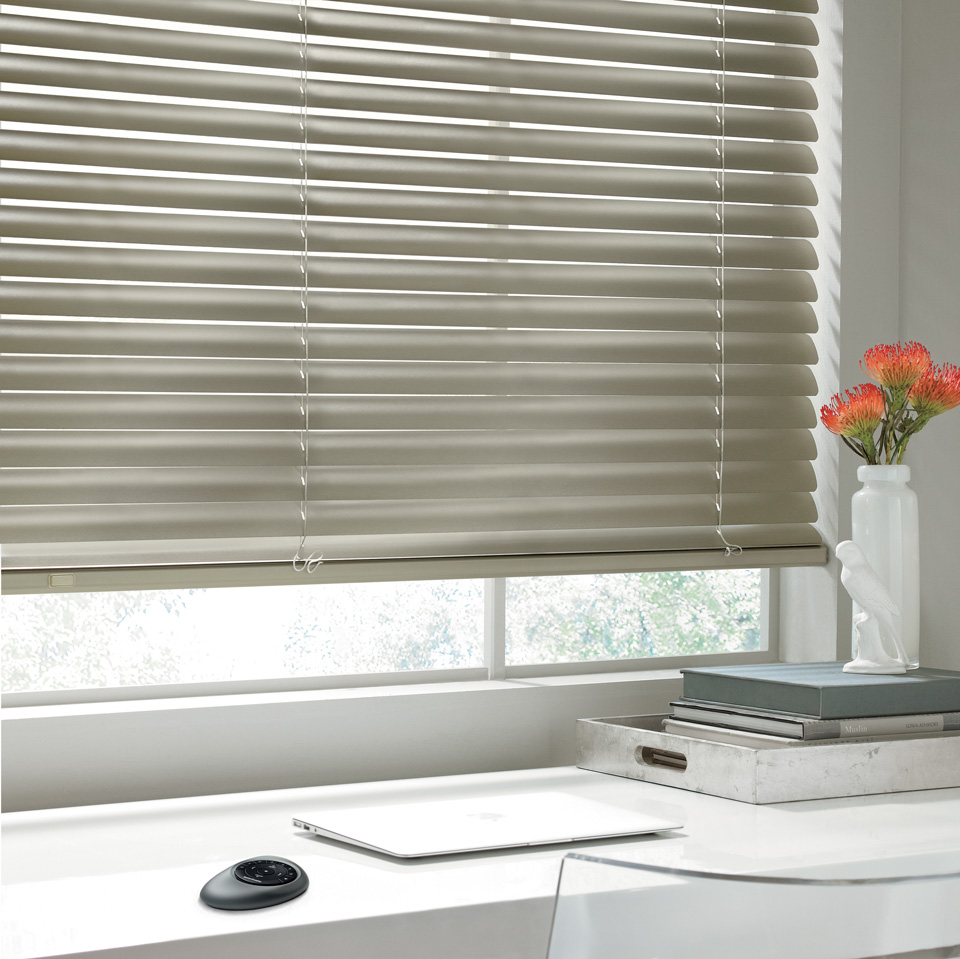 Aluminum blinds combine high functionality with low pricing. They're light, versatile, and available in larger slat sizes for a more dramatic view. They're are also easy to maneuver, allowing homeowners to effortlessly control the amount of light coming into their homes.
Aluminum horizontal blinds can be ordered in a rainbow of colors from neutrals to vibrant hues to complement any décor. Whether you want light pink for your little girl's room or a contemporary brushed aluminum finish for your modern office, these window covering work horses fit the bill.  Their slats are also available in a wide arrange of finishes including: brushed, pearlescent, metallic, opalescence, and matte.
Available in three sizes: micro mini blinds (1/2″); conventional mini blinds (1″), and bold 2″ widths.  Micro and mini blinds have a privacy option that eliminates unwanted light leaks which could interrupt sleep, fade furnishings and cause glare. 2" blinds can be ordered with your choice of decorative tapes (available in a wide range of colors and patterns) to accent your décor. Sleek, all in one head rail styles complement the clean lines to create a sophisticated and elegantly finished look.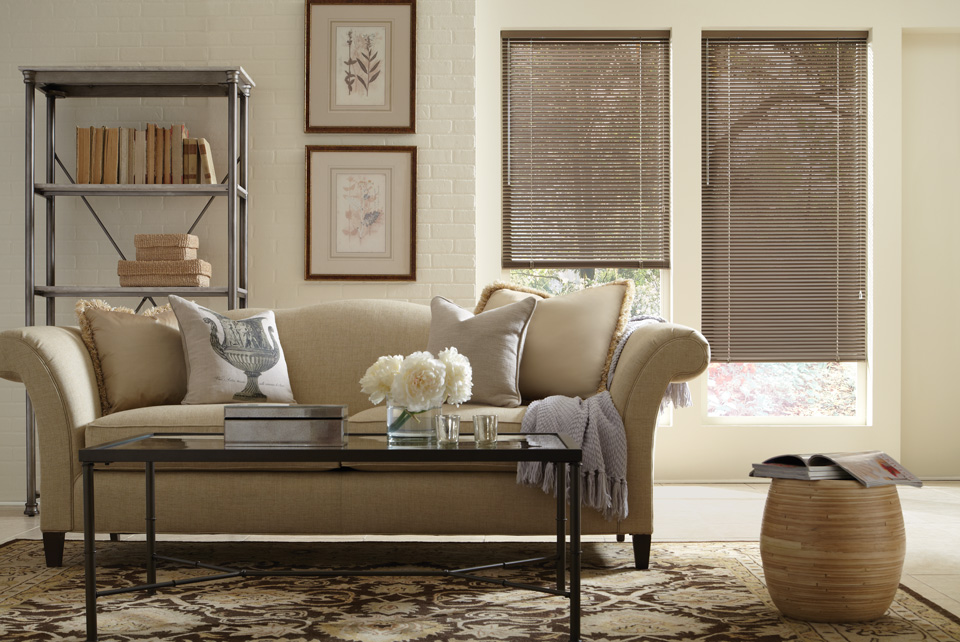 Available in 1" and 2" slats, they are designed to open twice as wide as traditional ones. Hunter Douglas achieves this by aligning two slats, one under the other. If you are looking for unique, look no further.  You can even have them motorized so they tilt by remote control!
Environmentally friendly, this type of window treatment is often made from recycled aluminum. Aluminum also doesn't burn, so it is an excellent application in commercial applications such as schools and hospitals. Easy cleaning is also another advantageous feature. They can easily be dusted, vacuumed, or washed in a tub of warm soapy water. Our aluminum blinds are lightweight, yet sturdy and so reasonably priced, you could furnish every window in your home at one time.
Key Benefits:
Available in a myriad of colors and finishes to fit any décor
Lightweight and tiltable, aluminum blinds easily control fading, glare and give privacy while being easy to pull up for full view
Fireproof, making them an excellent choice for commercial applications
Environmentally friendly
Cordless and motorized options make aluminum blinds safe for children and pets
Available in very large sizes, aluminum blinds are a great option for covering large windows.
Aluminum blinds are very affordable
Items to Consider:
Since aluminum blinds are available in vibrant colors, consider how they will look from your home's exterior.  Bright purple may look great inside your home, but not so good from the outside.
They can bend, making them impractical for a child's room.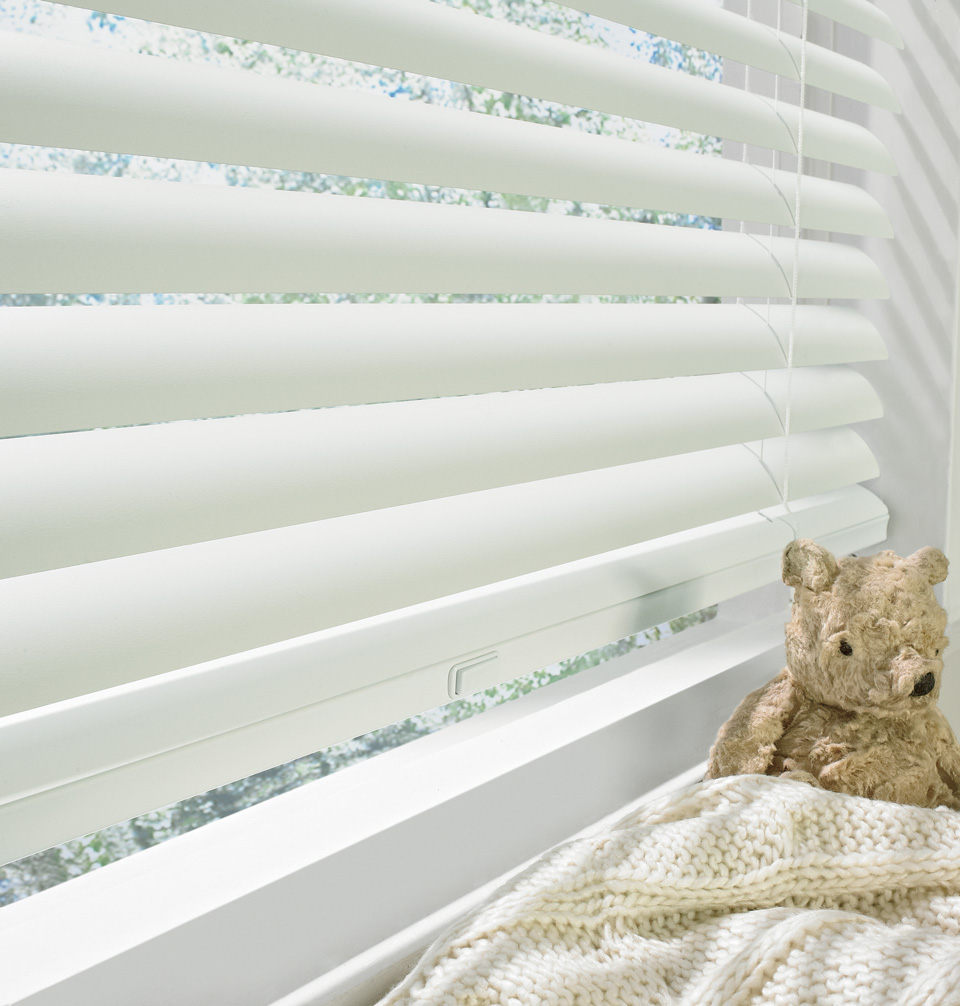 Ready to realize the benefits that aluminum blinds can bring to your living space? Request a no-obligation appointment with a Strickland's design professional today.