The Benefits of an Organized Laundry Room
For most people, doing laundry is a dreaded chore. There's the roundup of all the hampers in your home, the sorting, the back-and-forth between the washer and dryer, the folding, and then the need to put it all away. Fortunately, Strickland's Home has ironed out the details to make the entire chore a bit easier. Here are a few ways an organized laundry room will lighten your load: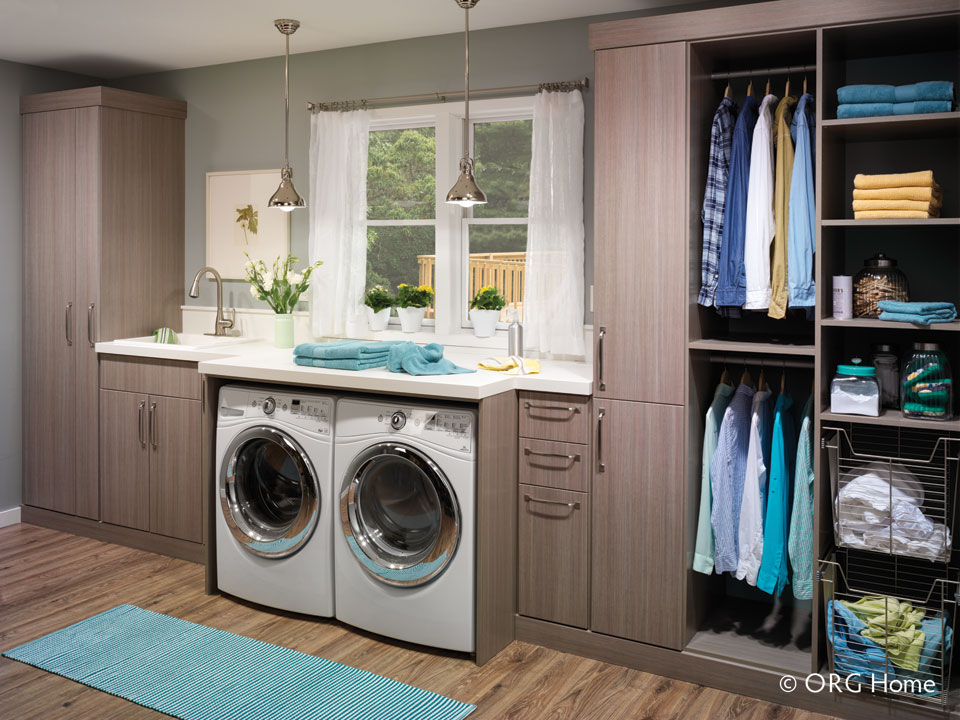 Fold Here: There's a certain satisfaction in having freshly cleaned laundry that's ready to be put away. You can achieve it all the faster when there's a convenient place to do all of the folding. We can set you up with a thick Forterra countertop where you can spread out and fold from corner to corner, sleeve to hem.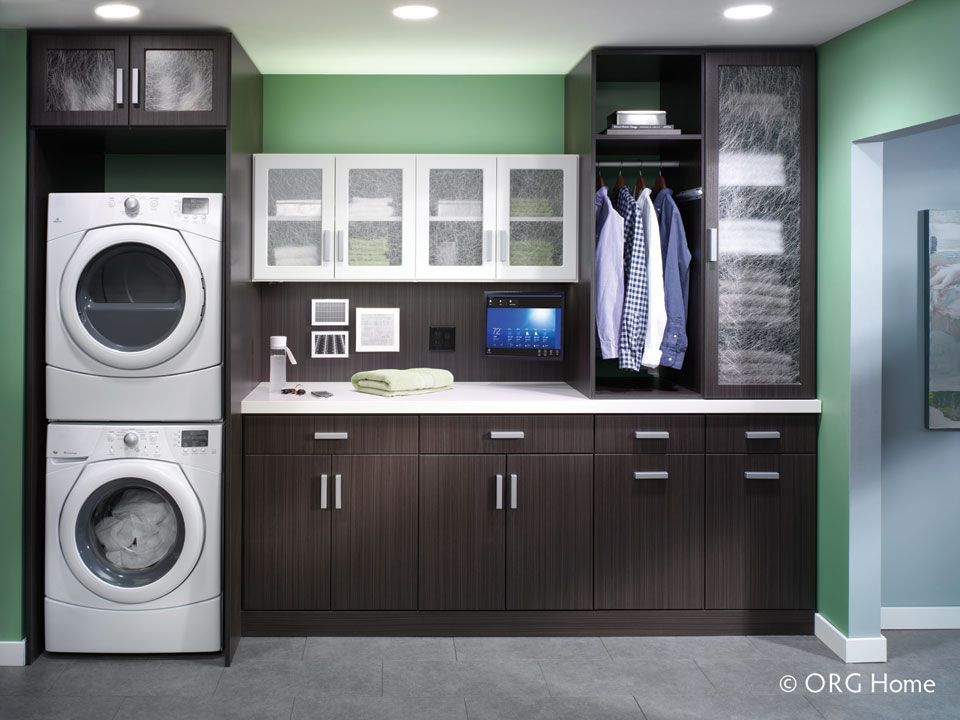 Iron On: Lugging the ironing board out, setting it up, and then forcing it back into its corner can be a pain. Our ORG Home fold-out ironing board not only pivots into seven convenient positions, it also disappears behind a drawer when not in use.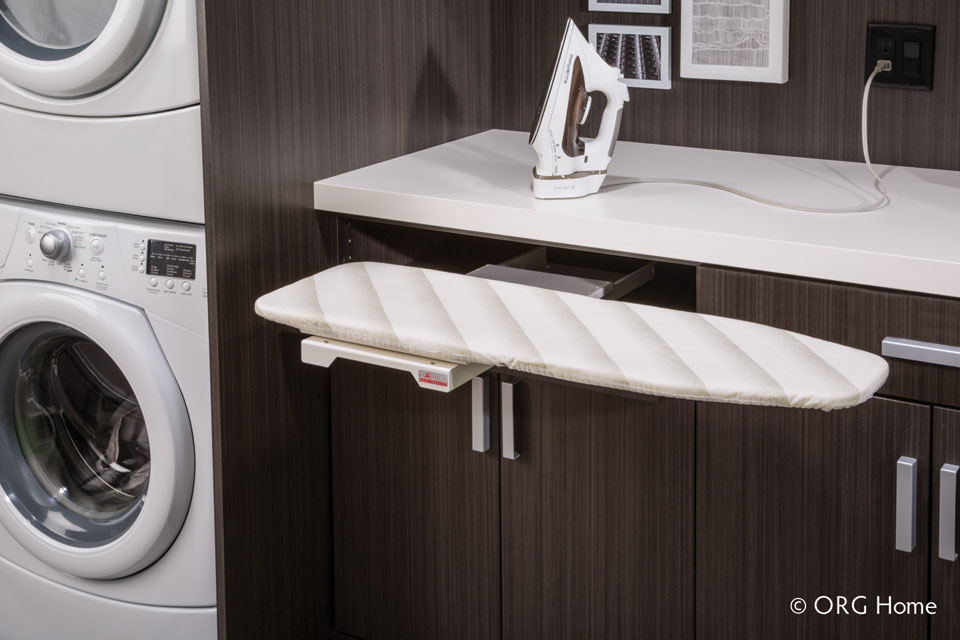 Stow Away: Doing laundry comes with its own laundry list of accessories. With a laundry room design that incorporates plenty of drawers, wire baskets, and other storage, all your detergents and softeners will be easy-to-access, yet uncluttered.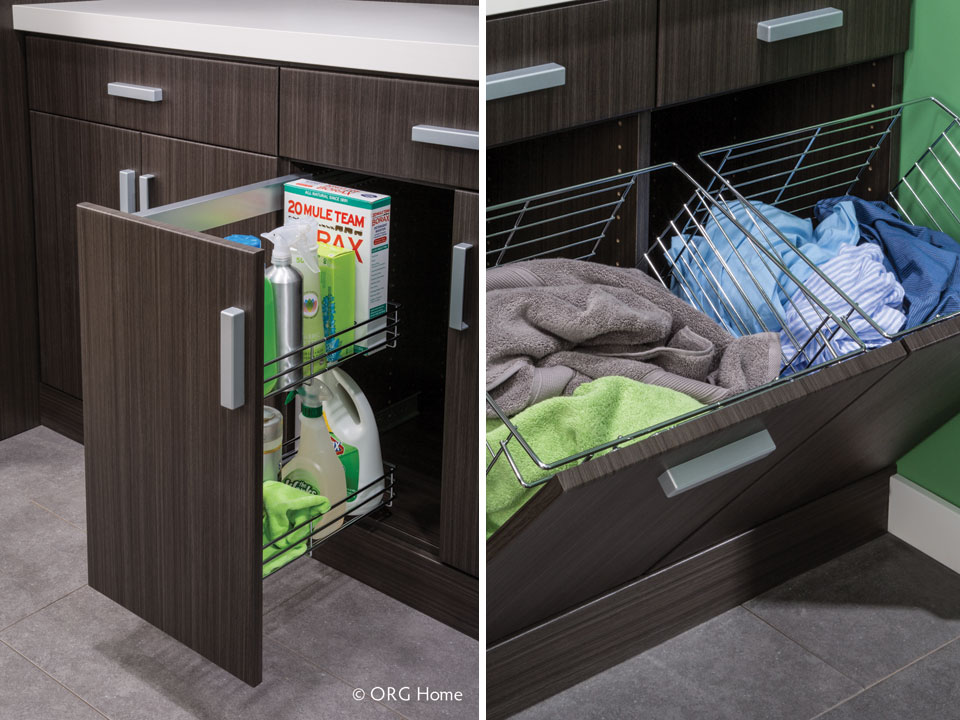 Sort It Out: Forget hauling hampers to the washer and then slowly picking through their contents. We're firm believers that an organized laundry room includes built-in hampers. Ours flip open from behind a cabinet door (your choice of finish) so your dirty clothes are tucked out of sight. And with sturdy chrome baskets, you can streamline the sorting process by keeping lights and darks separate.
Hang Up: Valet service in your laundry room? It really does exist—thanks to our pull-out valet rod. The valet rod is a great place to hang clothes fresh from the dryer (so you can keep that just-pressed look) Best of all, it can slide into a cabinet and stay concealed when not in use.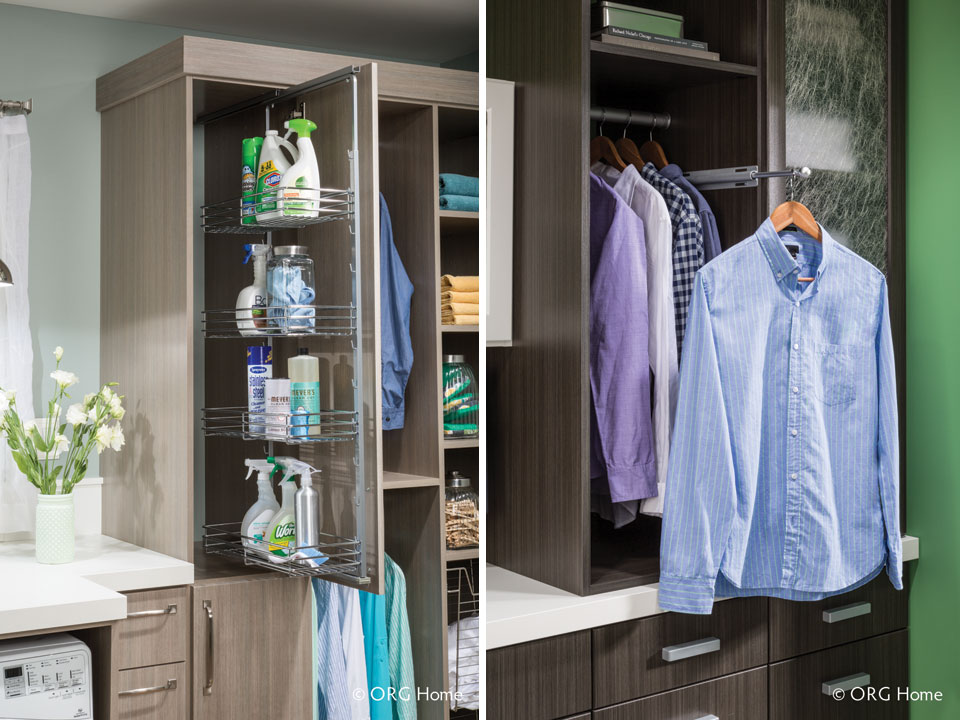 Save Money: Believe it or not, an organized laundry room can actually help you spend money more wisely. When there are shelves, cabinets, and designated spots for everything you need, it's easier to keep track of your laundry room stock — which means you won't be buying needless multiples and you'll never be surprised by a tapped-out detergent bottle again.
Keep Motivated: You probably know how environment affects mood, but have you considered how a well-designed organized laundry room can affect your relationship with your laundry? With customizable cabinets (choose from crisp white or a calming ivory finish), chic wood grain cabinets, and integrated lighting, you can create a space that so pretty, you might just be inspired to change the sheets, freshen up the towels, and run your wardrobe through the gentle cycle!
Ready to tumble (dry) into an organized laundry room? Visit Strickland's Home and find out how we can help.