If you restore classic cars, you like tinkering with your newer sports car or truck, or you prefer to fix your vehicles yourself, than there is one item for your garage that is indispensable – a home car lift. A jack and a jack stand will let you get underneath a vehicle, of course, but a car lift will allow you to access the underside of your automobile with greater ease, comfort, and safety.
Car lifts make it far easier to check for damage, perform regular maintenance, and execute necessary repairs. After an exhaustive search of options in the marketplace, Strickland's Home has partnered with Challenger. Challenger's 7,000 lb. capacity and 9,000 lb. capacity 4-post garage lifts offer the most advanced technological hoists in the industry. Home enthusiasts can enjoy maximum versatility with pro-level applications. Fully customizable, Challenger home car lifts come with a wide range of optional accessories designed to meet your precise needs.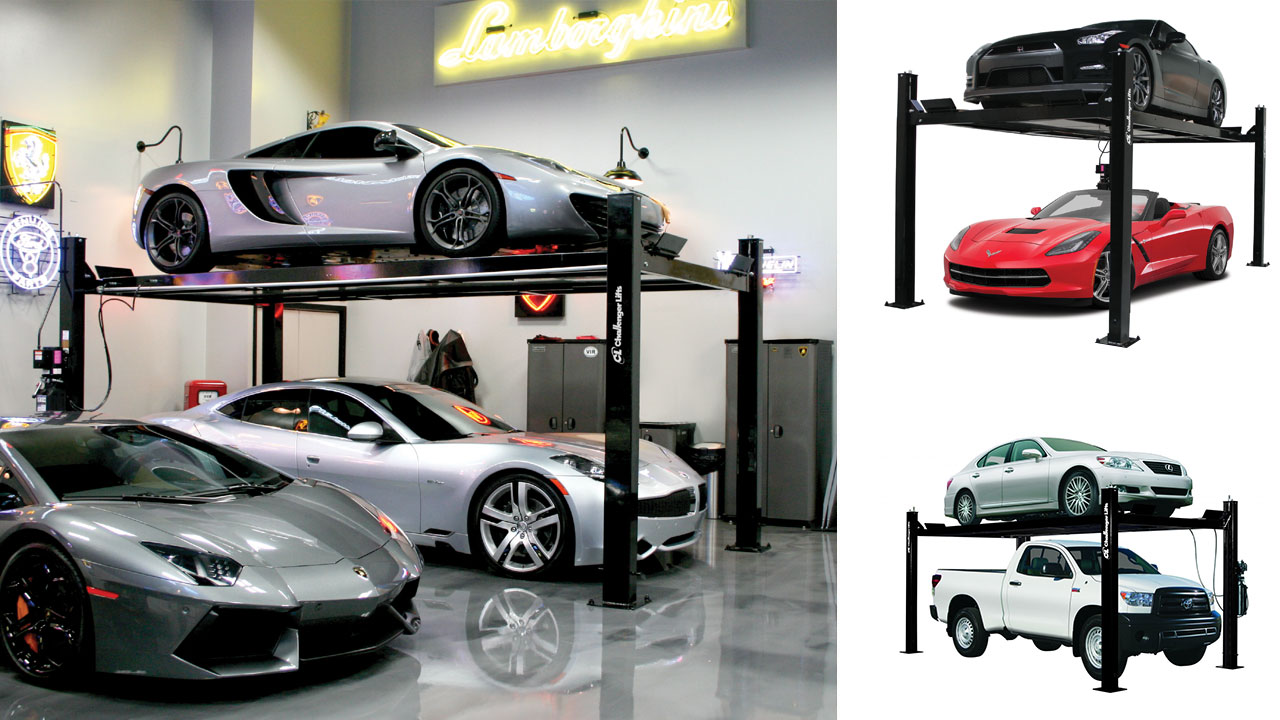 The Challenger line of automotive lifts represents decades of research and commitment, resulting in the company's revolutionary Versymmetric® design and directSPOT™ technology. Challenger lifts also meet strict industry standards to bear the Gold Label of the ANSI Accredited Automotive Lift Institute (ALI) Certification Program. This guarantees you high quality product standards, safe design, and solid construction.
With our home car lifts, you can expect:
ADVANCED WEIGHT CAPACITIES: Offering both 7,000 and 9,000 weight capacity lifts, both of our home car lifts exceed the industry standard (most home garage lifts have a maximum lifting capacity of 6,000 pounds). Whether you have a small family car (think 6,000 pounds), a higher weight SUV or a truck, or a combination of different vehicles, our home car lifts will be able to do the job easily and safely.
STATE-OF-THE-ART SAFETY FEATURES: These home car lifts are designed with multiple safety features like an auto-lock mechanism and a lock bar mechanism to prevent slipping or collapse of your vehicle.
INCREDIBLE EASE OF USE: The strong construction features and user-friendly design of Challenger lift systems make them easy to learn and use. You'll be able to mount the lift with your vehicle, lift it, lock it in place, and lower it without damaging your vehicle or the lift. Thanks to all-steel construction that's bolted to the ground, these lifts are durable, stable and safer than many competitor products.
To learn more about how your garage could benefit from a home car lift system, request an appointment with Strickland's Home today.