Work It Out: Home Offices and Computer Work Stations
Working from home has many benefits: a commute that's counted in footsteps, the ability to run a load of laundry while you attend important meetings, and the freedom to take a lunch break in your own kitchen, to name just a few. An estimated 30 million Americans work from home at least once a week, and that number keeps growing, making a great home office more important than ever. What makes for perfect home office organization? It all depends on your individual needs, but here a few home office essentials:
A Hard-Working Desk: You need a desk that works as hard as you do, providing ample space built specifically for your needs. Your custom desktop can be used to house reference materials, computer gear, or as a paper processing area—the choice is yours. With your immediate workspace clean and organized, you'll be in business.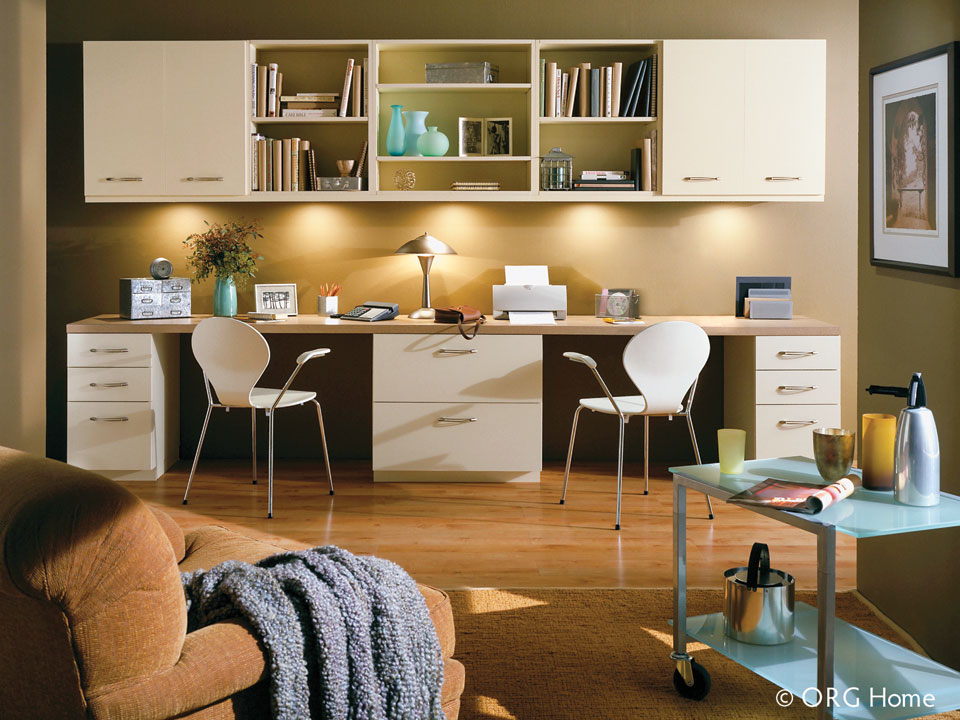 Filing Cabinets and Wall Cabinets: A mix of open bookshelves and closed cabinets are a great combination for a home office. Attractive books and heavily used reference materials create a distinguished aesthetic, while less attractive but necessary items can be hidden away. Full extending slides in cabinets and credenzas make it easy to access items like your printer and copy paper while keeping them out of sight.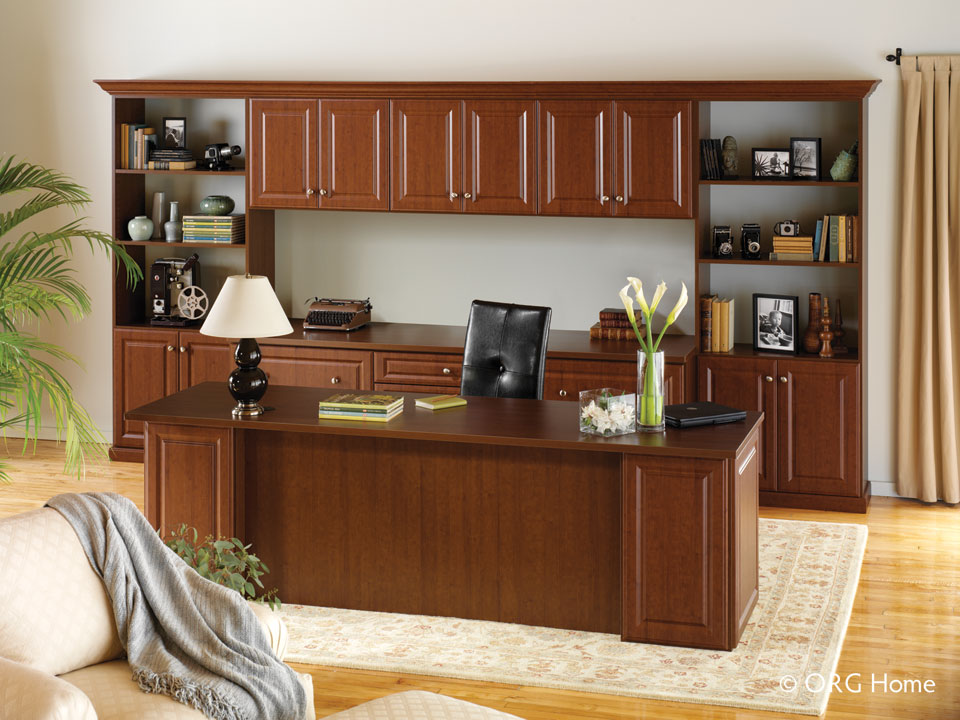 Innovative Storage Solutions: The last thing you need as you're reaching for a pen to jot down a brilliant idea is to accidentally knock over a towering stack of CDs or DVDs. With our specially fitted storage drawers, each plastic case can slide into its own dedicated spot, making them easy to retrieve, yet safely out of the way. Lightweight wire management trays mount directly under your desk, keeping wires and plugs from trailing on the floor. They're also a good spot to stash the things you need frequently but don't necessarily want to keep on your desk, like monthly planners, daily to-do list, and extra writing utensils.
If you're home office is begging for better organization, schedule an appointment with a Strickland's Home designer today. We'll get the job done, so that you can get back to work!
Computer Work Station
What's a star student, work-from-home entrepreneur, or casual email-checker to do when all you want is a beautiful work space, but all you have is a laptop balanced on your knees and papers piling up around you? If you can't designate an entire room as a home office, we bet there's space for a computer work station. Here's how Strickland's Home can help — where you see a nook or cranny, we see work station possibilities. For every overlooked space in your home, we've got a computer station vision:
Under the Stairs: That spot under your stairs is the awkward space underdog you shouldn't overlook. With our ORG Home Products, you can create a streamlined office area complete with shelving, a work desk, and more. We can even maximize this small space by creating a dual workspace so no family member is left out.
Entryway: Where's a natural spot for an in/out box? The place where you're already going in and out the door! With our custom design options, a family work station near your door can fit in seamlessly with your other entryway furniture so it looks less like office gear and more like functional and welcoming décor. An added bonus: make it a spot to drop your keys and you'll never lose track of them again.
Kitchen: Everybody already hangs out in the heart of the home anyway, you might as well add a computer station for maximum use. Don't want to distract from the main cooking stage? Our ORG Home Products can give you a hidden kitchen workstation or one that looks like just another beautiful counter space. Whether you want a desk that can be sandwiched in a tight space or one that has all the shelving and storage trimmings, we've got just the style and details you need.
Bedroom: If you want to literally roll out of bed and get to work, a bedroom computer station is for you. But don't worry about making your room of solitude too institutional—we've got lots of ideas for complementary built-ins and compartmentalized work desks.

Corners & Nooks: Never cut — or discount — corners! That cranny where walls meet could actually be the place where you schedule meetings, pay bills, and rule the roost. We can set you up with a corner desk worthy of any executive and more storage than you ever imagined would fit.
Not sure where to fit your dream computer workstation? We love a challenge, and we'd love to help. Request an appointment with Strickland's Home today.