Our Closet Design Process
Creating any beautifully organized space and closet design with Strickland's Home is truly a collaborative process. That's why we call it "our design process" — the "our" refers to us and you! Our designers and their support team will work closely with you every step of the way — from the first phone call to the final installation and beyond.
Although certain details may vary, our 10-step design process outlines the general flow of how we achieve home organization success.
1. Getting to Know You
First, we get a thorough understanding of your needs and goals. See our page on Space Planning to get a sense of the kinds of questions we'll ask.
2. Taking Inventory
We'll also take a look at your current space to discover what you need to store and how much of it you have. Should your closet design show off your incredible collection of Manalo Blahniks and Jimmy Choos? Do you have a DVD library that rivals that of a Hollywood director? These are important considerations when designing your space.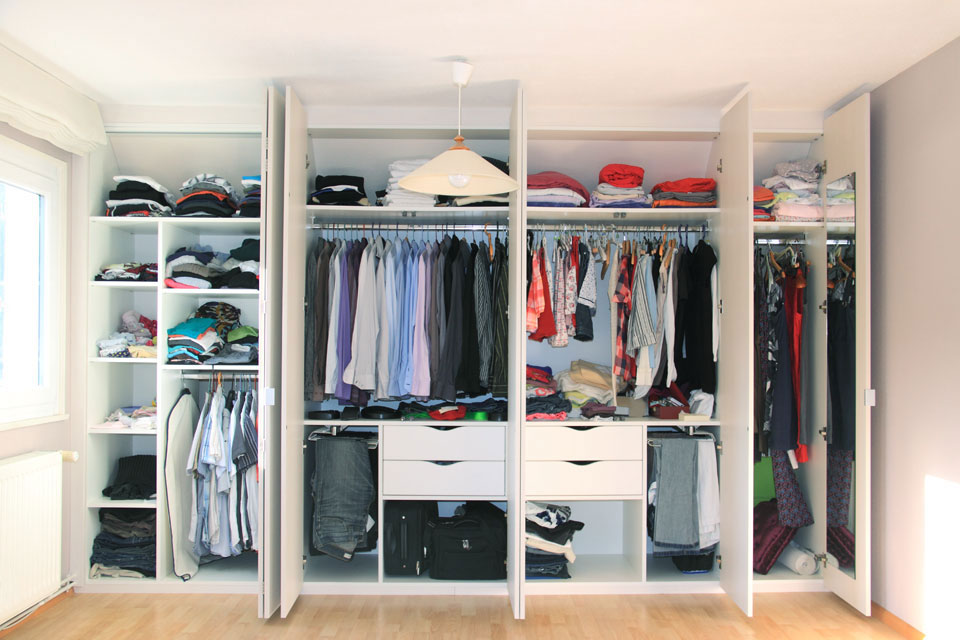 3. Measuring Your Space
Next, we conduct an initial measure. Understanding the dimensions of your space and taking into consideration angles, windows or other unique features will help us determine how we can best use every available inch for smart storage.
You know the adage: "Measure twice, cut once" — if your closet is overflowing with clothes (that's why you called us, right?), we may come back again for a more precise measuring session once the closet is emptied.
And, we don't just measure your space; we might also measure the contents in your space. If you're tall, you might want longer hanging space for the button-down shirts and blazers in your closet. If you wear lots of ankle-length dresses, we should take that into consideration too. If we're designing a laundry, do you need a drip-dry area? If we're designing a garage, should we incorporate a place to store your golf clubs or your tools?
4. Discussing the Options
With 24 different colors and the widest selection of organizational accessories in our market, there are lots of options to consider in your closet design. We'll help you narrow down the choices based on your personal aesthetic, your lifestyle, and, of course, your budget. Will you want valet rods, jewelry drawers, laundry bins, or a fold-down ironing board? These are just a few of the incredible accessories that make a Strickland's Home space so special. Our goal is to provide you with the greatest range of options within your budget. Here's a sampling of our laminate finishes.

5. Designing a Plan
Based on your feedback, your budget, and the information we've gathered, we'll design a solution that is uniquely yours. Our ORGdesign software allows us to do this right in our first meeting so you can participate in the process. Depending on the scope and scale of your project, we may request 2-3 days to draft a design in our office and meet with you again to finalize the details.
6. Agreeing on the Details
Once you're completely satisfied with the final closet design, we'll create an official sales agreement for your signature. The price we quote at this time is the final price; it will not change. A 50% deposit is due at this time; the remaining 50% is due upon installation.
7. Sending Your Design for Fabrication
We place orders for ORG components every Tuesday. Once we've placed your order, expect to wait 2-3 weeks for the materials to arrive. Every order goes through rigorous quality assurance procedures throughout the manufacturing process to ensure that components are cut, machined and assembled to exacting standards. We have excellent communication with the ORG facility, so often we can go ahead and schedule your installation date during this window.
8. Installing Your Space-Saving Components
On your installation date, our professional in-house installers will arrive and get to work. They're not only kind and courteous, but also experts at what they do. They will exercise care and consideration for your home and will complete the installation process with attention to even the smallest details, leaving no mess behind. When the installation is complete, they will clean both the product and the area where they have worked and invite you for the moment you've been waiting for—the unveiling of your new space.
9. Enjoying the Results
Aaaah. Now comes the fun part! You'll enjoy placing your treasured belongings in their newly organized home. The results can be life-changing; we've seen more than one closet completely transform morning routines or reintroduce the pleasure of the art of dressing. Some of our clients even host "closet parties" to revel in their new space with friends; ask us for details!
10. Sharing the Joy
If a closet party isn't your style, consider sharing your donation pile with local charities — we'll help by taking that pile and ensuring that it goes directly to the local charities where your donations are most needed.
We want you to be completely delighted, and we'll follow up after installation to see how you're enjoying your new space; please share all of your feedback. We also hope that you will consider sharing your experience with others: review Strickland's Home on Facebook and, tell your friends and family members about your experience.
Ready to have us guide you on a journey to complete organization? Contact Strickland's Home to request an appointment, and we'll get started!