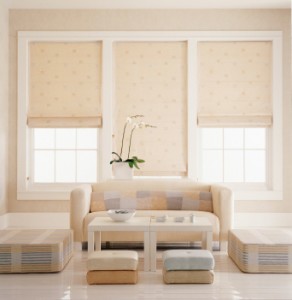 Thanks to their elegant, yet simple design, roller shades come in an endless variety of styles and fabrics.
A roller shade is comprised of material attached to a roller at the top of the window that can be "unrolled" to cover the window for light control and privacy. Because of this design, almost any type of fabric, wallpaper, or vinyl cloth can be used on a roller shade, offering a seemingly unlimited selection.  Whether you want a light sheer, a heavy blackout fabric, or something in between, you'll find it in a roller shade.
Typically shade materials are rated on a scale that includes sheer, semi-opaque, opaque, and room darkening.  If you find a fabric that you love, but it just doesn't make the room dark enough, consider laminating that fabric on an opaque or room darkening fabric. Likewise, when laminated to a backing, any wallpaper can become a beautiful window shade.
Today's roller shades are not the ornery spring roller shades your grandparents had!  (Remember the ones that would fly up in the middle of the night and wake you with a bap-bap-bap sound?)   Modern technology has changed that with the introduction of operating systems like the "smooth lift" system which allows the roller shade to slowly rise with the pull of the fabric, and the "cord loop" system which allows you to easily position the shade fabric at any height.  Motorized rollers are also available for raising, lowering, and stopping the shade with the press of a button on the remote control.  There is even a solar version of the motorized roller shade that is powered by the sun!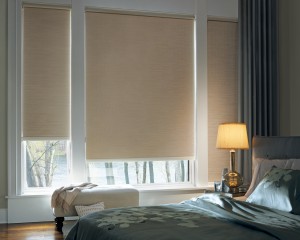 New modern roller shades also have design options for the top and bottom of the shade as well.  If you don't like the traditional look of an exposed roller at the top of the window, you can get a cassette head rail. Wrapped with the shade fabric from top to bottom, this head rail encloses and hides the roller, creating a finished look from top to bottom. For modern or classic looks, consider metal and wood fasciae.  At the bottom of the shade, the options are even more expansive.  You might want to add a traditional hem like the scallop or Greek key.  Or, you might, if you want a clean, modern look, try the new fabric-wrapped color-coordinated hem bar.
Key Benefits:
Roller shades offer a virtually unlimited selection of textures and colors to match any décor.
Thanks to the new cassette head rail option, the shade material retracts into a tidy compartment, allowing a full view through the window.
Cordless operating systems eliminate ugly cords from hanging down and interfering with your view.
New energy efficient Solar Shades are perfect when heat control, glare control, and light control are desired, but you want to preserve your view when the shade is in the down position.
Roller Shades are still relatively inexpensive window covering option.
Reach out to us and find out how you can add the comfort and convenience provided by roller shades to your living space.