Vertical Blinds
Whether your home is modern or traditional, vertical blinds can fit right in. They are one of the most versatile window treatments; they work well on wide windows and doors, in sun rooms, on picture windows, and on patio doors.
The beauty of vertical blinds is the ability to adjust vanes to control the direction, as well as the amount of light, coming into the room.  These blinds may be drawn open for a completely unobstructed view or drawn closed for privacy and light control. Vertical louvers come in a variety of opacities, ranging from perforated (which allow a filtered view of the outside) to blackout PVC, to fabrics.  They're also easy to clean. Since the louvers hang vertically, vertical blinds collect less dust than horizontal blinds. Cleaning PVC louvers on this type of blind requires nothing more than a damp cloth and some household cleaner.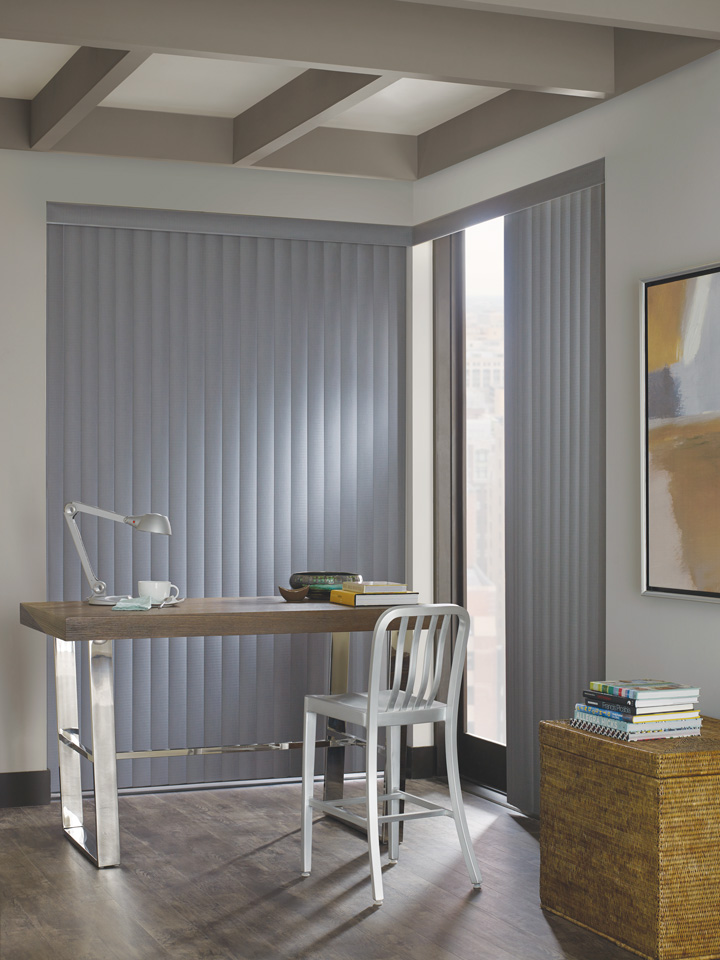 The variety of vinyl available today makes PVC a popular choice. Although you may be familiar with plain smooth vinyl, did you know that today's vinyl blinds can be textured or embossed to look like fabrics?  Not only does textured and embossed vinyl retain the easy maintenance of traditional vinyl, most styles are white on the street side to ensure a neutral appearance outside your home and satisfy most homeowner association requirements. Fabric vanes are also a popular choice. Fabrics can be free hanging (just the fabric on its own) or inserted into clear-edged vinyl channel, offering greater insulation and room darkening ability.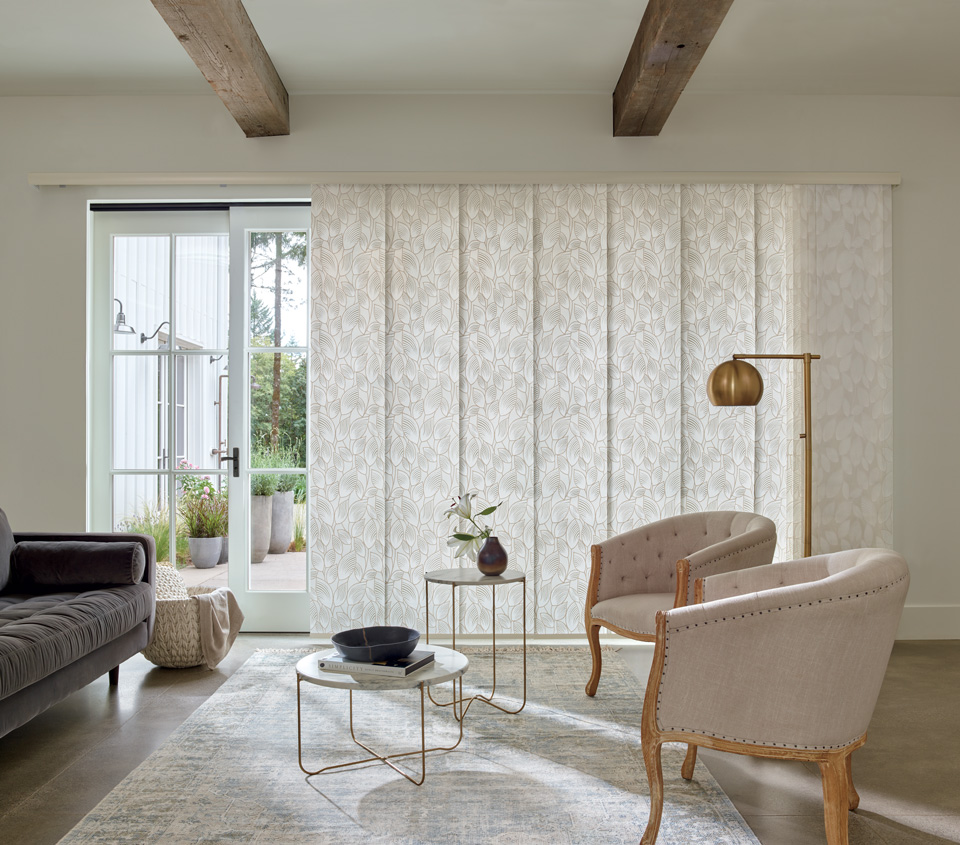 If you want the look of beautiful sheer curtains, but the functionality of vertical blinds, consider the Vertical Blind Wrap.  ADO, a manufacturer of fine drapery fabrics and window treatments, has been a leader in launching this innovate product.  Called the ADOwrap, this versatile wrap combines ADO fabric with existing vertical blinds. Head rail and vanes of existing vertical blinds are "slip covered" with continuous 118" seamless fabric using a drapery snap tape. The hardware is used to tilt, open and close the blinds. Maintenance with ADOwrap is a breeze; just unsnap it, machine-wash the fabric, reattach it to the vanes, and you're done!
Valances have also undergone modern updates with valance options ranging from soft, fabric valances to stately wood valances. You can even match your valance to the wood poles of a custom drapery. These valance options mean that vertical blinds can now be a stylish, current window treatment.
Key Benefits of Vertical Blinds:
Vertical blinds work well on large windows; they are a go-to solution for large sliding glass doors.
Due to their vertical design, vertical blinds are easy to clean and maintain.
They allow functional versatility – tilting for light control and opening full traverse for an unlimited view.
New vertical wrap options create the look of an elegant sheer with the functionality of a vertical blind.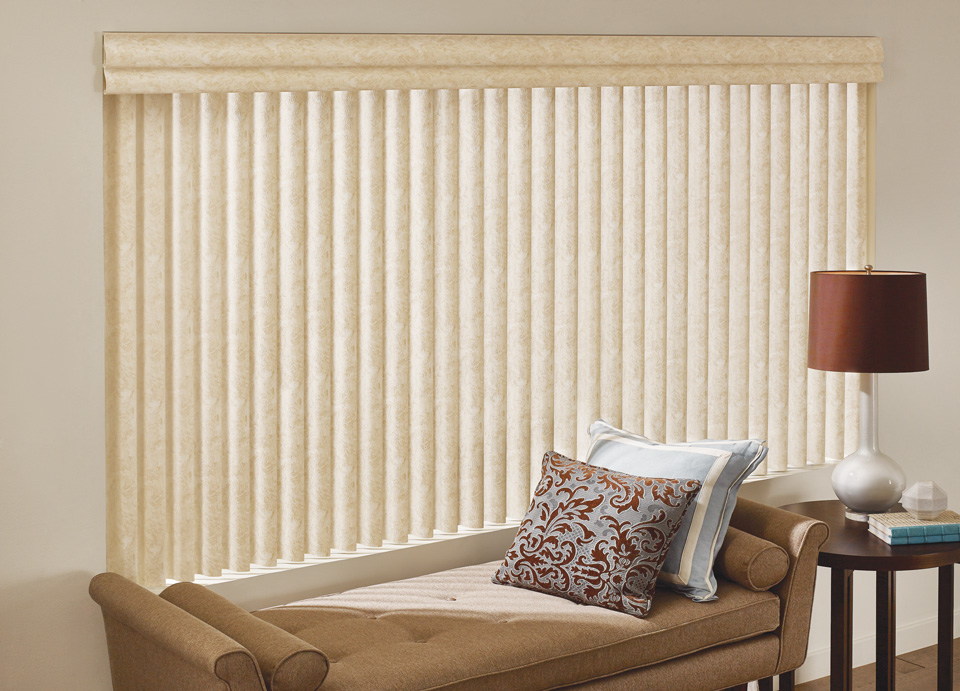 Items to Consider:
Due to their vertical design, these types of blinds look best on long windows. If your windows are wide but short, you may want to consider a different kind of window treatment.
They can have wide slats, so if you wish to mount the blinds on the inside of your windows, before ordering, have a professional installer measure the windows to ensure they are deep enough to allow for proper installation.
Request your no-obligation consultation with a Strickland's Home design professional today!