Jamey Carver | Installation Manager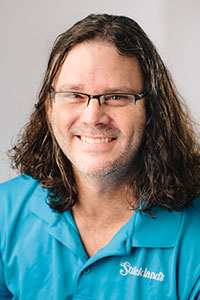 Jamey Carver is a jack of all trades with decades of experience in carpentry and construction. His expertise includes custom trim, exterior wood, decks, tiling, plumbing, electrical, and painting. A native Floridian, Jamey Carver moved up the coast to Wilmington in 1996, sharpening his skills as a carpenter before he joined the team at Strickland's. Now, Jamey serves as Strickland's Installation Manager, overseeing all custom installation projects for the company across 5 divisions. For Jamey, Strickland's is a great fit because of its company culture. As he says: "It's a small, local business. There's a family feel, and our goal is to always make the customers delighted with the custom work we've done for them."
When he's not supervising installations at Strickland's or learning a new skill, he likes spending quality time with friends and family. Jamey enjoys good food, fine wine, great books, sad movies, and gardening. He loves building hydroponic systems – so much so he'll make one for you if you ask!
Jamey's take on:
Blinds, Shades, and Shutters: Motorized window coverings with a hub are some of Jamey's favorite window treatments— "They offer great benefits of automation – energy savings and ease of use!"
Closets & Home Organization: When it comes to closets in Jamey's home, the kitchen pantry is the most organized. As he says, "The kitchen sees the most traffic in our home – we love fine wine and good food." LED lighting is a must-have!
Draperies and Fabrics: According to Jamey, energy-efficient and insulating custom draperies are the way to go. The best part? In-house installation is part of Strickland's service!
Custom Garages: For Jamey, the best custom garages have a complete garage system – "It's simply easier to keep organized and clean," he says. And Jamey's first car? His brother's hand-me-down 1974 Datsun pickup.