The Murphy bed, also known as the wall bed, fold-out bed, or fold-up bed, is the ideal space-saving solution for multipurpose spaces. These versatile, moveable features come with a lot of questions, though. Here, we answer some of the most common questions about the murphy bed.
Does the murphy bed come with a mattress?
Yes! Murphy beds come with real mattresses, not the folding mattresses or thin foam pads you'd find on pull-out couches or futons.
Are murphy beds available in multiple mattress sizes, or only twin?
Murphy beds come in twin, full, and queen bed frame sizes, depending on the model.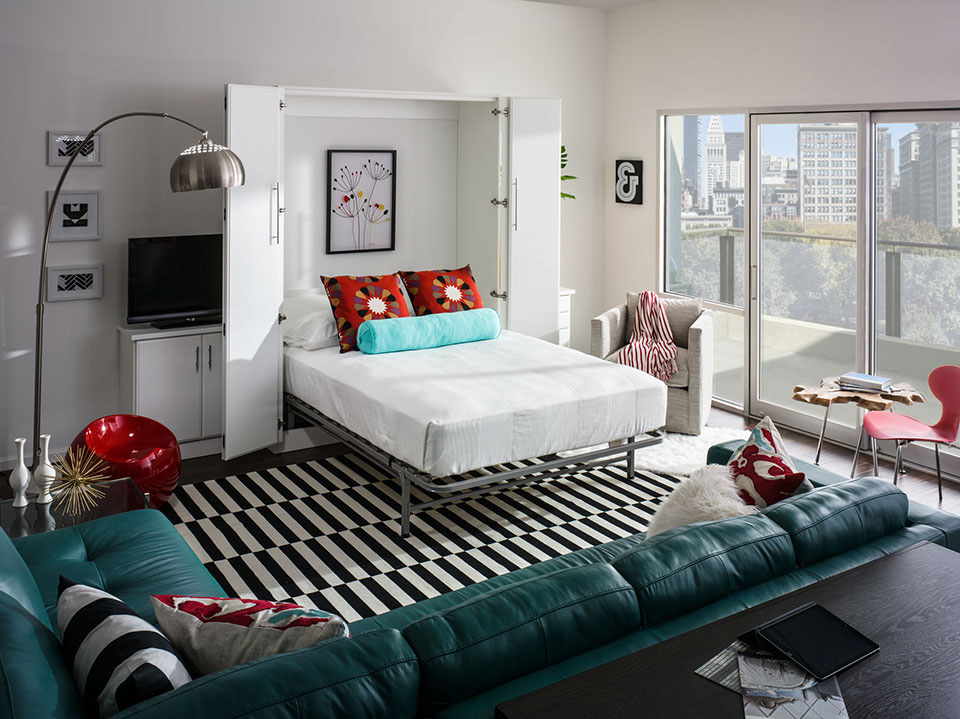 What if I already have a mattress?
No problem! You can use any coil-spring mattress up to 10-12" thick. At Strickland's, our designers can help you figure out if a mattress you already own is compatible with your new murphy bed.
Is the murphy bed secure, or do I have to worry about it falling down or springing closed?
The murphy bed is well-secured with spring-loaded mechanisms for easy opening and closing. They're also counterbalanced, which means your bed won't unexpectedly fall.
Is the murphy bed heavy or difficult to pull down?
No. The murphy bed is easy to operate and doesn't require any heavy lifting thanks to spring-loaded mechanisms.
So, can I just sleep in the murphy bed then fold up my pillows, comforter, and all? Or do I have to strip it every time I put it back into storage?
You can easily put up your murphy bed with your bedding and mattress still in place. A velcro strap system comes with the murphy bed, which will hold everything right in place.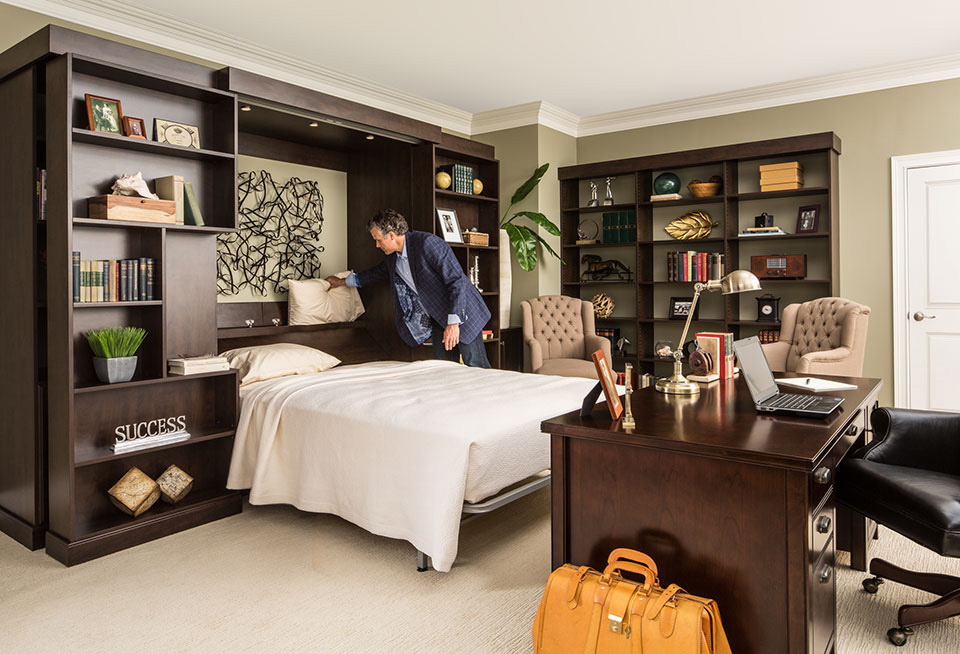 What else comes with the murphy bed?
There are multiple types of murphy beds with different features and storage solutions.
The library murphy bed is attached to bookcases which slide in front of the bed when in it's pulled up. It's ideal for a living room-turned-guest room, bedroom-office combo, or studio apartment.
The bi-fold murphy bed folds up behind bi-fold doors. This is a great choice for a living room-guest room or bedroom-turned-hobbyist's workspace.
The desk bed transforms into a desk space. Think home office meets guest bedroom or space-saver in a city apartment (read first-hand reviews from city-dwellers with murphy beds here).
Is the murphy bed difficult to remove from the wall if I relocate?
No. The murphy bed attaches to wall studs with three brackets and no floor-mounting is required. Murphy beds are rental-friendly, too.
How can I get a murphy bed for my home?
If you're interested in adding a murphy bed (or two or three!) to your home or office space, contact us at Strickland's Home or visit our showroom to take a look at our selection. Our in-house designers and installers will happily answer any and all questions you may have.