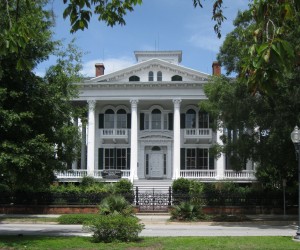 What gives a stately southern home its character? Is it a welcoming porch? A grand staircase? We may be a bit biased here at Strickland's Home, but we feel that a key ingredient to the southern estate is plantation shutters. After all, Scarlet O'Hara may have highlighted a decidedly different window covering with her famous curtain dress, but Tara would be an entirely different icon without its plantation shutters.
Named for their relationship with old plantations of the South, plantation shutters weren't just fashionable—they were practical, too. They allowed breezes during sultry southern weather, provided dim rooms for daytime naps, and kept pesky mosquitoes at bay. If you wanted to get an up-close-and-personal look at these Old South window coverings, you could start right here in Wilmington, NC, at the Bellamy Mansion or any number of the historic homes downtown. But a plantation shutter tour wouldn't end there. Here are just a few famous places that sport plantations shutters:
Magnolia Plantation, SC: This Charleston landmark boasts the oldest public gardens in the country, the oldest public tourist site in Low Country, and has the distinction of being one of "America's Most Beautiful Gardens," as chosen by Travel + Leisure magazine. Tours of the plantation house begin on the porch, where there are lovely louvered shutters that could have come straight from Hunter Douglas—if not for their Revolutionary War connection.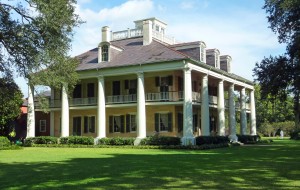 Houmas House Plantation, LA:  Frequently used as a set for motion pictures, made-for-television movies, and television commercials, the sixteen-room Burnside Planation also known as "Sugar Palace" boasts thirty-eight lush acres of gardens, ponds and a majestic live oak alley.  Lovingly restored, the main house salutes its antebellum heritage with a belvedere that crowns the house and twin Garconierres (bachelors' apartments).  Of course, plantation shutters flank the windows that grace the home's wrap-around porches with Greek Revival columns.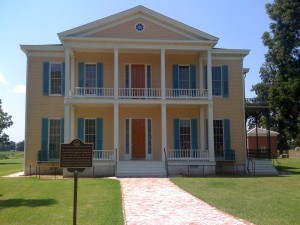 The Lakeport Plantation, AR:  Built in 1859, the Lakeport Plantation house is the only remaining Arkansas antebellum home on the Mississippi River and continues to produce cotton. The plantation is on the National Register of Historic Places and is currently operated by Arkansas State University. Today the icing on this Greek Revival structure cake is the cheery blue plantation shutters.
San Francisco Plantation, LA:  Although technically an antebellum house, the style of the San Francisco Plantation isn't necessarily representative of the period. In true Mardi Gras fashion, this house is known for its extravagance—right down to the vibrantly painted doors and plantation shutters.
If you want to add a little southern charm to your house with plantation shutters, visit Strickland's Home today.