It's always a good idea to incorporate natural elements in your home, whether a touch of greenery, wicker, or bamboo. If, however, you're ready for something more, consider woven shades. Currently one of the biggest trends in window treatments, woven shades boast a natural appeal that's both casual and inviting. See why woven shades could be right for your home and how they tie rooms together no matter your design style:
They Hang and Fold: Like fabric Roman shades, woven shades hang at the top of any window, and fold up as you draw them up. If you're looking for a clean, modern window treatment that doesn't take up too much visual space in a room — this type of window treatment is a great solution. They offer a discreet way to treat your windows without overpowering the view. When the shades are closed, they provide privacy while still filtering through a moderate amount of light.
They Add Texture: You may love the popular neutral color palettes currently featured in countless Instagram accounts across the world. Woven shades add an all-important layer of texture that draws the eye and balances out white or neutral walls and ceilings. This extra layer brings a natural, outdoorsy element into a space, elevating a room with a casual-chic design sense.
They Come in Many Materials: The most popular materials for woven shades are bamboo or wood materials (think: grass, jute, reed or rattan) because they add a neutral touch of nature. They come in a variety sizes and a variety of finishes (from blond to Brazilian cherry), allowing them to blend seamlessly with any home's style. Woven fabrics create a softer, more romantic touch that many people appreciate in cozy living rooms or bedrooms. The take-away: whether you're decorating a country cabin, a coastal cottage, or a downtown loft, woven shades will work.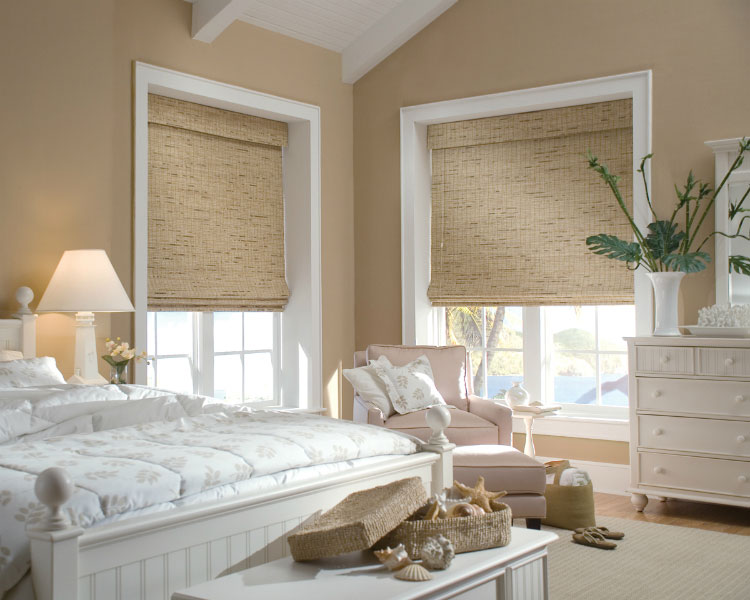 They're Easy to Personalize: It's easy to personalize them for any room in your home when you're working with a team of experts. If you're curious about how this versatile and sought-after window treatment solution could work for in your space, reach out to Strickland's Home and talk with one of our experts. We'll find the right style for your home so you can enjoy the natural beauty of woven shades.