The Best Window Treatments for Myrtle Beach
Window Treatments for Myrtle Beach Homes: There's no place like Myrtle Beach. Known to locals as "The Grand Strand", the Greater Myrtle Beach area comprises several towns north and south of the city – Atlantic Beach, Briarcliffe, Garden City, Murrell's Inlet, North Myrtle Beach, Pawley's Island, and Surfside Beach. There are many factors that make the Grand Strand 'grand'. With dozens of golf courses (different sources report from 50-100), it's a golfer's paradise. The stretch of 60+ miles of coastline with white sand beaches and sparkling blue water, make it a haven for sea lovers and sunworshippers. Add entertainment, seafood buffets, and shopping to the mix, and it's no wonder Myrtle Beach attracts 14-20 million visitors per year.
Because it's such a unique place, window treatments for Myrtle Beach homes must also fit the bill for the area's exceptional climate and ever-fluctuating population. Whether you're a permanent resident of the Greater Myrtle Beach area, a "Snowbird" who owns a condo or timeshare along the coast, or an investor renting beach houses and vacation properties, the window treatments in your home (or home-away-from-home!) must be well-suited to the coastal lifestyle.
Maximize the Views with Beach Curtains and Drapery: Many beach houses, apartments and condominiums feature sliding glass doors and large, wide windows that maximize what everyone is there to see – the view! To get privacy without compromising views of the beach and water, try sheers and/or draperies. Sheers offer privacy while still allowing all that natural light to flood the room.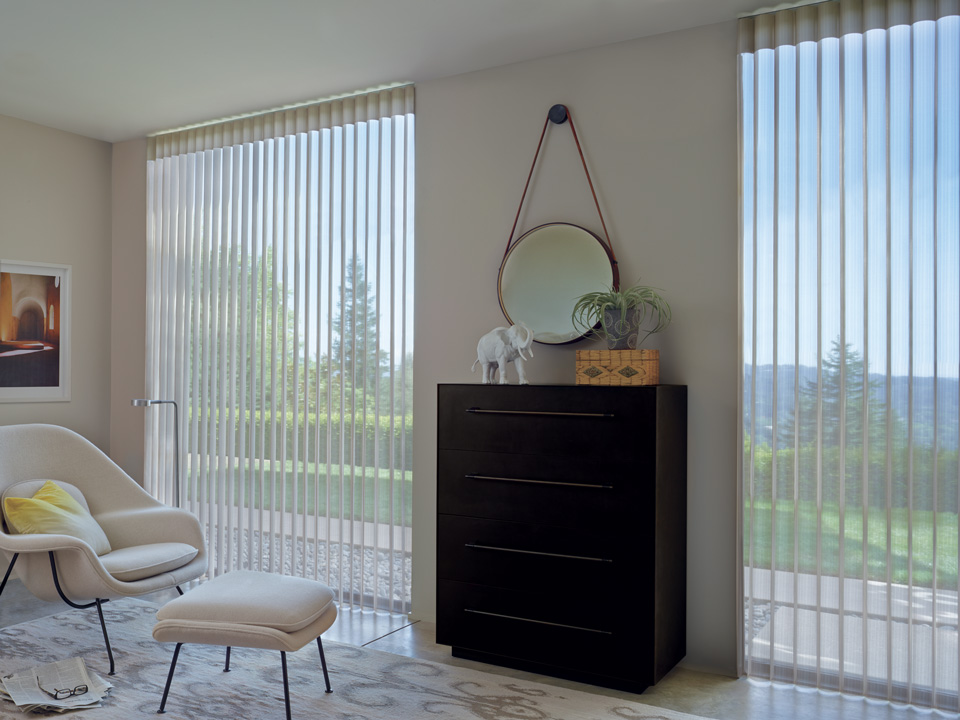 There are many fabrics designed specifically for coastal homes – durable, sun-resistant, moisture-resistant performance fabrics come in a variety of colors, patterns, and weights that will complement a coastal home. Custom draperies add style and interest while framing open windows and doors. Neutral whites, beiges, and sand tones; tropical blues and greens that mimic ocean hues; and nautical-themed fabrics from seashells to coral to sailor stripes are just a few popular options for residents of Myrtle Beach. Custom draperies and valences not only anchor the room, but they also help unify throw pillows, rugs, and art for a designer look.
Get Sun Protection with Solar Shades: The sun may be the star of the show in Myrtle Beach, but its powerful rays can also wreak havoc – fading furniture, creating glare on televisions and computer screens, and interrupting sleep after a long night on the town. Solar shades are ideal window treatments for homes in Myrtle Beach as they are specifically designed to beat the heat, reduce glare, and provide UV protection – all while preserving your view to the outside. Consider blackout shades for bedrooms to reduce incoming light and improve sleep.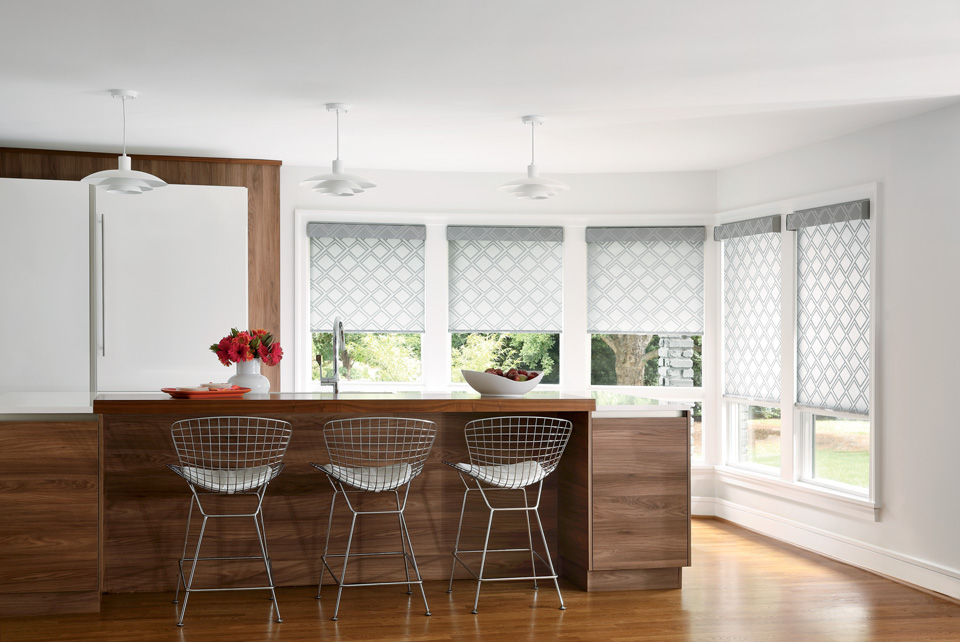 Preserve Your Investment with Durable Faux Wood Blinds: If you own a timeshare, a vacation rental, or property that gets used by multiple families, you want to be cognizant of wear and tear from the elements and the millions of visitors flocking to Myrtle Beach for fun in the sun. Faux wood blinds are a well-considered choice for beach window treatments because they are resistant to moisture, mildew, and warping – risks that every home on the Carolina coast must contend with. Designed to be durable, faux wood blinds come in many finishes that are ideal for beach-inspired décor.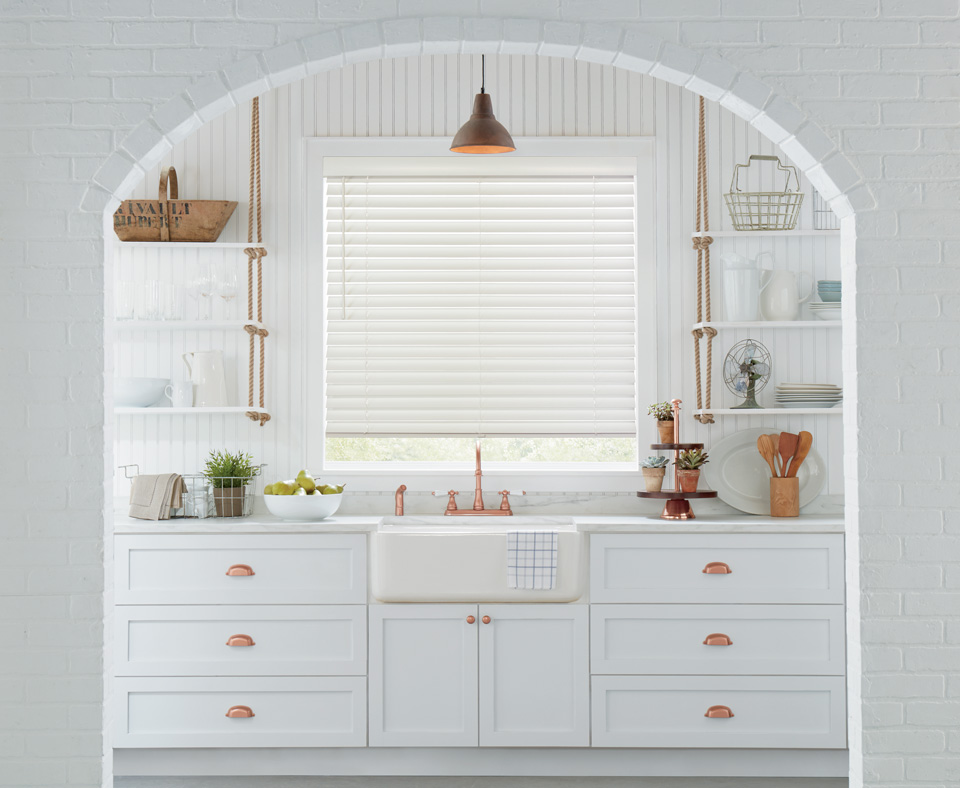 Bring the Outdoors in with Bamboo and Woven Wood Shades: Conjure up an image of a beach retreat, and you'll likely envision a light, airy space with nature-inspired colors (blues, whites, neutrals) and natural décor elements (shells, driftwood, and seagrass). Eco-friendly and durable, bamboo and woven wood shades filter light, add texture, and inject a natural elegance into a coastal retreat. Crafted from natural woods, bamboo, exotic reeds and grasses, quality woven wood shades are woven in way that minimizes stretching, bowing, and breaking.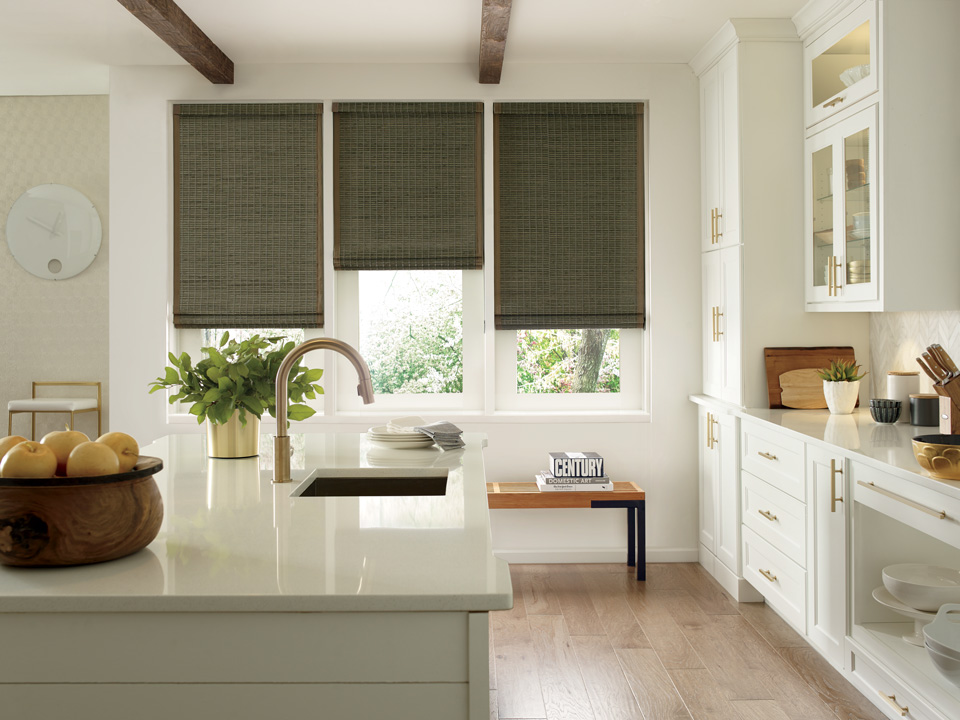 The homes near Myrtle Beach reflect a lifestyle where the sunrise and the sunset reign supreme; where the preferred dress code is t-shirts, shorts, and flipflops; and where coastal window treatments are fun-filled, functional, and fitting for both residents and visitors. We're here to help you choose the best window treatments for Myrtle Beach. With 80+ years of local experience along the Carolina coast, we know which window treatment styles, colors, and materials will enhance your space and protect your most valuable asset – a home close to the beach.