Elevate Your Home Design with Custom Silk Drapes
Made with one of the most delicate and lightweight fabrics, custom silk drapes are at the height of elegance and sophistication. While professionally-tailored custom drapes look effortlessly beautiful, their careful construction requires decades of design wisdom and sewing prowess. That's where our designers at Strickland's Home can help you perfect your window treatment design. Here are a few ways custom silk drapes can elevate your space:
Use neutral pleated drapes for a modern aesthetic.
If your home features a mix of contemporary and traditional features, opt for a more updated look with simple, straight-line silk draperies in neutral tones. You can soften your space with wavy folds or channel a more masculine style with sharp, neat pleats.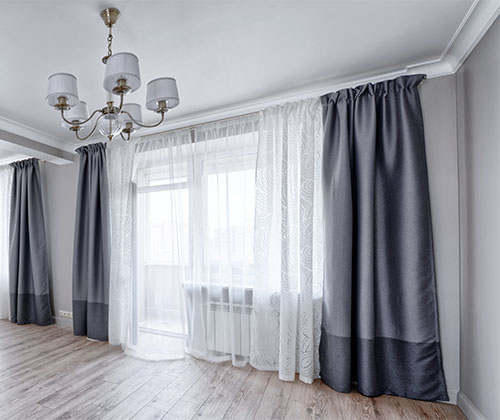 Complete your space with a shock of color.
Custom silk curtains can provide a soothing touch with light neutrals, but with silk, you also have multiple vibrant colors to choose from. Drapery panels in a bold shade can grant inspiration for an entire room's design or bring together eclectic elements with a shared color scheme. Consider cool teal panels for a transitional living room, royal blue curtains for a regal dining room, or even orange drapes for a vintage-meets-modern sitting space.
Add puddling for a sumptuous, swept-aside look.
While silk is often thought of as a thin, light fabric, it can also be used to add volume and depth to your window treatment design with expertly-placed pleats, folds, drapery, and puddling. Allow your custom silk curtains to puddle on the floor for a stunning, eye-catching design.
Go for a rich, antique aesthetic with puddling, tassels, and valances.
For a traditional and opulent dining room or living room, pull aside your silk drapes with rippling folds and tassels. Top them with a valance for a pristine finish. As much of antique design features intricate, complementary patterns, consider pairing your drapes with custom wallpaper and fabrics, including a matching pillow arrangement and throw.
Custom Silk Drapes for Your Space
To find out how silk curtains can elevate your home design, visit our fabric showroom at Strickland's Home or complimentary on-site consultation. Our designers will help you discover the perfect color, pattern, design, and accessories for your new window treatments.