Bald Head Island, just a short hop from popular Southport, NC, contains one of southeastern North Carolina's most beautiful nature areas. It's nationally known for its sea turtle nesting activity, as well as its varied bird population. Considered a sanctuary for coastal ecology, its landscape includes maritime forests, marshes, and lagoons.
Bald Head Island inhabitants move there with the knowledge that they're going to have to give up certain amenities, like cars, to keep the village's ecological footprint light. (Residents travel the island on foot and via golf cart.) Property restrictions and village regulations ensure residents and vacationers live in harmony with nature.
Even if we can't live permanently on Bald Head Island ourselves, we can take a page from their book and lighten our own ecological footprints! These eco-friendly window treatment options are a great way to start living harmoniously with nature.
Bamboo Window Shades: Did you know bamboo is already saving the planet? Because it grows fast—up to three feet a day—and can be harvested in just five to seven years, it's considered one of the most sustainable woods on the planet. Bamboo fibers are also stronger than wood fibers, though they're flexible enough to be woven together like fabric. Bamboo window shades are staples in places like Bald Head Island. They're stylish, natural-looking, and made from a renewable resource. Plus, they don't need to be washed like fabric coverings. Just dust them and wipe them down with a damp cloth—and then get back to enjoying the great outdoors!
Natural Wood Shades: Like bamboo shades, natural wood shades are Roman shades made of woven woods. They're considered to be a renewable resource because they're made of woods, reeds, or grasses. They can be lined or unlined, woven loosely (translucent) or tightly (opaque). These shades come flat or hobbled, as well as in a variety of colors, so you can easily match them to your home's existing style. If you need to replace them, they're recyclable and biodegradable. Environmentally friendly and stylish—what's not to love?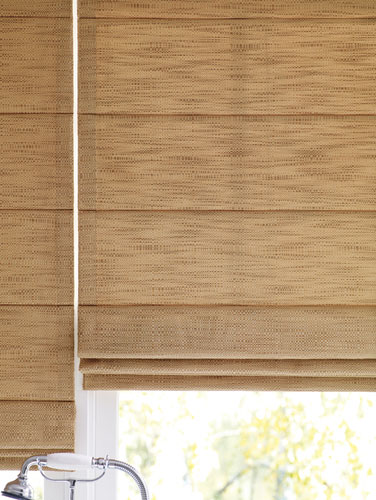 Solar Shades: In southeastern N.C., we get a lot of sunlight—212 average sunny days on Bald Head Island, and 215 in Southport, to be exact. This makes solar shades a smart and sustainable option for window coverings. They're high-tech roller shades, made of a solar screen fabric, which controls solar energy intake into your home. They're partially transparent, so they won't block your view, even as they keep your electricity bill down! They will, however, block the outdoors' view of you, so your privacy won't be compromised.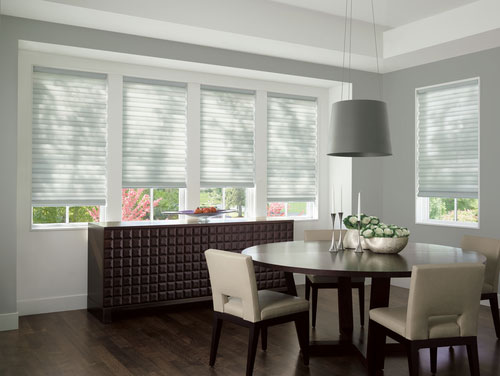 Bonus: Real-Life Window Shade Eco-Solution: Florida's Eglin Air Force Base understands Bald Head Island's commitment to nature. Upon learning that the light from one of their buildings was confusing native sea turtles at night, they added Hunter Douglas Duette Honeycomb Shades on top of their daytime shades to reduce their nighttime light pollution. (Now that's what we call living harmoniously with nature!)
Want to learn more about how you can make your home as eco-friendly as those on Bald Head Island? Visit Strickland's Home today.