If you've ever looked for laundry room organization ideas on Pinterest or Houzz, they'd have you believe every home comes with a sweeping and attractive laundry space. While this design may be de rigeur for new construction (we do love a great mudroom), not every laundry room comes with a view. Still, even the smallest of laundry rooms, closets, or multipurpose rooms can be made more pleasant with some smart design tricks.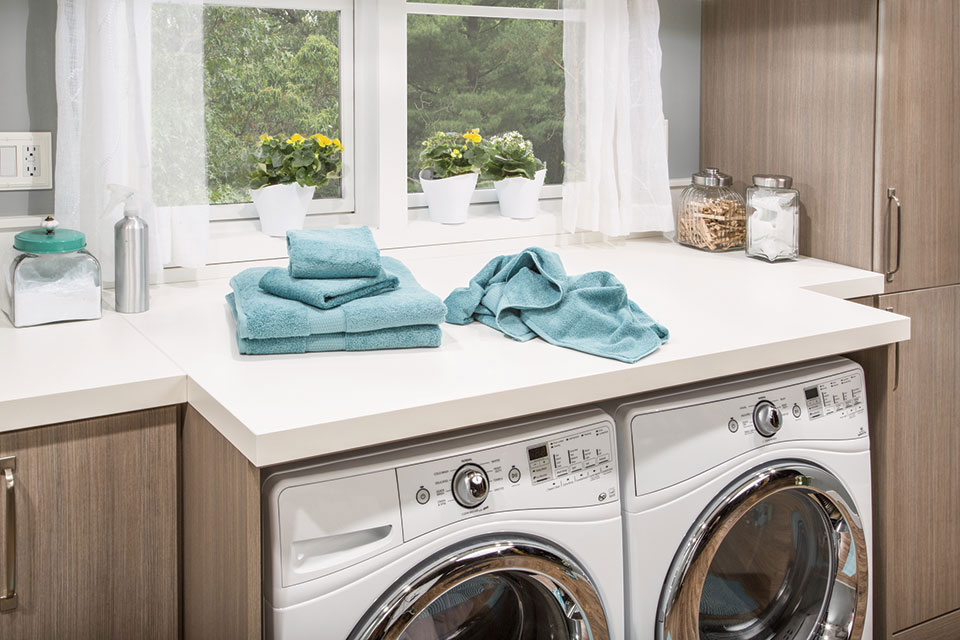 To lighten the clothes-folding mood, here are a few of our favorite laundry room organization remedies:
Go for the fold-out ironing board.
Could anything be more pleasant than speedy ironing? A fold-out ironing board saves space, clicks in and out of storage with ease, and spares you the frustration of jerking an old stand-up ironing board into place and back. Another simple storage solution: Hang the ironing board you already have on durable hooks attached to the closet door.
Create a special place for everything.
Crisp and clean open shelving with easy to read labels and designated space for absolutely every piece of your inventory might make you want to work in your laundry space (or at least Instagram your display!). Organize your overhead space with sturdy, adjustable shelving and specific sections for cleaning supplies, detergent and bleach, baskets of linens and towels, and more.
Find what you need fast with pull-out cabinet baskets.
If you're low on storage space, consider stretching it out with pull-out cabinets. This way, you can extend out your entire inventory for quick and easy access rather than fumbling for supplies in deep and dark shelving.
Consider pull-out hampers, too.
In an especially small laundry room or closet, clunky hampers can be difficult to maneuver or squeeze into free space. This is where a pull-out section with easy-to-carry cloth hampers makes for a more streamlined laundry room experience.
Lighten it up with art or wallpaper.
Even if your laundry room or closet is compact and windowless, you can still bring a little light in. Consider giving your clothes-folding space a touch of design with framed art of sunny destinations or nature-inspired wallpaper.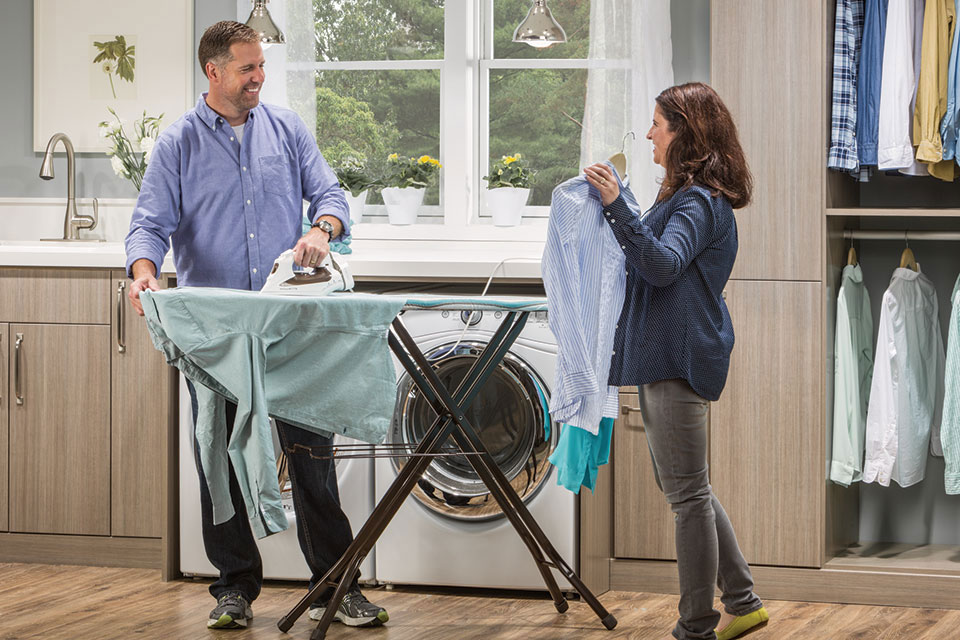 More Pleasant Laundry Room Organization
If your laundry room needs a clean-up, commit to making it a space you'll actually enjoy from now on. While your spouse may or may not miraculously become your ironing assistant, you'll at least have stress-free organization. To get started on your custom laundry room organization, contact us or visit our showroom at Strickland's Home in Wilmington, NC.