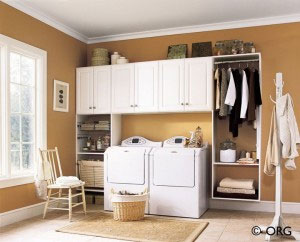 Tired of dealing with piles of clothes in the laundry room? Washing and drying might be taxing, but the right organizational tools can help you sort out your laundry problems!
Here are our top 5 tips and tricks for a more livable laundry room:
Sort your clothes with our laundry hampers. If you do lots of laundry or have young children, you can select several hampers to more easily distinguish your delicates from your son's soccer gear. A closed hamper will hide the mess, but still provide ventilation and help clothes breathe.
Ironing your business attire? A fold-out ironing board saves space and can be conveniently located near the washer-dryer units.
 Storage baskets can be installed above your washer-dryer units, if you have a small space, to keep your dryer sheets, liquids, and other tools tidy and easy to find. No more worrying about spills or losing track of your supplies. Many types of baskets are available, including pull-out basket types that save space.
 Hang your delicates to dry on a valet rod. This is a great tool for garments that need air-drying.
 Work surfaces can be installed over front loading washer dryer units to provide a great space for folding towels, clothes, and blankets. Laminate is an easy-clean, durable surface that can be coordinated with your décor.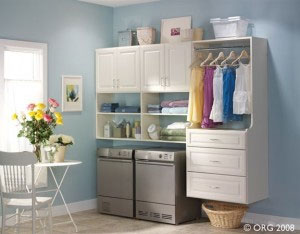 All of these techniques will save space and add utility to your laundry room, while improving its resale value in the future. Our helpful staff has decades of experience helping Wilmington's homes become beautiful.
From your dining room to your hall closets, we can make your home more attractive and functional. Wipe off that washing powder and stop by our Wilmington, NC showroom today!
At Strickland's Home, if you chose us for your laundry room remodel, you'll get great products with the service, guarantees and reputation of Strickland's. We have more than 75 years of experience delighting homeowners in the Wilmington area.