If you're considering a custom closet for a kiddo, age-appropriate storage and organization solutions are a must. At the same time, it helps to choose a closet design that will grow with your child, whether you're welcoming a baby to the family or sizing up your tween's closet to be more teen wardrobe-friendly. That's where a custom-organized closet can make all the difference — durable features adjust and move as your child and their toys, clothes, and storage needs change.
Here, we share five simple ways you can ensure your child's custom closet design lasts from toddlerhood to young adulthood:
1. Install adjustable shelving. Every year, your children and their clothes size up, so kid-friendly closet design that will grow with your child must be adjustable by height. Opt for sturdy, adjustable shelves and hanging rods. For your infant and toddler, three levels of hanging rods will make for easy outfit organization, whereas one or two tiers will be all your tween or teen will need to arrange blouses, pants, dresses, and more.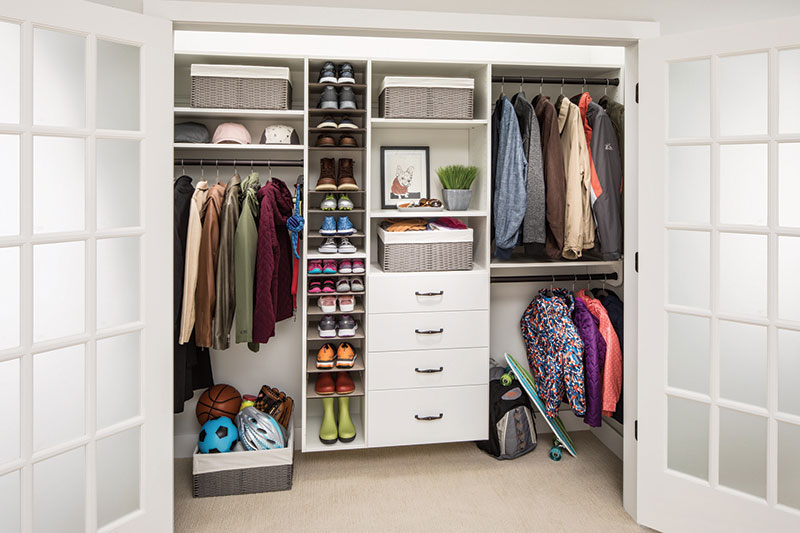 2. Begin with floor-level bins and baskets. No matter your child's age, bins and baskets always make for kid-friendly closet organization. If you've got a baby on the way, you'll want as many as possible for quick and simple organization with slide-away storage for toys, clothes, and baby supplies. From toddlerhood on, you'll be thankful for them, too, as they make clean-up time easy for your little ones. When they're older, your kids (and you) will love that they can just toss away t-shirts, socks, workout gear, and accessories in go-to baskets and bins, rather than leaving them in piles across the floor.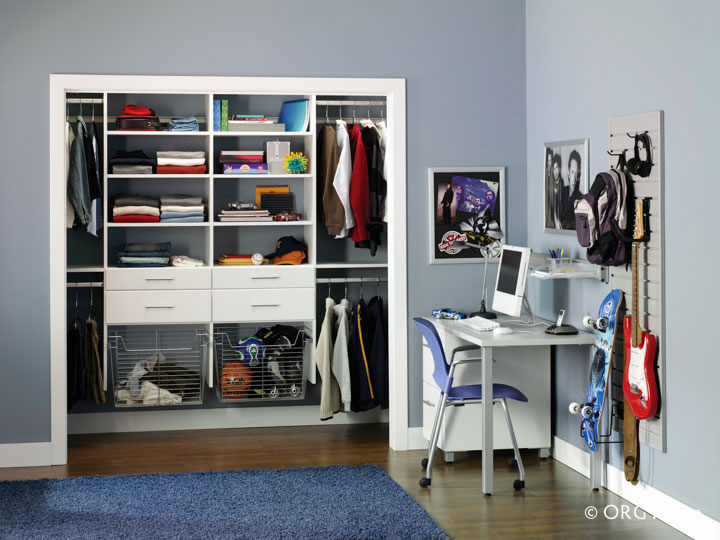 3. Choose waist-level drawers. While drawers make for a stylish and private organization space for your tween and teens' undergarments, jewelry, ties, and more, you'll want to keep them out of reach for little pinch-prone fingers. If you decide to include drawers in your child's custom closet system, keep them at waist-level or tuck them behind child-proof doors for safety.
4. Remember the clothing hamper. Whether it's a built-in, slide-out hamper or a designated space for a more traditional hamper, make sure to include one for stress-free closet design. From kindergarten to high school, you'll be both thankful for a simple and accessible place for dirty clothes come laundry day.
5. Add floor-to-ceiling shelving and cubbies. While flimsy box-store cubbies won't last more than a few years, deep shelves made of durable material will provide much-needed storage space through adulthood. Upper-level shelving will create room for out-of-season clothes and special occasion toys. Mid-level shelving can hold easy-to-reach bins and baskets full of baby supplies and diapers, bags and backpacks, and even textbooks and school supplies. Finally, lower-level shelving will hold shoes, stacks of clothes, and your little one's favorite toys.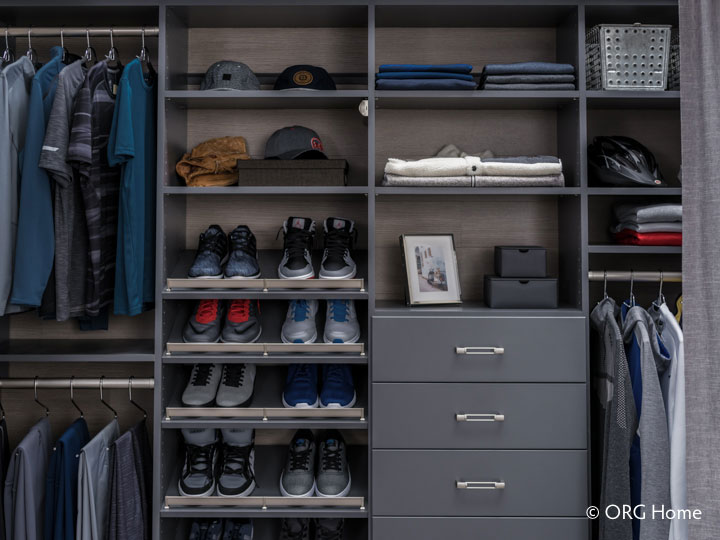 Closet Design That Will Grow with Your Child
Opt for versatile, sturdy closet systems that will stand the test of time for your child's closet. To ensure closet design that will grow with your child, let Strickland's Home lead the way. Our designers will make sure there's room for growth with intuitive storage solutions, from infancy to college days. To get started, contact us or visit our showroom on 5422 Oleander Drive in Wilmington, NC.