Sometimes, people are surprised by this little fact: Closet design can be just as fashion-focused as the clothing industry. Sure, like a three-piece suit, or a little black dress, you have your classic closets, too — but more and more often, we encounter clients who are looking for boutique closet ideas and designs.
There's a lot to unpack when it comes to the boutique closet — from your clothes to your shoes to your jewelry! — so today, we're going to focus on the little things. How can a boutique closet best showcase your smallest closet treasures, your accessories?
Remind me: What's a Boutique Closet?
A boutique closet is arranged like a boutique store. It's meant to be seen. The goal is to put your best outfits, accessories, and shoes on display. No more dirty clothes on the floor or discarded outfits draped over chairs. Most boutique closet ideas focus on arranging the closet's contents as if they're art. Like a little museum or shop—dedicated to your good taste!
Now, on to the important stuff.
Boutique Closet Ideas: Accessories Edition
Think of your shelves like a shadowbox. Glass is good! Leave the drawers for the unmentionables, and make sure your prettiest accessories are on display. When you put items like shoes, jewelry, or scarves behind glass doors or windows, they immediately begin to look more like art pieces and less like a haphazard collection of items you wear. It's a quick and easy trick, but you'll be amazed at what an impact it has.

Curate, curate, curate! Your closet can be the perfect place to show off your couture. Create and curate your best outfits, complete with shoes, jewelry, and accessories, then display them like art pieces. Think museum-meets-your favorite designer boutique, and then get creative.

Repurpose your designer boxes as shoe stands. If you've got designer shoes, you've got the designer boxes they came in. These days, even the boxes retail at crazy prices. The reason? Designer labels know that their brands rely on customers thinking of them as high-end art, so they take the time to make every aspect of the shopping, purchasing, and take-home experience as luxurious as possible. Plus, keeping your items in the box can help keep them in tip-top condition. In a boutique closet, designer boxes work perfectly as shoe stands for those shoes that you decide to highlight. The rest can stay inside the boxes, and you can trade them in and out for a quick refresh on your closet's look.
Mix in books, photos, and other inspirational pieces. Think of your favorite bookshelf, museum, or store—the shelves are always arranged just so. By including art books, personal treasures and photos, and other small inspirational items, your closet becomes less a storage space, and more a room that reflects you: your taste, your values, and your style.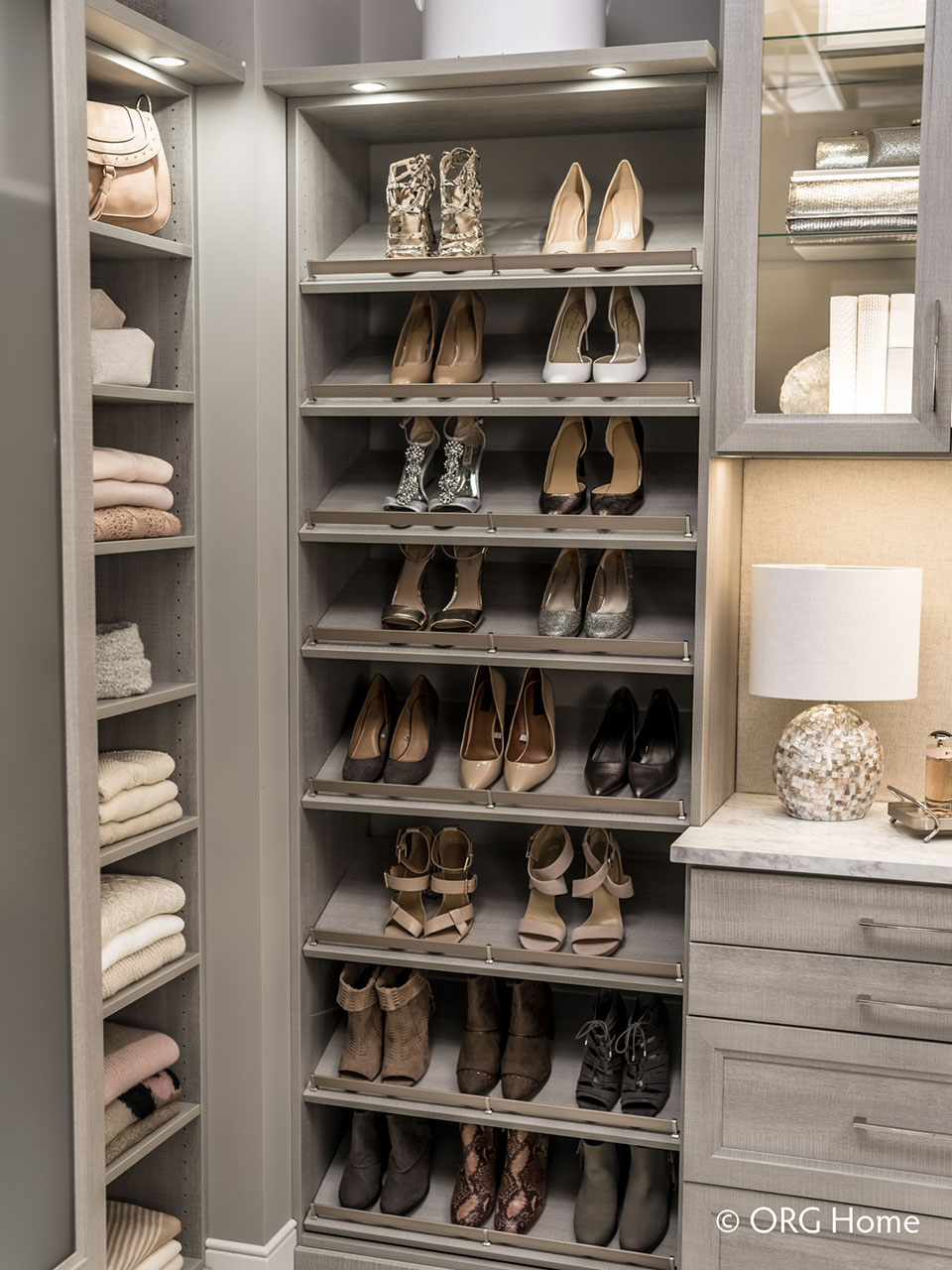 Ready to put some of these boutique closet ideas into action? Visit our showroom today to get started!