It starts innocently enough: you drop your kid's too-small soccer cleats in the corner of the garage; you put half-empty paint cans and roller brushes in another. The bicycles lean against the far wall like a herd of tired cattle. Totes full of seasonal decorations are stacked floor-to-ceiling against a wall. The next thing you know, your garage is so cluttered, you're embarrassed to open the door. You want a change, but where to begin? Our team at Strickland's Custom Garages has a few tried and true tips to help you spring clean the garage.
7 Tips to Spring Clean Your Garage
1. Make a plan. The first question to ask is: "What is my goal?" Do you plan to completely reorganize the garage? Will you be decluttering now that you're an empty nester? Are you planning to sell your home? Do you want to be able to park the car in the garage? Your end goal will inform your approach. If, for example, you're aiming to park your car in the garage, you might want to consider vertical storage for your large items. Whether you're working with a professional custom garage designer to completely revamp your space or planning a small-scale decluttering session, it's important to establish why you've decided to spring clean the garage and what you hope to achieve.
2. Clear out everything. Yes, everything. Pull everything from your garage that is not screwed to the wall or floor and put it in the driveway or somewhere nearby. As you clear out items, try to keep them sorted in like piles: what to keep, what to donate and what to toss. Group the items you plan to keep in similar categories as well.
3. Clean everywhere, inside and out. Once everything is out of the garage, open the windows and doors. You can turn on a fan to help air it out as well. Wipe dust and dirt from every surface and sweep the floor. A broom can help brush off dirt from brick or cinderblock walls and surfaces. Clean the windows and doors. Finally, clean the garage floor with a mild cleaner and water. Let it air out until dry or use a floor squeegee to help.
4. Assess the empty garage. Look at the bones of your garage. Make any structural repairs needed. Do you need to fill in holes or insulate any walls? Check to make sure the lighting is to your liking. Consider your floor. Bare concrete can stain easily from oil and other substances because it is porous. Modular garage flooring is a great way to create an "instant makeover" on your garage floor. Modular garage flooring can be installed in just a few hours; it looks great; it's easy to clean; and you can take it with you if you move!
5. Storage needs. Now it is time to consider your storage options for the items you'll be putting back in the garage. Vertical shelving keeps dangerous or seldom-used items up and out of reach from children. Off-the-ground cabinets guard against flooding, allow for easier cleaning, and save stress on your back and knees. Slat walls are ideal for tools and gardening items with handles. Hanging mesh bags and bins are very useful for balls and sports equipment. The garage stays cleaner, and your items stay safer when they are kept off the floor.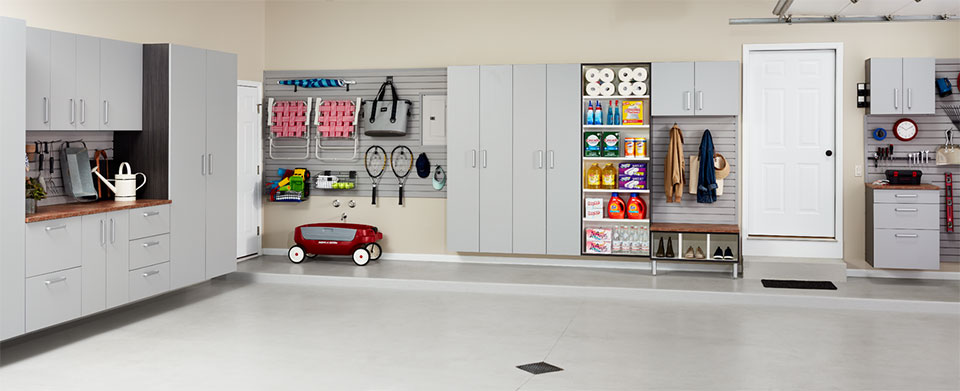 6. Move in with a plan. A custom garage designer will help you create a plan for how to maximize space and storage. If you're not working off of a formal design plan, start by grouping items together by function. Zones or stations are a great way to create — and maintain — an organized space.
7. Label everything. Once everything is where it should be, label it. You can label the fronts of the cabinets, the sides of the storage bins, the mesh bags; everything should have a place. To minimize upkeep, make sure your children, your partner, and possibly even that neighbors who likes to borrow your tools, all know where to find and put away items stored in the garage. Things are less likely to get tossed on the floor or set on the work bench if they have a labeled "home".
If you're ready to spring clean the garage with organization solutions that will last for years, contact us. Strickland's Home can offer advice and recommend the right products and the right solutions for your lifestyle and budget.