It's true. We store a lot in our garages. But that doesn't mean they need to look cluttered or chaotic. Off-the-ground garage cabinets are a practical way to keep your things organized and off the floor. Not only do off-the-ground cabinets look sleek and modern, they are also extremely useful in any garage. Here are five reasons why we love off-the-ground garage cabinets.
The Benefits of Off-the-Ground Garage Cabinets
1. They are easy to clean. When garage cabinets are off the floor, sweeping and mopping is a cinch. Because you can simply clean underneath them without having to move anything, you save time and potential back pain. And, there's no doubt as to what's behind or underneath the cabinets!
2. They keep contents safe from flood damage. When garage cabinetry is wall-mounted there is less risk of flood damage. Since the garage is usually the lowest spot of the house, it can be subject to flooding. When valuable or important items are stored in off-the-ground cabinets, they have a better chance of being spared if your garage floods.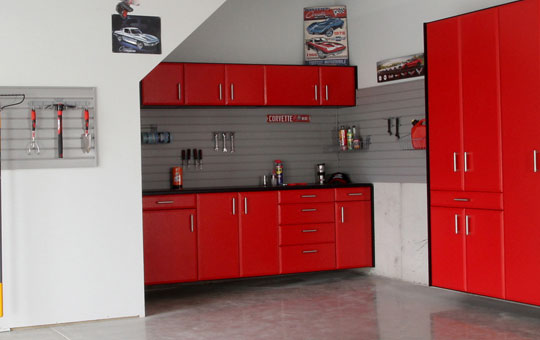 3. They are easier to reach. Off-the-ground cabinets make it easier to see and reach your things. You don't have to bend over or kneel down to search through low cabinets to find what you're looking for.
4. They create a cleaner, high-end look. Off-the-ground garage cabinets appear to "float" above the floor. Not only are they aesthetically pleasing to the eye, they are also extremely practical in a garage, where clutter tends to gather. Simply close the doors, and your garage looks clean and tidy. In our product lines, we feature a powder-coated, moisture-resistant cabinet, perfectly suited to our hot, humid coastal Carolina climate. Other options include melamine and wood veneer cabinetry.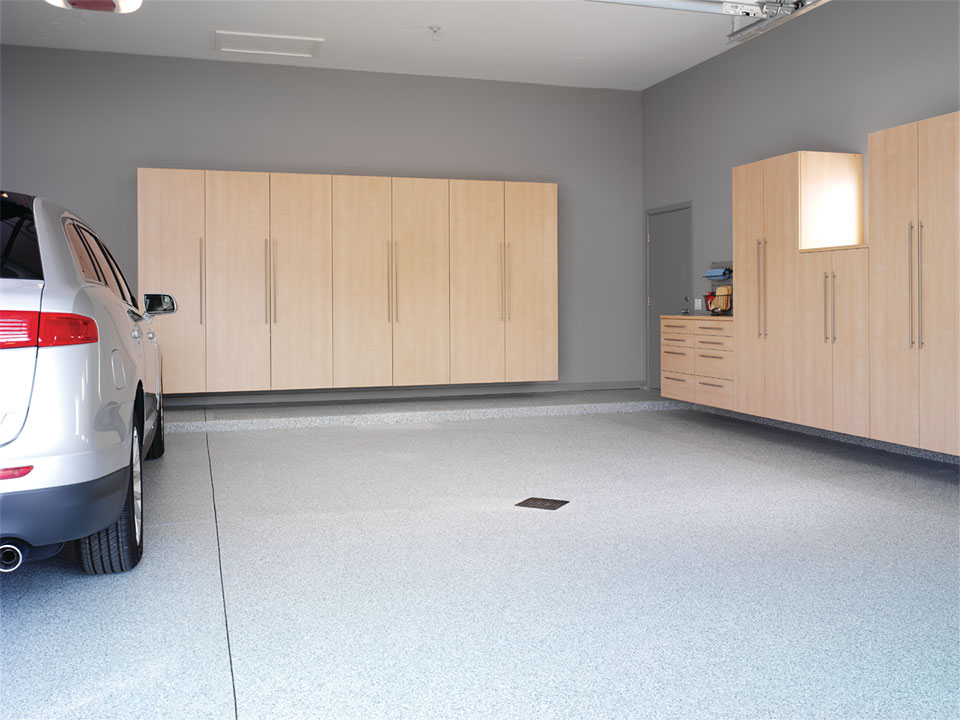 5. They are easier to install and maintain. Most garages are built on a concrete slab that can become uneven over time. Furthermore, many garage floors slope toward a drain. Both of these factors make cabinets that rest on the floor difficult to install. Off-the-ground garage cabinets literally rise above these challenges, making them easier to install and maintain. If you don't want to use the adjustable feet, off-the-ground cabinets can be hung level on the wall. When cabinets are off the floor, they do not break down as quickly or easily since they are out of danger's way when it comes to water damage, oil and gas spills, rust or decomposition from sitting on the floor.
Outfitting your garage with off-the-ground cabinetry is a sensible decision for many reasons. If you're craving a safe, cleaner, more organized and ergonomic garage, contact us to schedule an appointment in our showroom. Together, we can transform your space into a usable and attractive dream garage.