Since Strickland's Home is headquartered in the south, Wilmington, NC to be precise, it shouldn't be a surprise that we're fans of plantation shutters—and we're not alone. You'll find them all over the world, but they are especially prevalent in Wilmington's own downtown historic homes and on the seaside windows in Wrightsville Beach, Carolina Beach, Kure Beach and Southport, just to name a few of our coastal communities. With southern roots and renowned charm, plantation shutters are an investment that more and more people are making. If you're thinking of joining this  esteemed window coverings club, here's a checklist of things to consider before buying plantation shutters: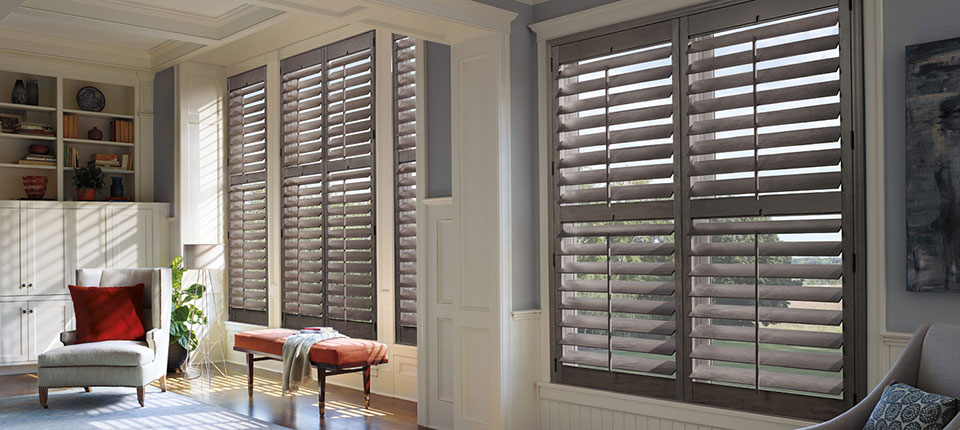 Home Sweet Style: Worried whether plantation shutters will match your home? Luckily, plantation shutters suit an array of architecture and styles, making them more of an enhancement than a gamble.
Midrails: Midrails bisect shutters into independent sections and many clients love how that gives them control over light and privacy. If you're wondering whether to include a midrail, you'll need to your room's needs as well as your own.
Height: Full height, café style, tier on tier, or bi-fold? Plantation shutter height also affects privacy and light and can make the difference between having A Room with a View or A Room of One's Own.
Material: If you could, would you go wood? It's the traditional material, and merges nicely with a classic home, but vinyl shutters have their advantages—particularly in spaces prone to moisture like bathrooms and garages.
Paint vs. Stain: Plantation Shutters often match the trim of a home and shutter material can influence whether you go with painting or staining. There are many more paint color possibilities than there are for stains, though the latter can complement cabinets or furniture and give a room a more natural look.
Louver size: Will you still love your louvers tomorrow? Plantation louvers typically range from 2 ½ to 5 ½ inches. Your ideal louver size depends on room size, window size and depth, ceiling height, and personal style. Remember, smaller louvers have a more traditional look and wider louvers allow more light when the shutters are rotated open.
Future home value: For a real estate hack, consider this: plantation shutters are often featured in house descriptions as a major selling point and their elegant look can contribute to curbside appeal.
Maintenance/Cleaning: As far as plantation shutter maintenance goes, you'll likely want to dust regularly and occasionally use your vacuum's soft brush attachment. Keep in mind that vinyl shutters and bigger louvers make for easier cleaning.
Shutter Versatility: Think outside the window. Plantation shutters can be used on sliding glass doors, on cabinetry, or even to divide rooms.
Insulation: If your home has a problem with drafts or sweltering rooms, plantation shutters can act as a temperature barrier and UV defense. Think about your long-term energy goals when selecting shutters and your efficiency could take a turn for the better.
Ready to add plantation shutters to your windows? Visit Strickland's Home showroom today and we'd be happy to help.