Sometimes referred to as "furniture for windows", nothing matches the richness and elegance of interior shutters. Extremely versatile, interior shutters can fit any window and complement any decor from the traditional homes of historic downtown Wilmington to the contemporary lofts of the Brooklyn district.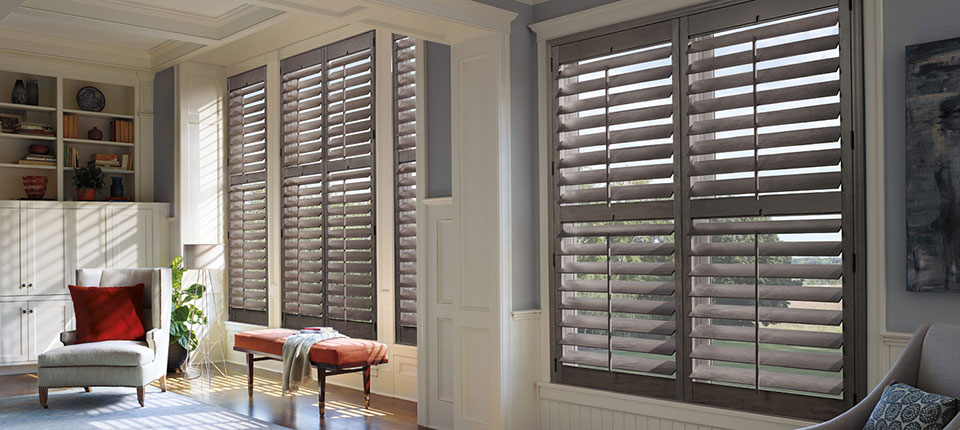 Often referred to as plantation shutters, wide louvered shutters allow for maximum light and view when tilted open.  Yet when closed, plantation shutters offer complete privacy and light control. Panels will also hinge open to allow you to open the window, enjoy a wider view, or clean the window panes.
Traditional shutters with smaller 1 1/4″ louvers create the old world charm found in many cottages. The smaller louver works well when several panels are used to cover a single window; it also softens the natural light coming into the room.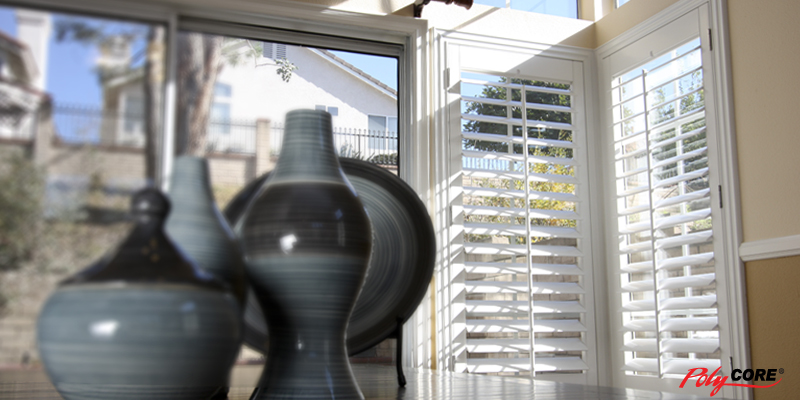 Often traditional shutters are used café-style where they cover only the bottom half of the window.  They can also be double hung, where the top and bottom of the window have separate sets of shutters. Either application allows for privacy on the bottom, without sacrificing light and view on top. Shutters can be ordered with or without louvers, as raised or flat panel shutters.
The Big Question – Wood vs. Synthetic Shutters
As experts in the window coverings industry we are often asked:  "Which is better?  Wood or synthetic shutters?"  In recent years, composite shutters have been heavily marketed as the better choice. But the truth is, both wood and synthetic shutters have their advantages.
Wooden shutters are typically stronger and lighter in weight than those made of the various composite materials. Like wooden furniture, they can be painted or stained any color.  Wooden shutters can be easily customized, allowing for a true, custom fit, especially when installing shutters inside a window, without a frame. They can also be refinished (i.e. planed, mortised or sanded) when necessary, which is usually after ten or more years.
Composite shutters cannot be refinished, but they do offer some advantages over wooden ones. Since most do not require painting, they stand up better to direct exposure to water and/or high moisture.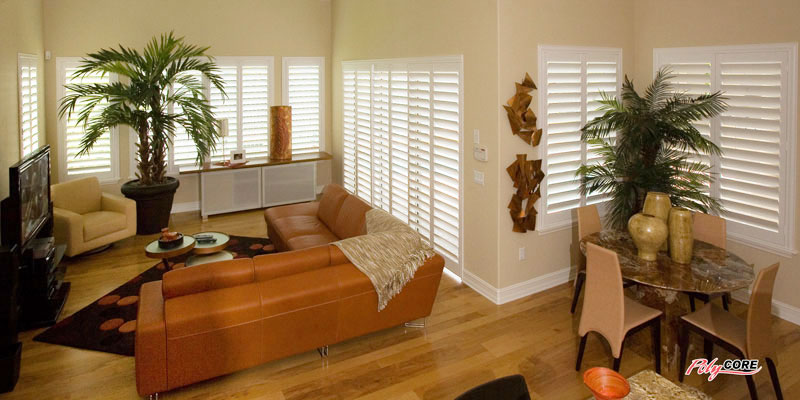 Wood Shutters:
| PROS | CONS |
| --- | --- |
| Lighter Weight | Can not get wet for prolonged periods of time |
| Larger panel sizes available | |
| Unlimited paint and stain matching | |
| Can be customized to fit out of square windows | |
Synthetic Shutters:
| PROS | CONS |
| --- | --- |
| Water/moisture resistant | Limited color selection |
| No painting necessary | May discolor (yellow) over time |
| | Heavy, so limited panel width and length |
Choosing Shutters:
With so many options available, plantation shutters are one of the most complex window treatments. Understanding the styles and options available is essential in order to choose the ones best suited to your windows:
Louver Size: The variety of louver sizes available make shutters one of the most adaptable window treatments. The sizes are; 1 1/4″, 1 3/4″, 2 1/2″, 3 1/2″, and 4 1/2″. Which size is best? It depends on the window to be covered and how the shutter will be used. Wider louvers such as the 4 1/2″ allow the most view and light but require a deeper window in order to install the shutter on the inside of the window frame. Smaller 1 1/4″ and 1 3/4″ louvers require less depth, but don't allow for as much light and view. 2 1/2″ and 3 ½" louvers are the most common options because they allow plenty of light and view, and they can be installed in many modern-sized windows.
Aesthetically, remember the smaller the louver, the more traditional the look. For a traditional look, the 1 ¼" or 2 ½"-inch louver size is a good choice. 2 ½" or 3 ½" louvers offer a transitional look.  Wider 3 ½" or 4 ½" louvers create a more contemporary look.
Panels:   The number of panels used per window depends on window size and louver size. For example, an average window size is 30″ wide by 60″ tall. If larger louvers are desired, then one 30″ wide panel or two 15″ wide panels would probably look and work the best. The only disadvantage, however, is that a 30″ wide panel, when swung open, requires 30″ of wall space next to the window for proper clearance. Two 15″ wide panels reduce the necessary wall space to 15″. To further minimize the amount of necessary wall space, consider four 7 ½ " wide panels. Narrow panels with smaller louvers like 1 1/4″ are most often used on 7 ½" panels used so that the shutter looks proportional.
In summary, wide panels with large louvers create maximum light and view, but are impractical to swing open on a regular basis. Narrow panels will restrict the light and view, but fold back more easily. Usually, people tilt louvers open or closed,  rather than actually swinging shutter open.  As a result, we usually recommend one or two panels for the average window instead of four.
Shutter Style:  Do you want café shutters, full length shutters, full length shutters with divider rails, or double hung shutters?  Café shutters only cover the bottom half of the window, leaving the top half of the window uncovered or covered with another treatment, like curtains. Full length shutters are the most popular choice because they offer greater  light control and privacy. Putting a divider rail in a full length shutter divides each panel into top and bottom sections of louvers, allowing independent control of each section.   Full length shutters without divider rails are most often used on stationary windows or casement windows that crank open.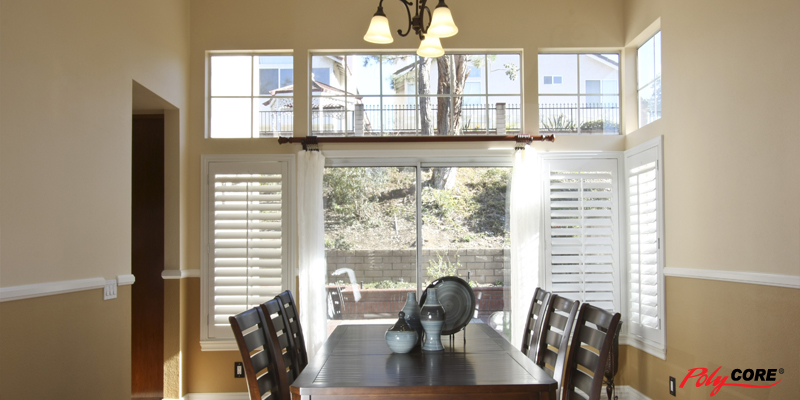 Double hung shutters are actually two separate sets of shutters, one hung on top of the other.  With double hung shutters, the top can be swung open and folded back against the wall independent of the bottom shutters; they are also more expensive than other shutters styles. Double hung windows usually call for full length shutters with divider rails or double hung shutters. Aesthetically, though, double hung shutters generally look as "busier" than other styles of shutters because of the greater number of panels used.
Key Benefits of Shutters:
They create a neat, clean look without cords hanging in the window
They complement a variety of decors, from the most traditional to the most contemporary.
They are available in many louvers sizes such as 2 1/2″, 3 1/2″, and 4 1/2″ louvers to enhance the view.
They offer an unlimited number of finishes – painted, stained, or unfinished
They can be made of synthetic materials if moisture exposure is a concern.
They are custom-made to fit each window.
They provide excellent light control and privacy.
They can be crafted in arches and other special shapes.
Things to Consider:
Some shutters require a large amount of depth to operate, so make sure your windows have the required clearance.
There are numerous ways to mount shutters: butt mount, L frame, Z frame, etc. Consult with an expert to learn the specific benefits each installation method.
Shutter installation can be very difficult with out-of-square windows.