Whether you're furnishing rentals on Oak Island or looking to add a bedroom or two to your midtown Wilmington home, a wardrobe closet allows you to create storage space where none existed before. If you're in need of more storage space but have no more closets to spare, a wardrobe closet provides a stylish and versatile solution, one which you can build directly into your home's walls or take with you when you leave.
All-in-one Closet Systems
Wardrobe closets are all-in-one closet systems, complete with cubbies, hanging rods, cabinetry, doors, and more. Unlike a traditional armoire or chest of drawers, these closets can be custom-designed to fit your space's unique dimensions and to suit your individual inventory. For a custom piece of furniture designed expressly for your storage needs, consider a wardrobe closet.
Where would I install a wardrobe closet in my home?
Our team of professional installers will take care of everything for you — just tell us where you want it! Wardrobe closets can be custom-designed to match any space or aesthetic, from a luxurious traditional walk-in to a contemporary studio space. We build them to fit floor-to-ceiling and wall-to-wall and can even install them directly into your home's walls. Beyond this, wardrobe closets can be streamlined to add extra storage in narrow spaces like hallways, entryways, and even reach-in closets.
What else can I add to my custom-designed wardrobe closet?
With details like crown moulding, attractive finishes, built-in lighting, and even glass doors, a wardrobe closet can upgrade your home's storage capabilities and design alike. Inside your closet, pull-out drawers keep delicate linens and jewelry safe, while open storage cubbies allow for easy access to everyday clothes and accessories. Add extendable rods for scarves and ties, as well as multiple hanging rods for button-downs, blouses, and dresses. With hundreds of customization options, our designers will help you discover the perfect storage solutions for your entire inventory.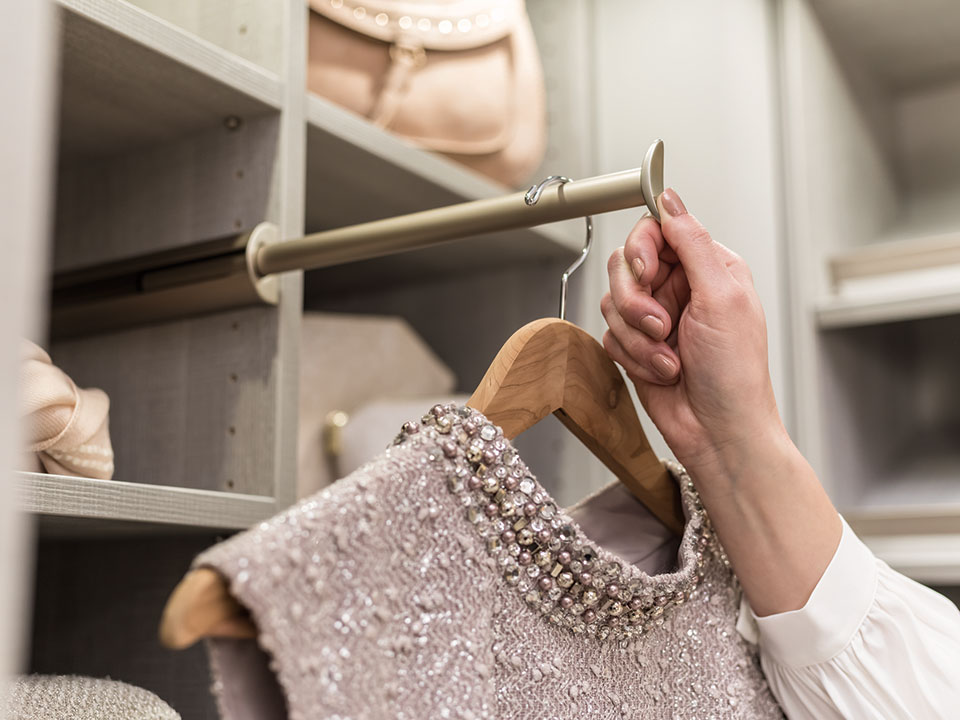 When can we get started?
To learn more about our process or to begin designing your custom wardrobe closet, give us a call at Strickland's Home. Interested in seeing more? Come by our showroom to speak with our designers and to explore our wide selection of full-size closet systems. There, you can test out all of the products and features available to you for your next closet organization project.