Because of the COVID-19 pandemic, people are spending a lot more time at home these days. And, for many, that means the realization that they could use some extra space. If you're wishing for a little more living room, we have solutions. We've seen musicians performing concerts in their garages, but the garage can also become an extension of your living space. Here are just a few ways we can help you re-purpose your garage into a new room in the house:
Transform Your Garage Into 400 More Square Feet of Living Space
1. Happy Hour Hang Out: Yes, you should put a bar in the garage! Amp up the hang out vibe with an entertainment center and let the kiddos watch their favorite TV show while you and your partner unwind after a long day of work. Add a sofa, comfy chairs, and a colorful rug, for the perfect reading nook – you won't even have go inside to refill your wine glass. Garages are no longer just for the car; they are for you!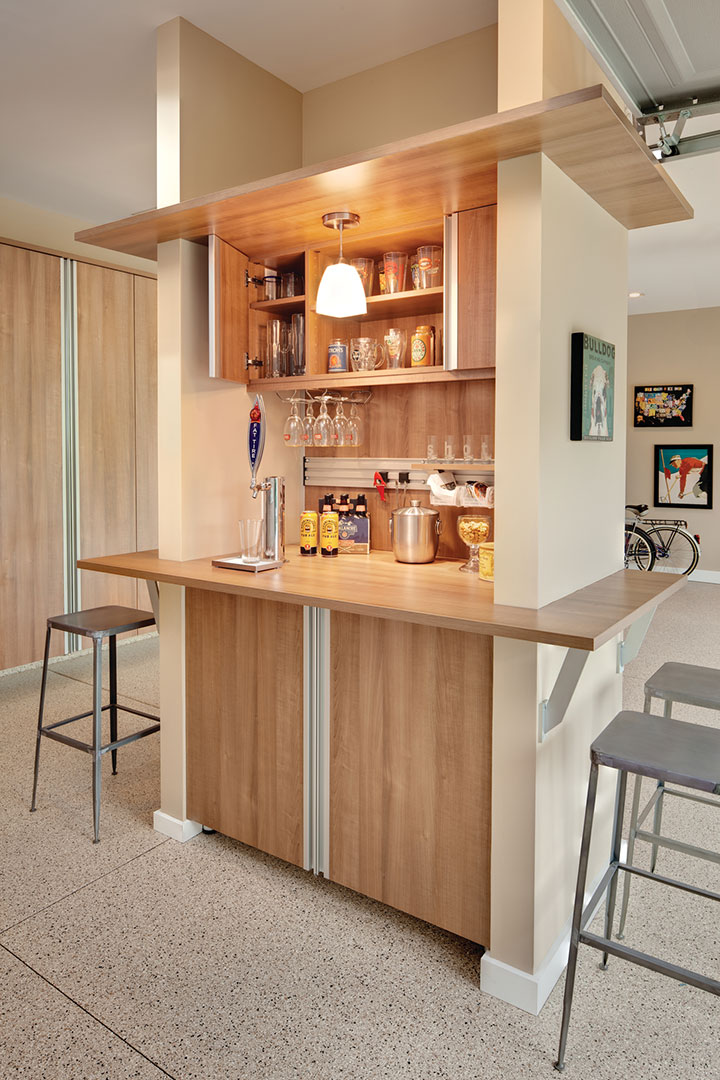 2. Home Gym: Not everyone has a spare room inside the house to devote to gym equipment, but most of us have a garage. Imagine your garage doubling as the gym. Dust off the treadmill and move the pile of clutter off of the workbench. We have many storage options for your yoga mat, bands, kettle bells, weights, and boxing gloves.
3. Garage Concerts: The garage is a great place for a band to play music and have band practice. The cavernous space almost always has great acoustics, and enough space to hold the equipment. And, you can close the garage door to keep the noise inside and not disturb the neighbors. The opposite is true as well, you can open the garage door and perform to concert goers. While we are social distancing and gathering in limited numbers outdoors, this idea is especially appealing.
4. Home Office: The garage is a great place for a home office. There is privacy, peace and quiet, and distance from the hustle and bustle of the house — perfect for those conference calls and Zoom meetings. Once you have your garage organized and arranged with shelving, a desk, and a chair, you can add your own personal touches to your office.
5. Game Room: The kids are driving you nuts and you want to send them somewhere, but social distancing doesn't allow it. Why not turn the garage into a game room for the family? Imagine having a space for ping pong, Foosball, a home theater for movies and video games, and even a table for homework. Closed cabinetry stores board games and puzzles and a garage fridge can hold snacks and drinks.
The most common sizes for garages are 18'x20', 20' x 20', 22' x 22' and 20' x 22'.This means you can gain approximately 400 more square-feet of living space in your home by repurposing it into a room. If you want to turn your utilitarian garage from a parking space into a living space, we can help! Request an appointment to get started.