Have you heard of the top down bottom up craze? It's not a wild new dance sweeping the nation, nor is it the latest fall fashion trend. When we say "tops down bottoms up," we're talking about none other than blinds and shades.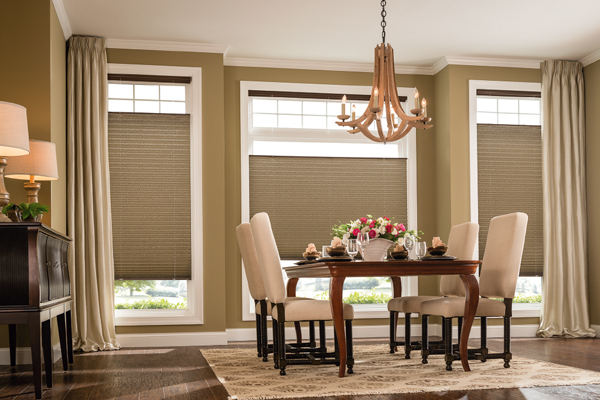 Top down bottom up blinds and shades are unique window treatments that are as functional as they are fashionable.  They can be lowered from the bottom, like traditional shades, but they can also be lowered from the top, an added bonus with many benefits:
Top or Bottom—The Choice is Yours: Top down bottom up shades are a great choice for rooms that benefit from light but also demand privacy, such as, bedrooms, and home offices. Simply lower the top portion of the shade and let light flood in, while leaving the bottom section—the area where people can see in and you can see out—shut tight. This provides privacy and keeps distractions at bay, without plunging the room into total darkness.
Control Temperature and Glare:  Using top down bottom up blinds is an innovative way to maintain a comfortable room temperature and lower your heating and cooling bills. During cold months, the top portion can be opened, allowing sunlight to warm the room naturally. When it's hot outside, open the bottom portion for indirect light, which is more forgiving. Top down bottom up shades are available as cellular shades, light filtering shades, and blackout shades, so there are many options for controlling how and when light and heat enter your home. You can also avoid a glare on computers and televisions by lowering or raising the blinds, depending on the angle of the sun.
Beautiful, Inside and Out: Top down bottom up blinds come in, patterns, and materials, making them easy to accessorize with the rest of your décor.
And, while these shades and blinds are beautiful in and of themselves, they also offer another huge benefit: the ability to control the view. By opening the top portion, you're able to stargaze in the evenings and witness brilliant sunrises and sunsets, all from the comfort of your home.
Indeed, top down bottom up blinds and shades have long lasting benefits that are worth the investment. If you'd like to see how these versatile and beautiful blinds can transform your home, call Strickland's Home for a consultation today.