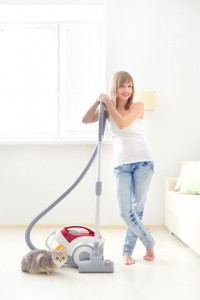 While blinds and shades provide beautiful, functional ways to cover your windows and doors, keeping them clean can be a chore—literally! Most people approach the job with a resigned sigh, if they approach it at all. Think about it—when was the last time you cleaned your blinds and shades? (Don't worry, your secret is safe with us.)
As much as you might not like to hear this, regularly dusting and vacuuming your blinds and shades will keep them looking newer longer. Plus the more often you do it, the less painful the job becomes.  If you use the following list of tips, cleaning your blinds will be easier than ever. You might even enjoy it!
Cleaning Honeycomb Shades:  Honeycomb shades are a popular choice due to their energy efficiency, but there's a misconception that the layered fabric makes them more prone to dust and harder to clean. In reality, cleaning honeycomb shades is simple. Grab your vacuum, turn the dusting tool on low suction, and give your shades a quick once over. And, if you love seeing that crisp crease in the pleats, make sure you raise them often.
Cleaning Vertical Blinds:  Vertical blinds are often used to cover sliding glass doors, so there's usually a bigger area to clean. For this job, a large feather duster that lifts grime off the blinds is the best choice. If your blinds are especially dirty, a dusting detergent or enzyme spray will loosen things up.
Cleaning Roman Shades:  Once again, your vacuum comes to the rescue. Run the dusting bush attachment on low suction gently across the shades. If necessary, spot-clean any stains with a damp cloth dipped in a mild dish-washing detergent.
Cleaning Wood or Faux Blinds:  Whether your wooden blinds are faux versions or the real deal, the same method of cleaning applies, and it's very similar to the way you'd clean any piece of wood furniture. Lower the blinds, tilt the slats until they're almost closed, and then dust with a soft, clean cloth. Flip the blinds over and repeat on the other side.
Remember: when it comes to cleaning blinds and shades, the right tools and regular maintenance go a long way. If you're still unsure of how to clean your blinds, speak with a Strickland's Home representative for professional advice on how to best care for your specific window treatments.