Working on a new theory that in every long-term couple, there is one member who has stopped picking things up off the floor, secure in the knowledge that their partner will be driven crazy by it and will take care of it eventually." – Merrill Markoe
Whether you've been married for decades or you've recently moved in with your significant other, learning to share space is all about compromise, especially when it comes to the smaller spaces in your home — for example, shared closets.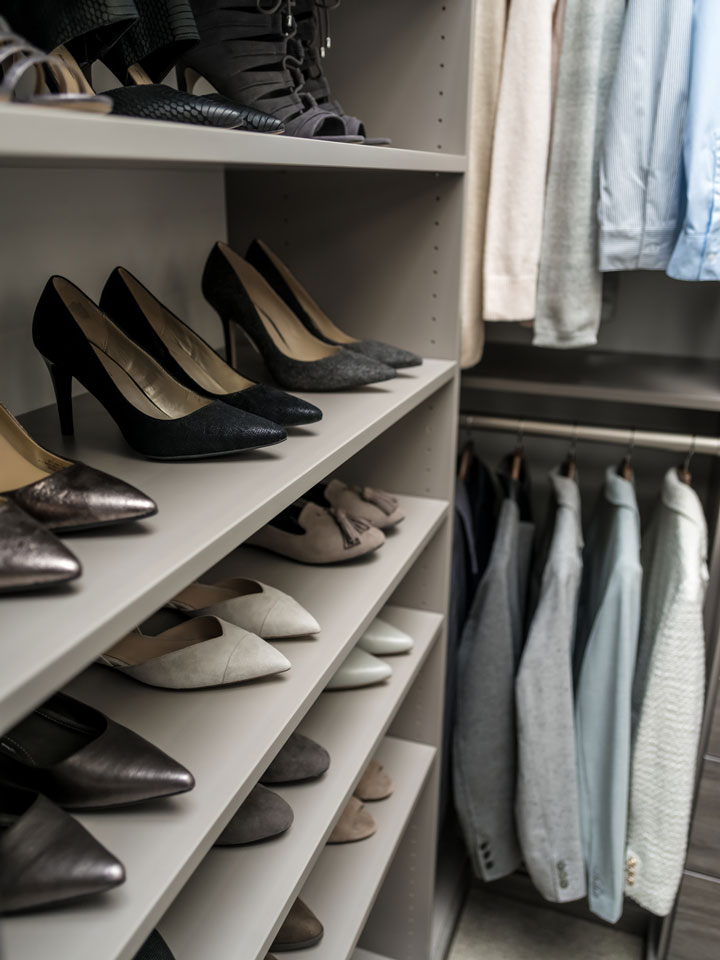 For many couples, shared closets are a source of contention. Self-storage company SpareFoot conducted a survey that revealed clutter – specifically, messy closets – as the main cause of arguments for 48% of the cohabitating couples they polled. Maybe you're the partner with more clothes and you find yourself taking up the majority of the closet space. Or maybe your partner is the tidy one, and you find yourself leaving clothes all over the floor.
We're all about reducing stress in your home where we can, and although we can't be there to make sure the dishes get done or that the living room is tidied the way you like it, when it comes to shared closets, we've got you covered! Read on for our top five relationship-saving tips for sharing a closet with your significant other.
1. Set clear expectations.
As with many shared spaces in the home, shared closets are a great place to set clear expectations upfront. If you and your partner are both aware of the ground rules from the beginning— no clothes on the floor, dirty laundry goes in the laundry bin, and door remain closed, just to name a few— then you leave a lot less room for conflict in the future.
2. Organize together.
Shared closets, especially smaller ones, are the perfect space for all those handy organization hacks you've been itching to try. Organizing the closet together help set clear expectations. And deciding where things go as a team can help make both of you feel valued in the decision-making process.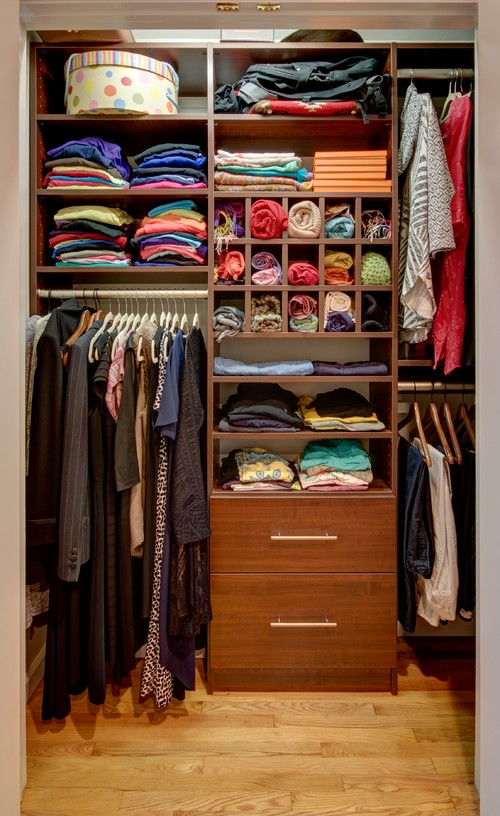 3. Take separate sides.
"Shared closets" don't have to be "combined closets." Having your own space in the closet is incredibly important. It's not only convenient for you to know exactly where your things are, but it's also important to divide the space fairly. If one partner needs more space than the other, be clear about that need upfront and allocate the space accordingly to suit both of your needs.
4. Efficiently utilize space.
When it comes to closet space, it's important to get the most out of every square inch. Our designers have lots of tricks to accomplish this, such as: taking advantage of vertical space using long- and short- hanging rods; utilizing a combination of drawers, cubbies, and shelving; and incorporating specialized accessories like belt racks, tie racks and jewelry organizers. Minimizing clutter and utilizing strong organization for what remains frees up visual space and creates less confusion about where things go.
5. Go custom.
If you feel like it's time to call in some help, look no further. At Strickland's, our process starts with getting to know you and your partner's specific needs. We'll design a custom plan that's not only functional and efficient, but one that creates an environment both you and your partner will enjoy seeing and using every day. To get started, request an appointment or visit our showroom.