Chris de Jong | Sales Manager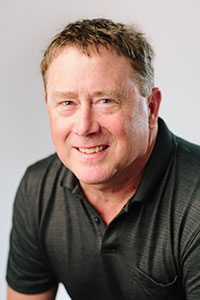 Chris de Jong first joined the Strickland's Home team over 25 years ago. Back then, he worked as a part-time installer while he studied Business Management at UNC-W. When he finished his degree, the timing was just right – a full-time position opened in the sales department at Strickland's. Ready to jump-start his new career, Chris took it. He's been with Strickland's ever since.
As a native Wilmingtonian, Chris can attest to the incredible growth his hometown and the industry have experienced in the past few decades. "The view from my 'office' changes every day," he says. "I spend most of my time meeting with architects, interior designers, contractors, and homeowners all over the Greater Wilmington area. I love learning about so many different projects and recommending solutions based on our selection of nearly 500 window covering products. Between staying in the know about the latest technologies and trends in our industry and meeting new people, the only constant in my line of work is the variety."
Chris's take on:
Blinds, Shades, and Shutters: Chris's love of technology extends to window treatments— his favorite window treatments are motorized roman shades.
Home: When Chris isn't working, you can find him executing all kinds of home organization and building projects for his own home. He even designs and builds his own furniture.
Draperies and Fabrics: Chris's dream view would be facing Masonboro Isle at dawn.
Custom Garages: Chris is an avid outdoorsman and enjoys kayaking, fishing — and especially riding his motorcycle!