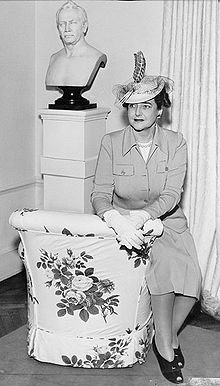 One of the most famous interior designers in history, Dorothy Draper was the Coco Chanel of custom drapery. The duchess of drapes brought bold colors, daring design, and unabashed playfulness to elegant, luxurious spaces like the iconic Greenbrier resort, which still features Draper-inspired designs today.
How to Channel Dorothy Draper with Your Custom Drapery Design
As Draper once wrote in her book Decorating is Fun!: "Decorating is just sheer fun: a delight in color, an awareness of balance, a feeling for lighting, a sense of style, a zest for life, and an amused enjoyment of the smart accessories of the moment."
At Strickland's Draperies & Fabrics, having fun with drapery design is something we can get behind! Our designers prize the opportunity to get to know you, your personal needs, and your own unique aesthetic. With thousands of customization options from fabric type, color, and pattern to drapery design, hardware, and accessories, there are plenty of ways to add play to our design process.
Here are a few ways we can channel Dorothy Draper in your custom drapery design.
Go for bold floor-to-ceiling draperies.
In Dorothy Draper interiors, custom drapes are not a mere afterthought or even finishing touch. Rather, they're one of the most compelling features of the room. This is because Draper's penchant for floor-to-ceiling drapery creates a breathtaking pattern of rich, full fabrics throughout the room. Add elegance to your dining room with long and flowing custom draperies, and don't shy away from vintage touches, like valance boxes. Don't be afraid of palatial ruffles fit for a queen, either — Draper happily installed an entire ceiling of them above an indoor pool!
Embrace flashy florals.
If you think Lily Pulitzer wallpaper may be up your alley (yes, that's a thing!), get excited for Dorothy Draper florals. There is no such thing as too much brightness or too much pink when it comes to Draper's drapes, so choose colors and prints that sing Wrightsville Beach palms and greenery or downtown Wilmington azaleas and rose gardens. Feeling inspired? Consider nature-inspired wallpapers to match.
Shape up your drapes with geometrics.
One of Draper's greatest trademarks was her ability to mix and match wildly different patterns, from Victorian florals to contemporary geometrics. Add some shape to your drapes with box valances, clean lines, and crisp trim. For a more modern look, make waves with bold prints. Take inspiration from Dorothy's color-rich bedrooms and get the pillows and bedding to match.
Draper-inspired Custom Drapery Design
At Strickland's Draperies & Fabrics, getting inspired and discovering your dream aesthetic is one of our favorite parts of the process. To get started on your custom draperies, give us a call, come by our showroom, or request a free on-site consultation.