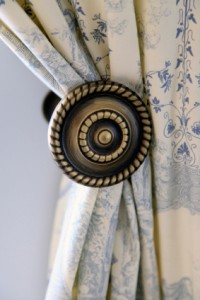 Looking for that finishing touch for your curtains? Why not search for the perfect finial or tieback? Window treatment hardware as decorative accents are increasingly popular in custom home projects because they add style and finish to your window treatments. Depending upon your personality and room decor, they can be modern, traditional, rustic, or sleek. Here at Strickland's Home, we carry many options in our Wilmington, NC showroom, from medallions to wood finials and beyond.
What types of decorative accessories are there?
Finials are the small accessories that you add after the rod or pole has slid into its' brackets and is in its proper place. Finials are both decorative and functional: they keep curtain rings from sliding off the rod or pole. However, finials aren't an option for inside-mount rods. Popular finial shapes include balls, teardrops, metal spheres, pineapples, S-curves, even acorns and leaves. Finials come in a variety of finishes: wood, iron, glass, metal, and painted ceramic.
Holdbacks are larger decorative hooks in a u-shape that, as with tiebacks, gather curtains and hold them to one side. Like finials, holdbacks can have a design element or decorative accent on the outside end, including porcelain and glass flowers, swirls, fleur-de-lis, and leaves.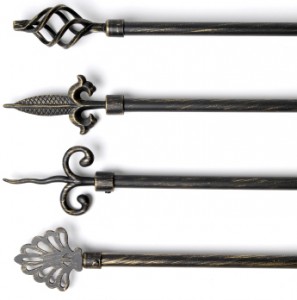 Tiebacks are decorative loops of fabric, cord, and sometimes metal. They are used to part and drape a curtain to the side. Because tiebacks can be made of fabric and cord, they are available in a wide variety of finishes and sizes. They have a more formal, traditional look.
Medallions are fixed brackets with round, medallion-inspired decorative ends that are used to secure drapes. These brackets are popular design choices for unusually shaped windows that are not suited to curtain rods. However, these drapes cannot be opened and closed in the manner of drapes hung on curtain rods. (http://www.houzz.com/medallion-hung-drapes)
Why choose a decorative accessory?
These small items add a bit of elegance and personality to your window treatments and are available in a variety of materials, from wood to steel. The same way a fun scarf or handbag accents your outfit, a finial or holdback can add a little oomph to your window.
What finial styles and other items are available at Strickland's Home?
From wrought iron tiebacks to brass medallion brackets, Strickland's Home has the perfect accessories to add sophistication to your window treatments. Our window treatment accessories include many popular finishes and shapes. A Strickland's customer service representative can talk with you and help you decide which of the options in our extensive showroom best suits your home.
What are most popular finial types in the Wilmington, NC area?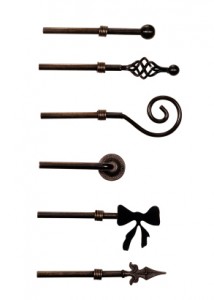 Iron finals:  These are a classic and subtle choice that matches many kinds of home décor. Usually chosen in a black wrought-iron finish, the shape of the individual finial determines its style impact. Formal European shapes like fleur-de-lis are popular in French country décor, while S-shaped and curled designs are more contemporary and feminine.
Nickel finials, onyx finials, or brass finials: Many of our customers choose kitchen draper hardware to coordinate with their cabinetry hardware. At Strickland's, we can help you select complementary colors and finishes.
Wood finials: Another popular option is to coordinate your finials and curtain rods with the tones of your cabinetry or hardwood flooring. Many customers tell us that they prefer the warm and rich look of wood. Whether your room is cozy or masculine, wood finials
Whatever your tastes, we are certain to have the window treatment hardware to finish your perfect window project. Visit our Wilmington, NC showroom today to see all the options available for your home.