Faux Wood Blinds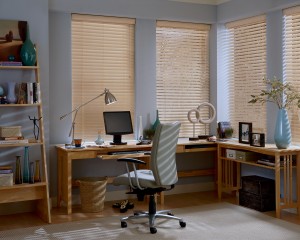 If you like the look of fine wide slat wooden blinds, but need something practical for less money, consider faux wood (also called 'alternative wood') blinds.
These horizontal blinds consist of slats made from synthetic materials or polymer compounds to resemble hard woods. The slats can be tilted 180 degrees to control the amount of light coming into a room, reduce glare and prevent fading. They can also darken a room for sleeping or watching television.
Because of their polymer construction, faux wood blinds are unaffected by moisture and humidity, making them ideal for the kitchen, the bathroom, or even a pool shower room. Since they are easy to clean and completely washable, faux woods blinds are also a great choice for your garage or workroom.  Budget friendly, faux wood blinds are also ideal for a starter home or hard-working areas the house such as garages or laundry rooms, where premium blinds are not necessary.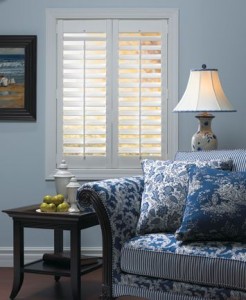 When considering faux wood blinds, be sure to account their weight. Because the polymer compounds used to make faux wood blinds are very dense, these blinds are much heavier than wood blinds. This means that although faux wood blinds can be raised, it is preferable to keep them lowered, tilting them open for view and light. If you want a window treatment that raises and lowers easily, a faux wood blind may not be the best fit.
Likewise, since faux wood blinds are heavier than wood or aluminum blinds, they require more vertical ladders to support the weight of the slats. This means the appearance of the blind is a little "busier", an important visual consideration especially when installing them on windows with grids that separate the window panes.
When selecting your faux wood blinds, consider the options below:
Do you prefer 2" or 2 ½" slat widths? The wider the slat, the greater the view when the blind is in the open position. Also, the wider the slat, the smaller the stack, when the blind is in the raised position. Wider slates also weigh less, an important factor when pulling up and letting down the blinds.

Which finish do you like? Faux Wood blinds are available in a variety of colors and finishes, including some wood grain finishes. Visit our showroom to see our complete selection
Which type of valance do you prefer? All faux wood blinds come with a decorative valance option. We carry valances in every style from simple, contemporary looks to elaborate, traditional options.
Which type of polymer material will work best for your needs? Synthetic faux wood slats cover a broad spectrum in terms of quality. Many polymer materials come with UV inhibitors that help resist yellowing and cracking over time. The quality of faux wood blinds is rated by hours. We carry manufacturers with slat rating from 300-1000 hours. The higher the number of hours, the more durable the slat. Note that some blinds, imported by big box retailers are rated at zero hours! Visit our showroom to learn more about which hour-rating will suite your needs.

Do you want a "route-less" option? Many manufacturers offer a "no holes" option on wide slat faux wood blinds to enhance privacy. The traditional route hole in the center of the slat is eliminated by running the pull cords on the outside of the slat and around the ladder. However, even if you choose a faux wood blind with a traditional route hole for the cord, the hole is punched just a fraction over the width of the cord, virtually eliminating any light and privacy concerns.
The Benefits of Faux Wood Blinds:
 Unaffected by moisture, they are a perfect choice for high-humidity environments like kitchens, showers, baths, and pool areas.
Budget-friendly, the price point on faux wood blinds is perfect for starter homes or areas of the house that do not require premium window treatments.
Before purchasing faux wood blinds, consider these important factors:
Faux wood blinds are extremely heavy, making them difficult raise and lower every day.
When raised, faux wood blinds have considerably more stack at the top of the window than other window treatments.
Although the texture, finish and color options with faux wood grain finishes keep getting better and better, they still do not match the richness of real wood.