There are so many things you can do with fabric on your windows. Whether you prefer draperies, Roman shades, valances, shades, or swags, fabric treatments can add an air of elegance to any room. Not clear on the differences between all these fabric treatment styles? Don't worry! We've put together a handy little guide explaining classic fabric treatments for windows, what they are, and where to use them.
Strickland's Quick Guide to Fabric Treatments for Windows
1. Draperies
Draperies are the kind of fabric treatments for windows you think of when you think of an old, romantic Victorian or plantation-style home. They're also making a huge comeback for contemporary homes. There are a million different styles you can choose from when ordering custom drapes, but the one thing that ties them all together is the length. Typically, draperies go at least to the floor, and often they pool at the bottom for extra elegance.
Drapes are best used on large windows with no hardware or radiators beneath and ample space to each side. This allows the drapes to hang and pool correctly—and avoids any potential fire hazards.
2. Roman Shades
Roman shades are kind of a two-for-one when it comes to window coverings: the sophistication of draperies with the convenience of shades. Roman shades come in a variety of different styles, but the most common are the classic Roman shade, which is used most often in formal rooms, and the relaxed Roman shade, which offers a more casually elegant look.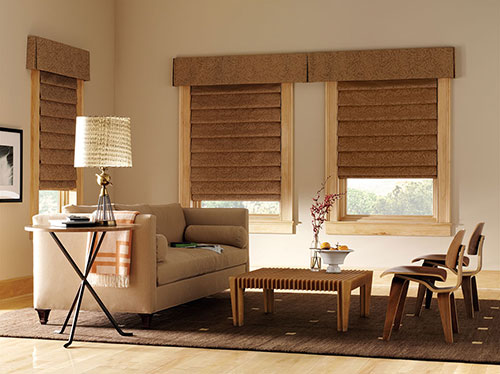 Roman shades are best used in kitchens, bathrooms, or on windows above radiators or near corners. The cordless or continuous loop varieties are also great for kids' rooms. Oftentimes, people will mix their fabric treatments; one of the most common combinations is Roman shades and draperies. This lets you control the light in the room without having to fully close your drapes.
3. Shades
Lest we lead you astray, it's important to know that not all fabric shades are Roman! Fabric treatments come in all shapes and styles. London shades lie flat with two bottom folds that are located 6-10 inches from each side, creating an M-shape when raised. And Austrian shades are probably what you think of when you think of European courts—puffy festoons and vertical shirring—though, when understated, they can add a subtle touch of romance to a room.
4. Valances
Essentially, valances are fabric treatments that cover the topmost portion of the window. They were first popular in the late Renaissance era, when interior design was trending toward what would become the Baroque period—elaborate drama, high theater, grand elegance.
A valance is a good fit for a room that doesn't need a functional privacy curtain but still requires a window treatment. These fabric treatments are popular by themselves in kitchens, especially over kitchen sinks, or when paired with window blinds or draperies.
5. Swags
Swags, a subset of valances, are often used to add flair to a room, such as with the Queen Anne swag, which is designed to look like a fabric scarf has been swept across the window. There are also Turban swags, which have a regal air, and pole mounted swags, which afford the room a casual elegance.
Swags are ideal for rooms that also have sheer curtains or window blinds. The bigger the window and more formal the room, the better. For instance, formal dining rooms, living rooms, and master bedrooms often feature swags.
Ready to upgrade your style with some custom fabric treatments for your windows today? Visit our showroom today to speak with our fabric treatment experts!