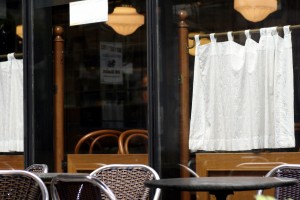 Cafe Shutters and Curtains: You may have noticed them in coffee shops, fluttering in the breeze while the scent of fresh baked goods wafts through the air. Or maybe you've seen them in the background of a French film, and admired their easy elegance. You might have even thought to yourself, "I wish I had invented those little half-size curtains!"
Those little half-size curtains are actually known as café curtains, while their wooden counterparts are called café shutters, and you shouldn't kick yourself too hard for not coming up with the idea first. Café curtains originated in Vienna during the 19th century. They were mostly used in restaurants as a way to offer privacy to guests enjoying a beverage or a meal, while the uncovered, upper portion of the window provided both light and a lovely view.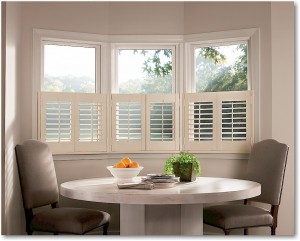 Today, café shutters and curtains are making a comeback, and not just in European cafés and bistros. Many people have embraced the benefits of their Old World charm, incorporating them into their kitchens, dining rooms, breakfast nooks, bedrooms, and bathrooms.
Casual, informal, and fun, café curtains are an easy, low stakes way to change the look of your space in less than an hour.  If you're still not convinced that café curtains are the right choice for you, we've rounded up a few reasons to take the plunge.
Café curtains come in many colors and fabrics, so it's easy to match your style and décor. If you prefer a more masculine look, you can opt for café shutters instead. Hunter Douglas has a line  that's sturdy, stable, and straight—great for a home office or living room.
Speaking of café shutters, they're a cost effective option if you love the look of plantation shutters, but not the price. Going the café route is a clever way to cut the cost in half, since you only need shutters for the bottom portion of the window.
If you live in a condo or an apartment, your neighbors might be a bit closer than you prefer. Or maybe your kitchen window lines up perfectly with your driveway, and you'd rather not to stare at the top of your car while eating breakfast. A strategically placed set of café curtains or café shutters will block the offending view and provide privacy, without completely cutting you off from the world.
The best reason to install a set of café curtains or café shutters, however, is that they're just plain fun. Whether your style is rustic, country chic, or full of European flair, the right set of café curtains can help you create the look and feel you want. If you're ready to add some Old World charm to your windows, visit Strickland's Home today.