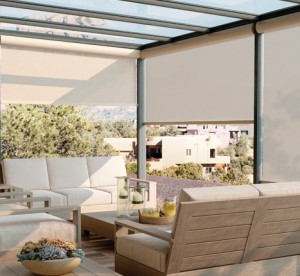 Summer is full of long weekends, warm temperatures, backyard barbecues, dinners on the back deck, and open windows. It's also full of unwelcome insects, sweltering heat, sunburn, and nosy neighbors, making it uncomfortable to spend time outside. Luckily, exterior shades and screens can help!
Whether you're looking for a way to screen in your porch, shade your veranda, provide privacy for patios and pergolas, or keep your neighbors for gazing into your gazebo, the right exterior shade or screen is the solution you've been searching for.
Awnings
Your deck is a great place to relax in a rocking chair with a cold glass of sweet tea – until you realize the sun is making you sweat and burning a hole through your skin while you're trying to unwind. If you want to sit in peace, consider installing an awning over your head, which will provide shade while still allowing a cool breeze to pass through. A retractable awning comes in many styles and colors, and the high-tech versions can even raise and retract automatically depending on the weather.
Screen It In
It seems that every other house these days – at least in Wilmington, NC – has a screened-in porch, and with good reason. A simple screen is the best way to put a barrier between your limbs and the hordes of noseeums hovering just off the porch. They also provide a bit of privacy, especially if your sitting area is located in front of the house, where people most often pass by.
A screen is also a great choice for a gazebo. These outdoor spaces are usually further from the house, closer to natural features such as ponds, lakes, and creeks, and even more prone to unwelcome insects. Screening in the walls of a gazebo will allow you to enjoy your space all year long.
Shade Sails
Have you ever noticed the cool shade sails at the local Tidal Creek Co-op?  Besides making a sculptural statement, shade sails also block up to 95% of harmful UV rays. They're a great choice for especially large or unique spaces – because they're mounted on existing walls and poles, shades sails can go to almost any length to provide comfort with a dramatic flair. If you live down at Carolina Beach or Wrightsville Beach, a shade sail is also a great way to add nautical style to your space without going overboard.
Pergolas
Elegant and useful, a pergola provides shade and personality, allowing you to define your outdoor space without closing it in. While pergolas remain open on the top and sides, you can increase the amount of protection they provide by adding retractable shades to the top or flowing fabric panels to the walls.
With the help of exterior shades and screens, you can create an outdoor space that's beautiful to look at and comfortable to be in. Act now, before summer slips away.