Summer has arrived and you're excited to cook out in the backyard or go to the beach. Arriving in the perfect outfit is the best way to have a good time, which starts by getting your closet ready for summer. Here are a few ways you can get your closet ready for summer and why a custom closet can make the process so much easier.
Establish Your Why: The right motivation will help you get started on sorting through your closet. You want to go make memories and enjoy the sunshine, so why waste time with clutter? With a seasonally appropriate wardrobe in your custom closet, getting ready is a simple and streamlined that takes just minutes, allowing you more time to appreciate fun and sun on the beach, followed by evening cocktails or dinner al fresco while the sun sets.
Take Care of Winter Clothes: It's smart to leave one or two long-sleeved items on standby in case you experience a chilly morning breeze, but summer is the time to put your clothes away. After you remove winter clothes from your closet, make sure to wash them and have air-tight containers on stand-by so they're ready to go later in the year.
Purge with Lawn and Leaf Bags: Before you store your winter clothes, you can sort them into donation and trash piles. You'll know when to throw out clothes because they're ripped, stained, or otherwise unwearable. Lawn and leaf bags are perfect for this stage in your closet organization because they stand up on their own. You won't waste time reopening the bags as you declutter.
Remember Your Accessories: Your future outfits won't be complete without the right accessories. Find them quickly and easily this summer by going through them now. Swap out your winter purses with stylish summer bags and store them in cabinets with glass doors so they're easy to find when you need them.
When you get to your shoes, you'll be so glad you invested in a slanted shelves with shoe fences when designing your custom closet. You'll never spend time searching for a missing pair of sandals or espadrilles when they have a home in an elegant display. Make sure you only keep shoes meant for summer, since you won't need to wear heavy boots until the cold weather returns.
Organize the Little Things: A well-designed closet will always have space for the little things that complete your look. You can place jewelry and sunglasses in drawers dedicated to accessories. Get ready for the day with a built-in vanity that utilizes warm lighting to create the perfect place to do your makeup. Your winter accessories can wait in storage until it's time to wear heavy necklaces and scarves again.
Create Ten Outfits: Even during relaxed summer trips, sometimes you need a fresh look on standby. Create ten staple outfits you can wear to parties, the beach, or a night on the town. Take pictures of the outfits you prefer for easy access and inspiration before a day or night on the town. Or, hang your complete looks on extendable rods built into your custom closet. They'll be ready when you need them, even at a moment's notice.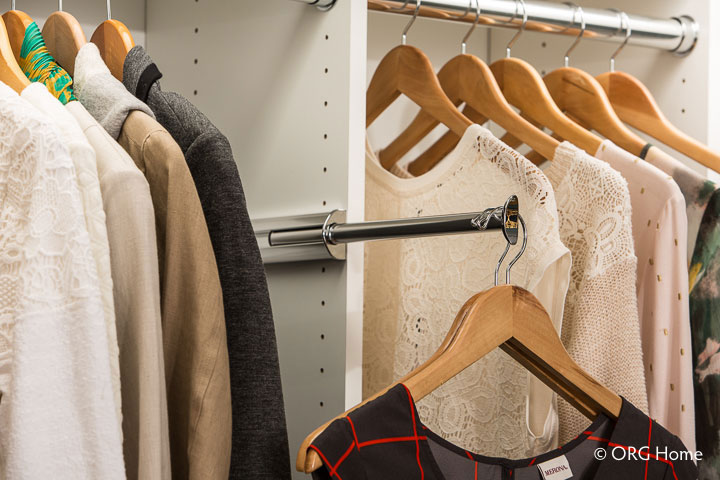 Make Your Shopping List: After you've organized your closet, you may want to make use of all the empty space with a shopping list. Write down trendy clothes or new accessories you can't have summer fun without. You've earned a little shopping trip after clearing out so much space in your closet!
Give Us a Call: Designing a custom closet is the best way to achieve your organizational goals. The Strickland's Home experts can help you create your dream closet, so call us today to discuss the features and designs that will be best suited to your needs.