What's the buzz around honeycomb shades? It's safe to say that our society is a bit obsessed with the humble honeybee. And why not? After all, our dinner depends on their ability to pollinate our crops. Besides this very practical application, honeybees strike a deep emotional cord with many people. Throughout the centuries they've appeared in mythology, been the objects of worship, and served as a symbol of eternal life. Not bad for a tiny yellow insect.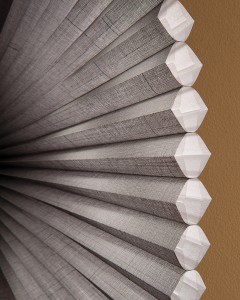 Today, honeybees continue to fascinate us. From the bestselling book and film The Secret Life of Bees to popular songs, bees remain a part of our lives. In fact, they've even worked their way into our home décor. No, I'm not talking about an angry hive in your chimney. I'm talking, of course, about honeycomb shades.
Honeycomb shades are modeled on —you guessed it— the honeycomb found inside a beehive. Bees build these cells in order to store honey and pollen, and to raise their young. Honeycomb shades are built following that same pattern. They're made by a connected series of hexagonally shaped cells, which collapse into pleats when the shades are opened. In 1985, Hunter Douglas debuted one of the original designs and to this day, their Duette® Honeycomb Shade  is a popular choice in many homes.
While you won't find actual bees storing honey and pollen in your honeycomb shades (thank goodness!) these unique window coverings serve a number of important and useful functions, including: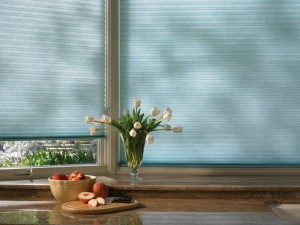 Energy efficiency. Thanks to multiple layers of honeycomb cells, they're able to trap air and create natural insulation.
Sound proofing. Those layers are also incredibly efficient at muffling noise pollution.
Light control. Honeycomb shades provide softly diffused light that cuts down on glare and heat, while opaque fabric will block 99% of outside light.
A crisp appearance. The majority of 

Duette®

honeycomb shades are made with TruePleat™ construction, a proprietary Hunter Douglas process that ensures crisp pleats year after year.
Honeycomb shades can be purchased in top-down or top-down/bottom-up shades giving you many choices when it comes to how you let the light in.
Hunter Douglas 

Duette®

honeycomb shades are available in hundreds of colors and a variety of pleat sizes to complement any décor.
In case you haven't noticed, we can't stop buzzing about honeycomb shades. If you'd like to see what all the fuss is about, visit Strickland's today. We'll make sure you get the queen bee treatment!