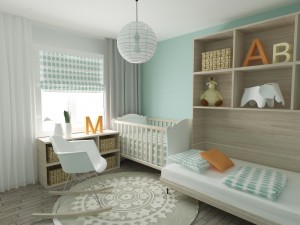 Decorating a newborn baby's nursery is a rite of passage for most parents-to-be. In many ways, it makes the idea of having a baby seem real. You're creating a space for this new person, carving out a place where he or she will rest, play, and grow.
As you get caught up in paint colors and crib choices, make sure you don't  neglect the windows. Just like every other room in your house, the right window treatments can transform the space in an instant. In the case of a nursery,  the right window coverings can also help protect your baby's well being. To help you make sound choices, here are some tips for giving your baby the best:
Do: Keep Window Treatments Short and Simple:  Your baby won't be tiny forever, and once he gets big enough, long curtains or blinds that trail the floor are just asking to be grabbed and pulled. Not only is this unsightly, it's also dangerous! Play it safe and protect your baby by keeping those window treatments out of reach.
Do: Ensure All Window Treatments Are Properly Installed: When you're trying to change a diaper after a midday nap, time is of the essence, and you might find yourself quickly yanking up the blinds. Since blinds can be dangerous if they're pulled from the wall, make sure they're installed properly. Always secure them directly to wall studs, and use dry anchors as needed.  For best results, use an experienced, professional installer.
Do: Try a Fun Pattern:  A set of colorful curtains can turn an otherwise dull window treatment into a fun focal point of the nursery. While pale pink and baby blue are traditional choices, studies have shown that babies respond more strongly to bold patterns and vibrant colors which stimulate your baby's developing mind.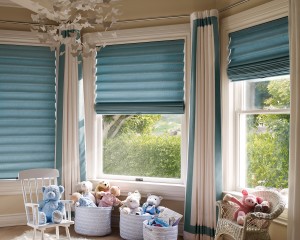 Do: Childproof All Blinds:  Blinds are a great choice for a nursery, as they allow you to control light and maintain privacy with the simple pull of a string. Those strings, however, can be a strangulation hazard for small children. Install a safety device that will keep the cord tucked out of reach. You can also purchase breakaway cords, which snap in half when enough stress is applied.  Your best option?  Cordless, remote control-operated blinds!
Do: Use Blackout Shades:  As every new parent knows, sleep is a precious resource. Ensure you and your baby get as much as possible by keeping the nursery dark during naps and through the night. A great way to keep the sun from sneaking in is installing a set of blackout shades. These can be custom fitted to your window, keeping the room as dark as possible for as long as necessary.
Do: Choose a Style or Theme:  Window treatments are also a great way to incorporate the style or theme of your nursery in small doses. For example, drapes in a subtle animal print are a great way to honor a safari theme without taking on large projects, like wallpaper or murals. They're also easier to switch out down the road, when baby is old enough to make his or her own design choices.
When you're expecting and planning for your new addition, it's never too early to start nesting. Visit the Strickland's Home showroom today and we'll make sure your baby's beginning is as safe and stylish as possible.