At Strickland's Home we've met with plenty of clients who have a clear visual of their dream kitchen, closet, or home office—but when it comes to having a dream garage, the vision gets a little blurry. Sure, other parts of the home usually get more attention from home design shows, magazines, and best-selling books, but there's no reason you shouldn't have big dreams for your humble garage. To help you out, here are 5 reasons a custom garage should be part of your home sweet home:
You'll keep track of your tools and enhance your hobbies
As any home mechanic or fix-it personality will tell you, knowing exactly what tools you have and where they are is its own kind of magic. Applying our ORG Home products to your custom garage means that you can create the workbench you've always wanted. Think: bins and baskets for nuts and bolts, heavy-duty steel hooks for tools, and an aluminum wall for easy-access.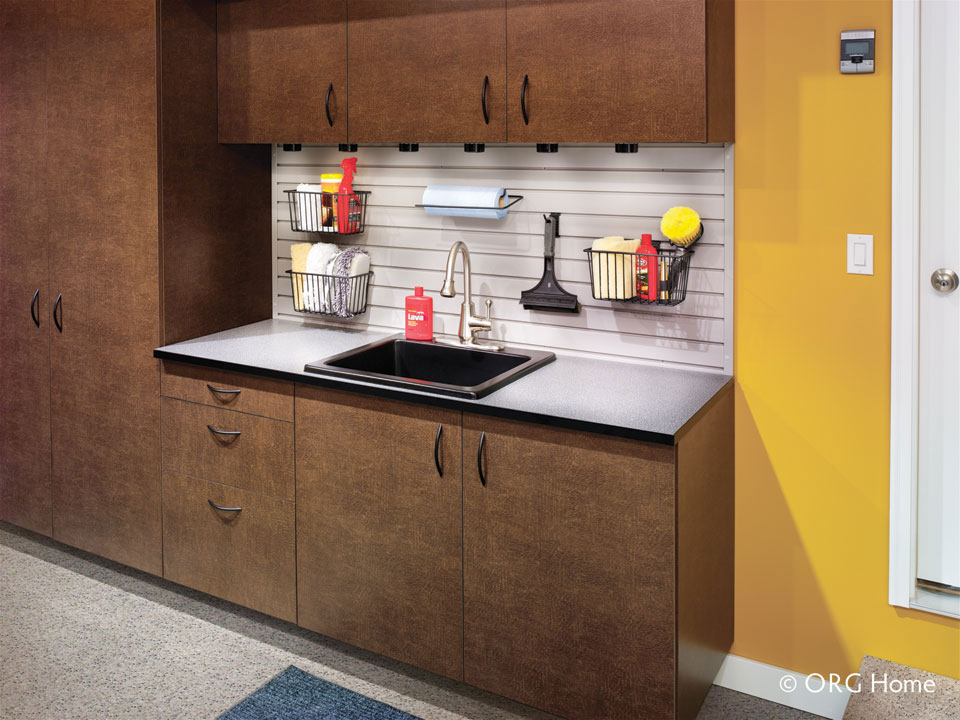 You'll store seasonal items easily, hang holiday lights with no hassle
Another big perk of custom garage storage is that you'll have more space for winter blankets, summer clothes, and holiday decorations. This will not only free up more space within the main living areas of your house, but also save you time and headaches when it's time to swap out seasonal items. And if you prefer to keep these things out of sight until you need them, we can set you up with storage that includes clutter-concealing custom garage cabinets.
You'll upgrade your efficiency
Custom garage storage doesn't just improve your garage—it boosts your daily life, too! A reach-in recycling center can simplify your sorting. Off-the-floor cabinets can make cleaning a breeze. Plus, you can add special hooks for jackets or keys and get out the door that much quicker.
You'll score major sports points
Let's face it, sports equipment takes up a lot of space—and if you've got more than one athlete in the family, your house can start to feel like one big locker room. Luckily, custom garage storage can help wrangle all your gear. Storage hooks and racks keep bikes and helmets safe and off the floor. Custom sports lockers give you a place to quickly store and grab every ball, puck, racket, or fishing rod. You can even designate a place for coolers, water bottles, and other game-day essentials.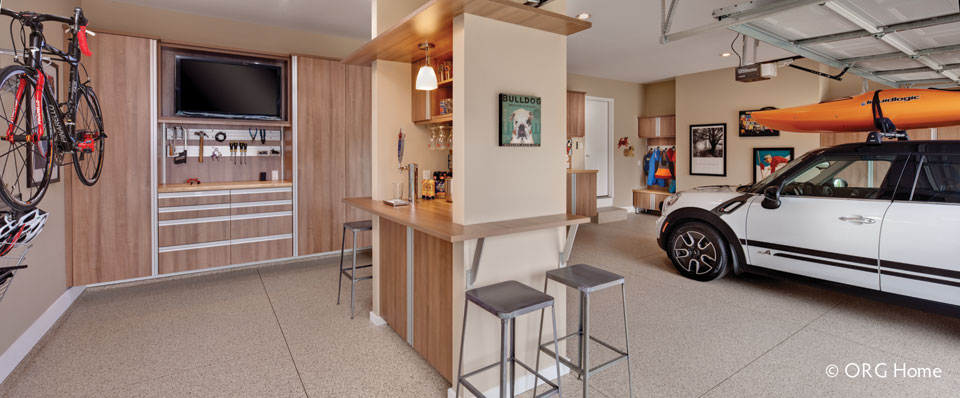 You'll add a whole new room to your home
Ready to think outside the garage? Believe it or not, that place you park your car can be the perfect room to entertain guests, thanks to a few custom tweaks: integrated audio for music, a showstopper beverage station, a built-in sink, media storage, and more. Custom garage cabinets can take care of coats or even house a flat screen TV. And if you've always wanted to display awards, trophies, or memorabilia, you can even create your own showroom with custom lighting and glass front display cases.
Are you starting to dream about your very own custom garage? Let's make it a reality – visit Strickland's Home soon!