If we had to pick three words for sheer window shades, they would be: versatile, valuable, and fashionable. The sheer window shade is a testament to ingenuity, and its widespread appeal is entirely unsurprising.
If you've never encountered sheer window shades, you might confuse them with sheer curtains. It's understandable—both are sheer, both go on windows—but the two are entirely different. Sheer window shades were developed in the early 1990s by Hunter Douglas. They've since been copycatted by a number of different brands, but Hunter Douglas is still the best in the industry.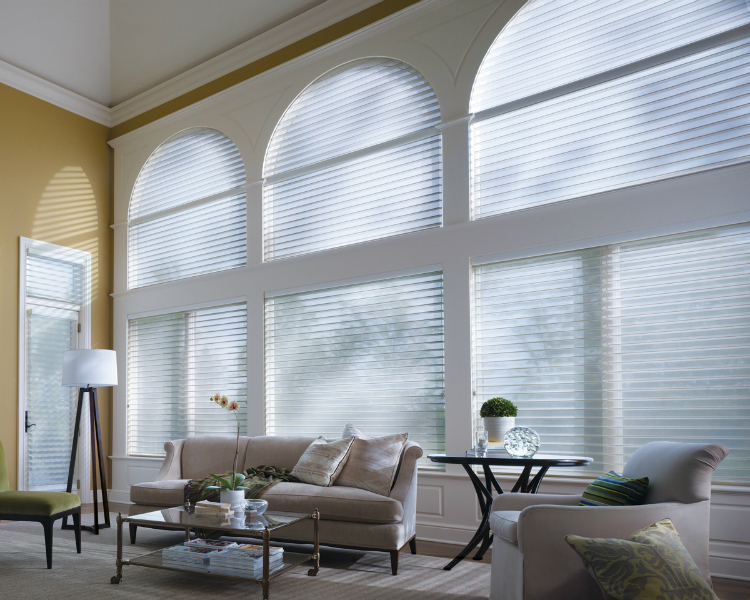 What makes sheer window shades different? They're basically in a category unto themselves. Sheer window shades combine the versatility of a tilting louvered blind with the softness and stacking of a shade. As you might imagine, this invention revolutionized the window coverings industry.
Benefits of Sheer Window Shades
Versatility: Sheer window shades are far and away the best combination option out there. They can be raised to allow full sunlight. They can be lowered with the slats open for a mix of privacy and diffuse light. And, they can be lowered with the slats closed for full privacy and light protection. Hunter Douglas offers a range of sheer window shade products to fit every family's needs, from large patio windows to small, odd-shaped windows.
Privacy: For many years, balancing our need for privacy and our desire for a nice view and sunlight was nearly impossible. If you could see out, someone else could certainly see in. Sheer window shades solved the problem of privacy. With Hunter Douglas window shades, you get the protection of sheer shades that can keep prying eyes from seeing the inside of your home. You can get shades with light-filtering or room-darkening options, depending on what level of light and privacy control you're looking for.
Protection against UV rays: Hunter Douglas sheer window shades were revolutionary for a number of reasons, but one of the biggest was the way they managed to control UV rays. When the vanes are closed, the shades offer almost 100% protection from UV rays. This prevents sun damage and fabric fading (not to mention your skin!). Even when the vanes are open, the sheer drapery piece of the shade still blocks 88% of UV rays. They allow all the perks of a sunny day—cheerful light, warmth—without any of the severe, damaging consequences of exposing your furniture to strong sunlight.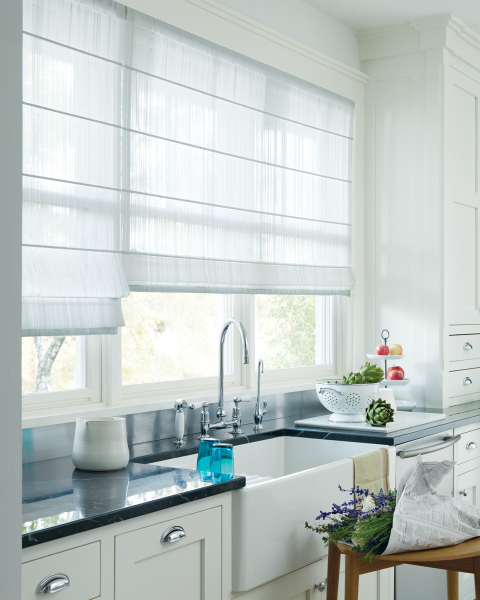 Cordless and motorized controls: Junior and Fido have one major thing in common: they both love to stare out the window. If you have children or pets, you know just how important it is to have a safe mechanism for operating your blinds. Hunter Douglas sheer window shades offer both motorized and cordless controls, which keeps your kids and pets safe as they watch the cars go by.
Aesthetics: We don't want to discount the aesthetics! The fact is, sheer window shades (especially Hunter Douglas shades) are elegant, glamorous, and can make any room feel a little more upscale. The sheer drapery part controls the light, diffusing harsh sunlight in order to cast a soft glow throughout the room. Everybody in the room looks like a million bucks—and isn't that what we all want in our homes?
Now, say it with us: it's time to go sheer! This is the year you can give yourself the best of both worlds. To find all the best sheer window shades, visit our window coverings showroom today.