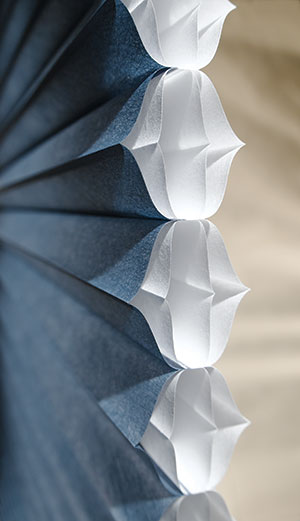 Southeastern North Carolina doesn't typically bring to mind winter storm warnings and bouts of ice and snow. But, this year's unexpectedly biting cold weather has us thinking about the need for thermal insulated blinds and shades — and the benefits that come with having them year-round. Here are four reasons to consider investing in thermal blinds and shades for your home, even in our famously warm, vacation-friendly state.
1. Increased insulation. Your windows are your home's gateway to the world in every room, and they're also where houses most often fall short on proper insulation. While any blind or shade will add some level of insulation to windows, thermal insulated shades, like cellular shades, are specially designed to increase insulation. Their honeycomb design traps air to create a layer of insulation in front of your windows, keeping your home protected and separated from whatever winds or rains are whipping away outside.
2. Temperature control. Whether you're shivering the winter away in a historic house in downtown Wilmington or glistening a little too much on the coasts of Wrightsville Beach, nothing is worse than struggling with temperature control inside your home. The largest percentage of heat loss or gain in a home comes through the windows, and the easiest way to deal with that problem is to install thermal insulated blinds and shades. In the winter, this insulation helps keep the heat in, but when the sultry, hot and humid summer comes around, the same blinds and shades work to keep the heat out, too.
3. Energy savings. According to energy experts, thermal insulated shades and blinds can increase insulation so well in the winter that heat loss is reduced by 40% or more. That leads to cozy comfort and warmth, sure, but it also translates to a 20% reduction on your heating bill! When the sun comes out in the spring and summer, the same shades can reduce heat from the sun by up to 80% — leading to even more savings.
4. Easy to use. Easily operable shades like roller shades and roman shades allow you to adjust insulation and sunlight exposure with a single pull, and they're also great options for thermal insulated window treatments. In particular, shades with heavier and thicker fabrics work best for insulation and energy savings.
It's easy to think that thermal insulated shades and blinds are only made for cottages up north or particularly frigid winters like this one down South. The word 'thermal' is misleading, though — these shades and blinds are great investments regardless of the weather. They keep your house insulated and your energy bills low year-round. Even here in North Carolina, thermal insulated blinds and shades make for a smart investment.
At Strickland's Home, we understand the importance of having a well-insulated home no matter what the season, and we offer a wide variety of energy efficient, thermal insulated shades and blinds. Come visit our showroom to take a look today!